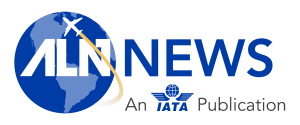 IATA's regional office in Latin America produces the daily ALNNews, an informative daily online summary of air transport news and information in Spanish and Portuguese.
ALNNews is an essential media to keep you posted on major news and trends in the aviation industry in Latin America.
Español:
ALNNews es un boletín informativo con noticias de aviación comercial de América Latina y el resto del mundo que se envía de lunes a viernes a los principales ejecutivos y actores de la industria que tienen intereses en la región.
ALNNews es un medio esencial para los amantes de la aviación que quieren estar informados acerca de la actualidad, las tendencias y las proyecciones de la industria en América Latina. Líneas aéreas, fabricantes de aviones, organizadores de eventos, proveedores de servicios han confiado en AeroLatinNews como su principal medio de difusión e información.