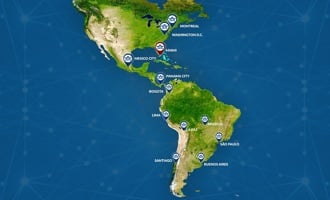 IATA's Americas region is focused on serving the needs of nearly 47 member airlines spread across 18 countries in North, Central and South America. IATA's regional office in Miami is supported by nine field offices across the region.
Key areas of focus for the region include safety and security, sustainability, development of efficient and affordable infrastructure, smarter regulation and reducing the heavy taxes and charges imposed on aviation and air travel in many countries. In support of its activities, IATA works closely with regional and local airline associations, governments, safety regulators, airports and other key stakeholders.
The Americas team has developed the Regional Strategic Priorities & Deliverables for the region with input from key stakeholders accross the region to tackle the largest opportunities and threats, creating common objectives and initiatives on which to focus through 2023.