Co-led by ENAV (the Italian Air Navigation Service Provider) and IATA, the first edition of the Italian National Airspace Strategy was presented in Rome on 11 December 2018 with the collaboration of Alitalia, Assaeroporti (the Italian airports association), and ENAC (the Italian Civil Aviation Authority), making Italy the second country after Poland to publish a National Airspace Strategy.
With industry forecasts indicating the demand for aviation in Italy is set to grow to 173 million passengers a year by 2036, safely servicing this demand while reducing costs, CO2 emissions, and delays, requires Italy to modernize its airspace and Air Traffic Management network.
Air transport contributes €42.4 billion to Italian GDP and supports almost 600,000 jobs. Successful airspace modernization is expected to unleash significant socio-economic benefits, generating an extra €27 billion in annual GDP and 95,000 jobs in Italy by 2035. The Italian NAS initiative is also designed to support the
Single European Sky
(SES) project.
For Roberta Neri, ENAV's CEO: "Customers are at the center of our activities and we highly value this cooperation with IATA, Alitalia and Assaeroporti to support the safe and efficient growth of the air transport sector in Italy, providing benefits to passengers and the overall economy while creating value for all stakeholders involved. I firmly believe that this initiative is just a starting point and will attract additional airlines, airports and aviation actors. Under the steering and oversight of the national authorities and our Regulator, ENAC, we can work together to ensure the long-term success of the aviation system in Italy".
Rafael Schvartzman, IATA's Regional Vice President for Europe, commented: "Italy is a vital and popular air transport market—the fourth biggest in Europe—so planning for the future is crucial. Our research shows that air traffic management performance is critical to improve the growth and efficiency of the economy. ENAV's leadership in working with airlines and airports on an Italian National Airspace Strategy is therefore hugely significant. Our close partnership with ENAV will ensure that Italian airspace is optimized, bringing substantial economic benefits to the country."
The Italian National Airspace Strategy covers
The strategic direction for the future of ATM in Italy
Airspace modernization initiatives to support safety, capacity and efficient routes that reduce fuel burn, journey time and improve environmental performance
ATM systems development covering ground and airborne equipment
Consultation and cooperation with Italian aviation stakeholders
Cooperation with European partners to accelerate the achievement of Single European Sky (SES) goals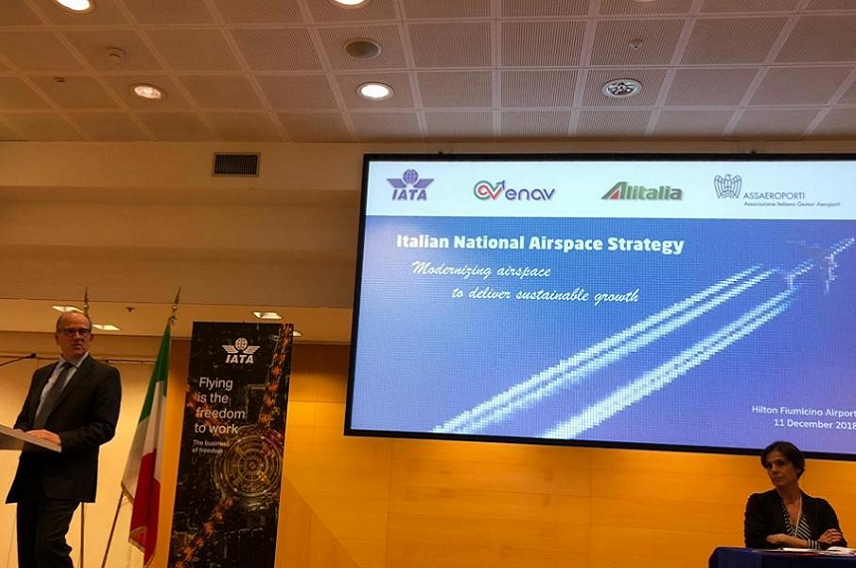 Rafael Schvartzman, IATA's Regional Vice President for Europe at the Italian National Airspace Strategy launch in Rome