After a two-year hiatus, Wings of Change Europe, the region's flagship aviation event, is set to return November 8-9, 2022, hosted by Pegasus Airlines in Istanbul, Türkiye.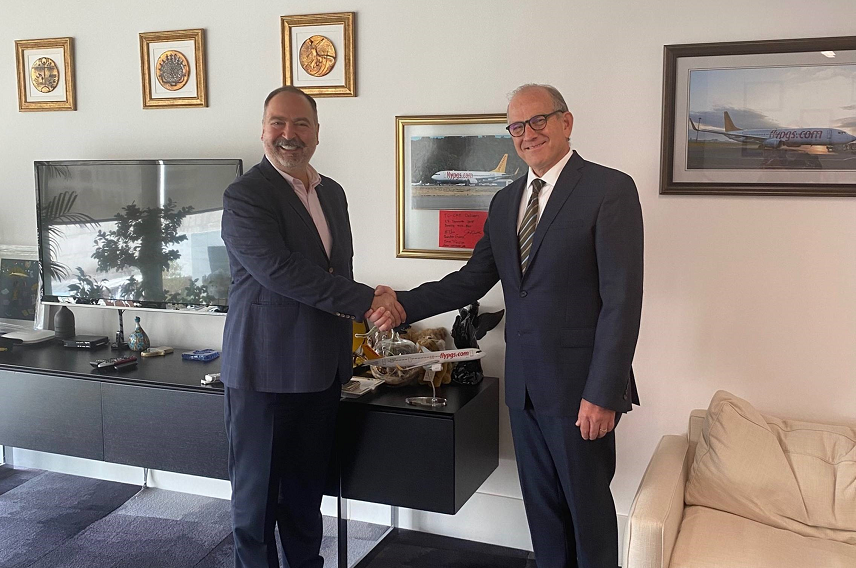 Mehmet T. Nane, Pegasus CEO (L) and Rafael Schvartzman, IATA RVP Europe (R) meet in Istanbul in October 2021
After the Madrid 2018 edition, followed by Berlin in 2019, and the postponed Paris 2020 conferences, the event is programmed for the first time outside the European Union, in a city, which, much like aviation, connects people, cultures and continents. Meeting and working together is critical as the industry continues to face important challenges. The current geopolitical situation, besides its grave human implications, has added an extra layer of difficulties to aviation. In parallel, more than two years after the start of the pandemic, the industry is still enduring a lack of harmonized measures, constantly changing travel restrictions and a wide array of barriers in its quest to restart, recover, and reconnect, all the while embarking on in its ambitious commitment for carbon net zero by 2050.
This dynamic aero political event will once again bring together the key European and global aviation players to discuss, debate and agree on the way forward on some of the most important aviation topics, which include:
Safety and Security
Recovery
Environmental and Financial Sustainability
Digitalization
Diversity
Tourism
For Mehmet T. Nane, Pegasus CEO, "The pandemic has affected the entire planet, disrupted our routines and created physical and emotional distance between us. This must change. Pegasus, Istanbul, and Türkiye are therefore looking forward to welcoming you back in November as we host the much-awaited Wings of Change Europe conference. All together, we must advance our quest to lead air transport towards a financially and environmentally sustainable recovery."
For Rafael Schvartzman, IATA's Regional Vice President for Europe, "Despite the challenging geopolitical, health and travel context, our industry is focused on its recovery and on restoring connectivity in an even safer and more sustainable manner, in line with our net zero CO2 by 2050 commitment. We are very excited to partner with Pegasus, which will be hosting the upcoming Wings of Change Europe 2022 event in Istanbul, where the industry must bridge the gap between the pre-Covid-19 aviation and the aviation of the future."
Additional information: