Only 360,000 inhabitants (roughly the population of Leicester, UK or Bilbao, Spain) populate this volcanic island at the intersection of the Arctic and North Atlantic Oceans between Greenland and the United Kingdom. Iceland has a highly-developed, well-performing economy and progressive society, and despite its reduced population, the island´s aura and prestige transcend oceans and borders thanks also to team sports feats, internationally acclaimed artists such as Björk and Sigur Rós, and breathtaking nature, which attracts tourists from across the globe, not just fans of the A Song of Ice and Fire fantasy novels or its TV adaptation: Game of Thrones, of which many memorable scenes were filmed in the country!
Yet reaching Iceland without air transport is about as easy as pronouncing ten times the name of its famous Eyjafjallajökull volcano… backwards and without catching your breath. Airlines play a vital role in linking people and economies the world over, but for an island nation like Iceland, air transport is even more significant.
In a conference organized on January 27 by IATA, flag carrier Icelandair, and the Icelandic Travel Industry Association (SAF), and opened by Þórdís Kolbrún R. Gylfadóttir, Minister of Tourism, Industry and Innovation, more than 300 aviation, travel and tourism stakeholders from across the Nordic country came together to discuss key findings from IATA's Value of Aviation report for Iceland. The study forms part of a series highlighting the importance of air transport as a catalyst for economic and social prosperity, and assesses three measures:
jobs and spending;
flows of trade, tourism and investment;
city pair connections.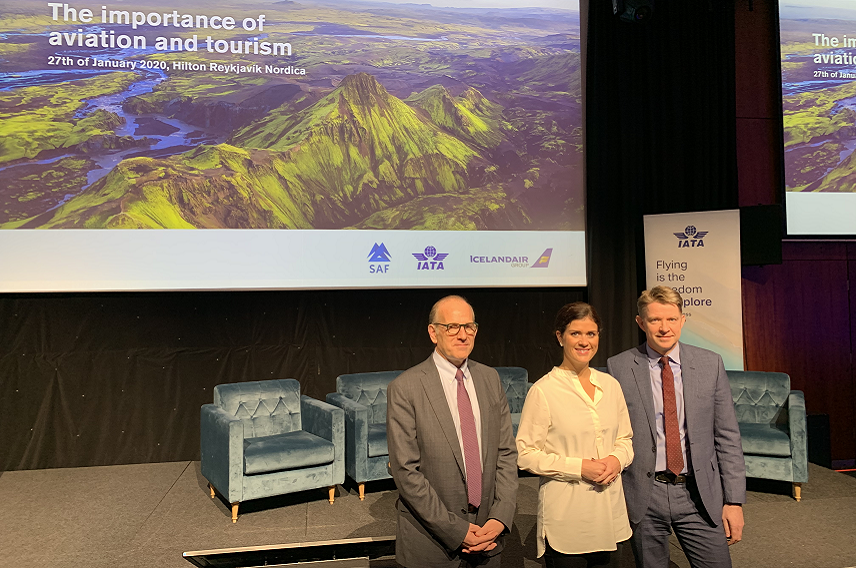 From left to right: Rafael Schvartzman, RVP Europe IATA; Þórdís Kolbrún R. Gylfadóttir, Minister of Tourism, Industry and Innovation of Iceland; Bogi Nils Bogason, CEO, Icelandair Group
Globally, air transport supports $2.7 trillion of economic activity – equivalent to 3.6% of GDP. In the case of Iceland, this percentage is 10 times higher, as aviation contributes over 30% to the country's GDP ($7.9 billion)! The majority ($4.4 billion) of this GDP contribution stems from tourism spending, which in turn supports 41,000 local jobs.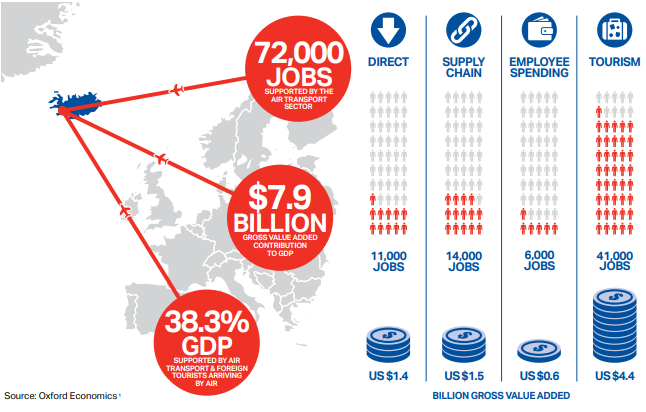 "Tourism and aviation are crucial for the Icelandic economy, with a share of GDP unique in the world. For this reason, ensuring both of them grow and prosper is absolutely key", said Bogi Nils Bogason, CEO of Icelandair Group.
The country's natural beauty attracted over 2.3 million tourists in 2018, among which 99% arrive by air, according to the Icelandic Tourist Board: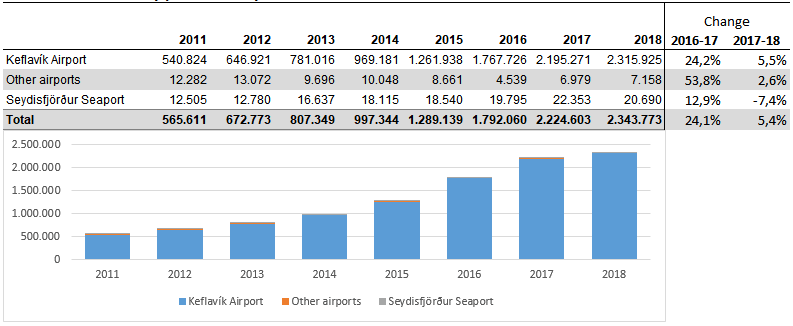 Looking at these figures, aviation for Iceland is not a luxury, but an absolute need! The table also illustrates the crucial importance of Keflavik Airport as the main arrival point for tourism. It therefore came as no surprise that in a meeting with Minister of Transport and Local Government Jóhansson held prior to the conference, he stressed the importance of developing airport infrastructure and welcomed IATA's support for a 15-year transport plan currently in its consultation phase.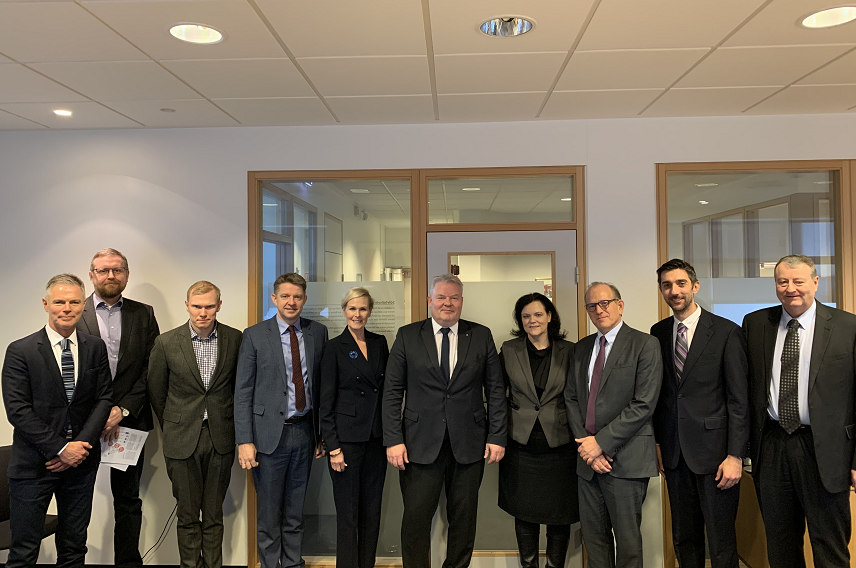 The IATA and Icelandair delegation meet with Minister of Transport and Local Government Jóhansson (6th from the left)
Partnering with governments is key to ensure aviation grows sustainably. For Rafael Schvartzman, IATA's Regional Vice President Europe: "A century ago, flying was just for pioneering aviators and a handful of adventurous explorers. Now, 4.5 billion people fly every year. If aviation is to deliver its maximum economic and employment benefits, then we need supportive policies. IATA looks forward to our ongoing work with industry and government partners in Iceland to ensure the continued development of a safe, secure and sustainable air transport industry."
It is impossible to mention sustainability without addressing the Environment, a topic that focalized attention not just at the conference, but also in a meeting with the Environment and Communication Committee of the Parliament. "Keeping in mind that safety remains the number one priority for our industry, Sustainability and the Environment are now at the center of European airlines' strategy, particularly in this region of the world. It is therefore no surprise that aviation is working relentlessly on reducing its climate impact, serving and connecting societies and economies sustainably" said Catrin Mattsson, IATA's Area Manager Nordic & Baltic.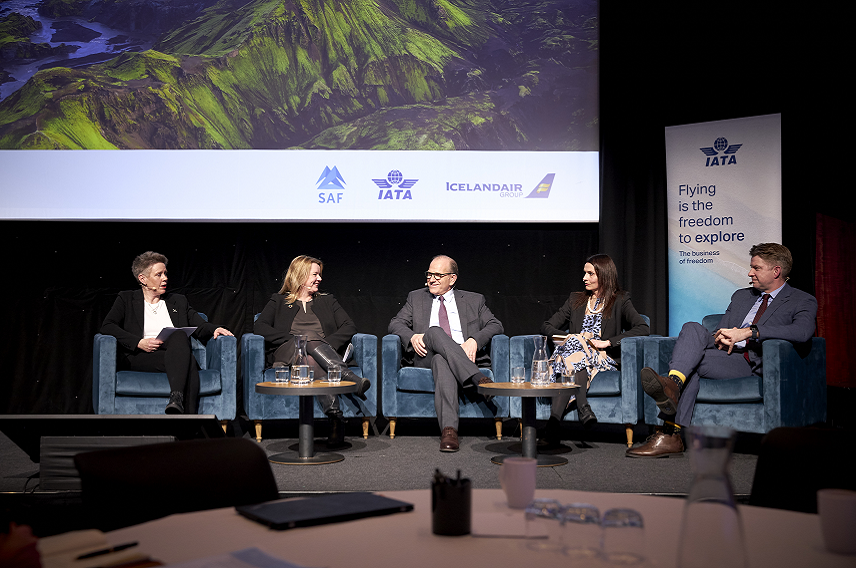 From left to right: Bjarnheiður Hallsdóttir, Chairman, The Icelandic Travel Industry Association; Elín Árnadóttir, Deputy CEO, Isavia; Rafael Schvartzman, RVP Europe, IATA; Ásdís Kristjánsdóttir, Head of Economic Division, SA Confederation of Icelandic Enterprise; Bogi Nils Bogason, CEO, Icelandair Group