Translation: La France et une compétitivité accrue de son transport aérien en ligne de mire (pdf)
IATA, the French Board of Airlines Representatives (BAR France) and the National Federation of Commercial Aviation (FNAM) partnered to organize an event (held at the Intercontinental Paris – Le Grand Hotel) designed to bring together the key players of the industry whose common effort is required to ensure France enhances its air transport competitiveness.
The country holds a particularly essential role in European aviation by its size, economic power, and its geographical situation as a hub and passageway for flights to and from Europe, as well as within the region. But not only that, France remains the top tourist destination worldwide and will be under the spotlight when it will host global events such as the 2023 Rugby World Cup and the 2024 Olympic Games.
Global passenger demand is also set to double in the coming 20 years. France could witness up to a 59% increase between 2017 and 2037, which would translate into 1.6 million jobs and 158.8 billion euros in GDP (vs. respectively 1.1m and 100.1bn in 2017).
However, in order to ensure these numbers materialize, some conditions have to be met. It was with this quest to help countries deliver aviation's many benefits that IATA created the Air Transport Regulatory Competitiveness Indicators*, a framework that assesses the regulatory environment across countries and how governments facilitate or inhibit growth of the air transport sector through their regulations. The framework measures a country's aviation regulatory competitiveness and offers a snapshot of where the potential gaps are in following the international best practice. Ultimately, it provides a guideline to build up a more efficient regulatory environment to unlock the economic benefits that aviation creates.
Rafael Schvartzman, IATA's Regional Vice President for Europe, said: "France must endorse its leadership role and be particularly proactive in ensuring its air transport competitiveness. This event organized with the BAR France and the FNAM is the first major one after the end of the Assises du Transport Aérien that the French Minister of Transport Ms. Borne recently closed. It also marks the launch of a long road that must lead us to a strengthened and competitive French aviation industry despite the many challenges it faces such as infrastructure costs, air traffic management efficiency -especially the need to advance on a National Airspace Strategy (French Air Traffic Management Strategy) - and quality of regulation".
For Robert Chad, IATA's Area Manager France, Belgium, the Netherlands: "Working hand in hand with fellow associations, airlines like Air France-KLM, airports, manufacturers, civil aviation, government authorities and the rest of the major players in the value chain is the only way France will be able to remain an aviation powerhouse. Events like today's and the upcoming Paris Air Forum organized by La Tribune and Aéroports de Paris (ADP) are excellent examples that we will not cease our efforts to ensure the industry is able to grow, and more importantly able to grow sustainably".
*The full French Air Transport Regulatory Competitiveness Indicators report was published 13 May 2019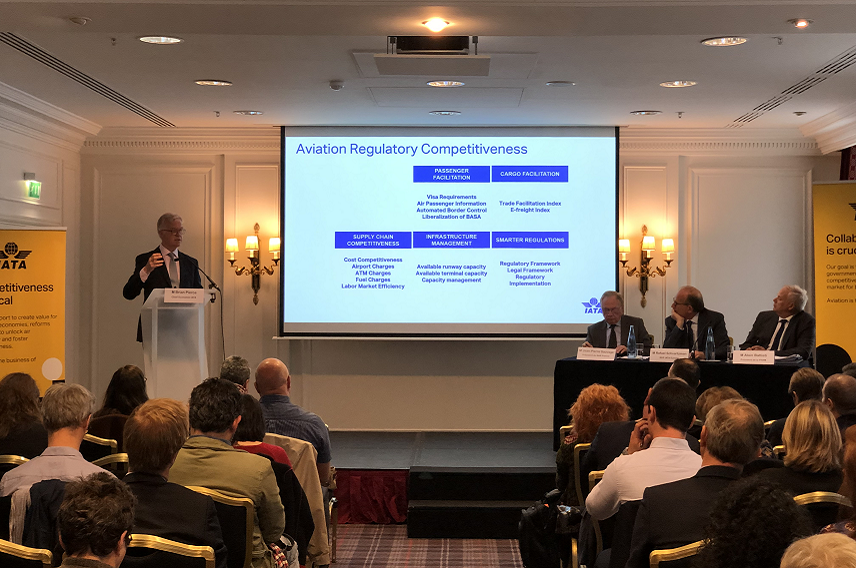 Brian Pearce (IATA's Chief Economist) introduces the Air Transport Regulatory Competitiveness Indicators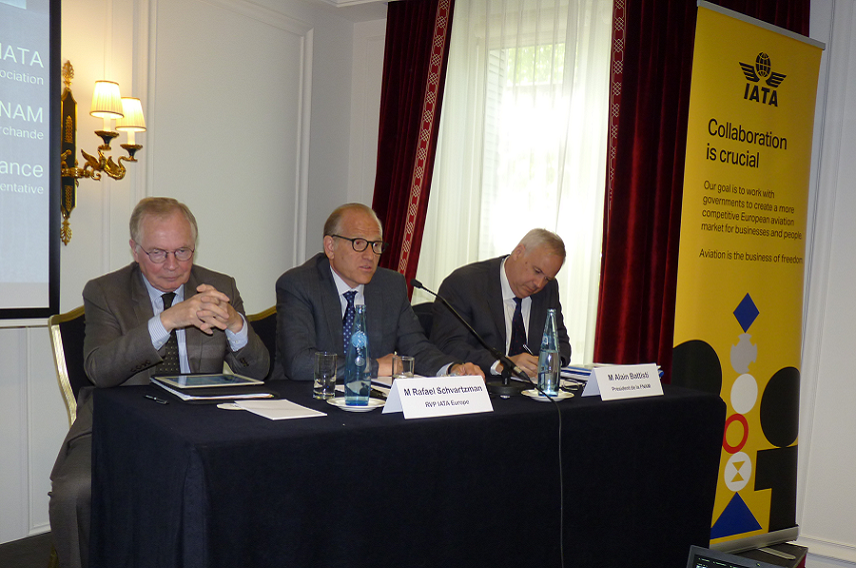 From left to right: Jean-Pierre Sauvage (BAR France President), Rafael Schvartzman (IATA Europe RVP), Alain Battisti (FNAM President)