Earlier this month, IATA´s Giancarlo Buono, Regional Director of the Safety and Flight Operations Europe, and Dmitry Kosolapov, Assistant Director ATM Infrastructure Europe, headed to Baku, Azerbaijan to discuss the status and agree on the next steps of the joint project launched last year by IATA and the Azerbaijan Air Navigation Service Provider (AZANS), which aims to develop the Safety Management System (SMS) of AZANS to implementation Level C ("Managed"), in accordance with the European Union Aviation Safety Agency (EASA) requirements.

During the past months, IATA has been extensively supporting AZANS in the implementation of advanced safety and risk management standards, including the delivery of relevant training to personnel. This is an important milestone to ensure safety enhancement in the Commonwealth of Independent States. Furthermore, it was agreed that IATA would continue to support AZANS to develop new routes in their airspace and possibly a National Airspace Strategy (NAS).
In Baku, the delegation also met with Jahangir Askerov, President of Azerbaijan Airlines (AZAL). AZAL and IATA signed an agreement last summer and have been working closely together in various areas, particularly passenger safety. Jahangir Askerov highlighted the need to further use new technologies as a solution. For Giancarlo Buono, "the cooperation between our organizations has been key in ensuring Azerbaijan's sky is safer for all airlines and their passengers".
In addition, the IATA delegation brought its support to Azerbaijan Airlines´ initiative to integrate air traffic control systems with unmanned aerial systems (Air Traffic Management and Unmanned Traffic Management unification) and emphasized the importance of this issue to ensure flight safety, especially around airports. Jahangir Askerov noted that many countries have similar concerns and some, like the UK and Japan, have even started to implement measures. AZAL´s President emphasized that drones flying close to airports can cause serious hazards, an issue they have decided to address by creating the Center for Civil Unmanned Aerial Vehicles Control at the Heydar Aliyev International Airport. Moreover, IATA and AZAL agreed to explore further cooperation in the area of aviation personnel training.
IATA and AZAL´s close cooperation will also materialize in the organization of the upcoming Safety and Flight Operations (SFO) conference (March 31 – April 2, 2020) that the airline will sponsor in Baku. This annual event brings together industry leaders, visionaries and innovators who, in this next edition, will discuss the impacts, changes, opportunities and responsibilities that the industry will face due to the increased use of new technologies. Both IATA's Director General and CEO, Alexandre de Juniac, and the International Civil Aviation Organization (ICAO)´s Secretary General, Dr. Fang Liu, have already confirmed attendance.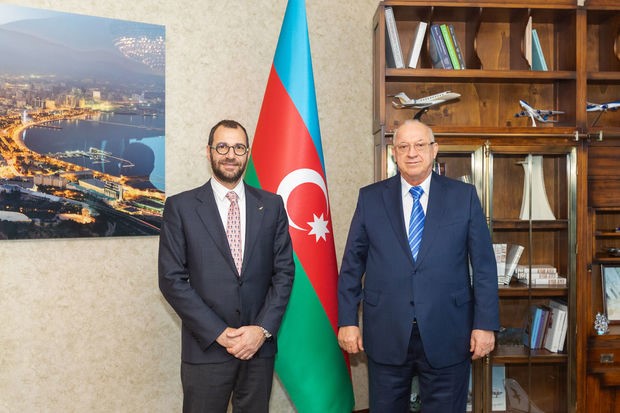 From left to right: Giancarlo Buono, IATA´s Regional Director of the Safety and Flight Operations Europe, and Jahangir Askerov, AZAL President