The issue of persistent inequality in the workplace is one which airlines are acutely aware of and concerned by. Aviation remains too male-dominated and must change. Achieving such change is a complex task. The industry must tackle a legacy where the kind of technical skills it requires were traditionally dominated by men in terms of education and training.
But huge numbers of women with the right skills – be it potential pilots, maintenance, managerial or a host of other roles – have been snapped up by other grateful business sectors in recent years, while aviation has been missing out. The industry recognizes that there remain too many barriers to effective female advancement.
Following the 2018 IATA AGM, Members gave the organization a clear mandate to explore ways it can help to improve women's participation in the industry at all levels.
As part of the first stage of this task, we have partnered with Korn Ferry and a number of industry associations to identify and promote the means by which aviation and aerospace can more effectively recruit and advance women into leadership roles. Additionally, with the help of generous sponsorship from Qatar Airways, we have launched the IATA Diversity and Inclusion Awards.
A further step was taken on 26 March when IATA signed up to the UK Women in Aviation and Aerospace Charter as an Overseas Supporting Organisation. IATA's Regional Vice President Europe, Rafael Schvartzman, signed the Charter on behalf of IATA, alongside IATA Board Member and member airline CEO, Christine Ourmières-Widener from Flybe.
The UK Government-backed initiative was launched in 2018 as a means of the UK's aviation and aerospace sectors making a commitment to work together to build a more balanced and fair industry for women by launching a Charter for Women.
Rafael Schvartzman, IATA Regional Vice President for Europe, said: "IATA is delighted to support this UK initiative. Enabling greater gender diversity is a challenge at both operational and managerial level, and it's a cause that IATA is itself promoting amongst its own staff and members internationally."
Christine Ourmières-Widener, CEO, Flybe and IATA Board member said: "As one of the only two female board members of IATA, I feel personally responsible to promote diversity and inclusion throughout aviation. With the airline industry forecasting to double in size by 2037, it is important to address the already growing shortage of pilots and engineers in order to meet the global demand.
There is an urgent necessity to target the 51 per cent of the population not currently represented in these roles and it is equally the responsibility of both men and women to highlight and help address this critical talent shortage. With IATA signing to the Charter we will ensure this issue receives even more visibility on an international scale and I am privileged to support IATA's decision to become involved in Women in Aviation and Aerospace Charter."
UK Aviation Minister Baroness Sugg said: "I'm delighted that IATA has joined over 100 organizations that support the UK Women in Aerospace and Aviation Charter to encourage gender diversity and inclusion within the industry. Almost a quarter of a million people work in the UK's aviation sector, yet women account for fewer than one in ten employees. It's clear, we have to create more opportunities for women to succeed at the highest levels. A balanced workforce is good for business and it's absolutely vital we make the best use of talent in this country, encouraging and inspiring girls into aviation-related careers."
Nominations for the Diversity and Inclusion awards close on April 15. Three winners – for "Inspirational Role Model", "Young High Flyer", and "Diversity and Inclusion Team" - will each win $25,000.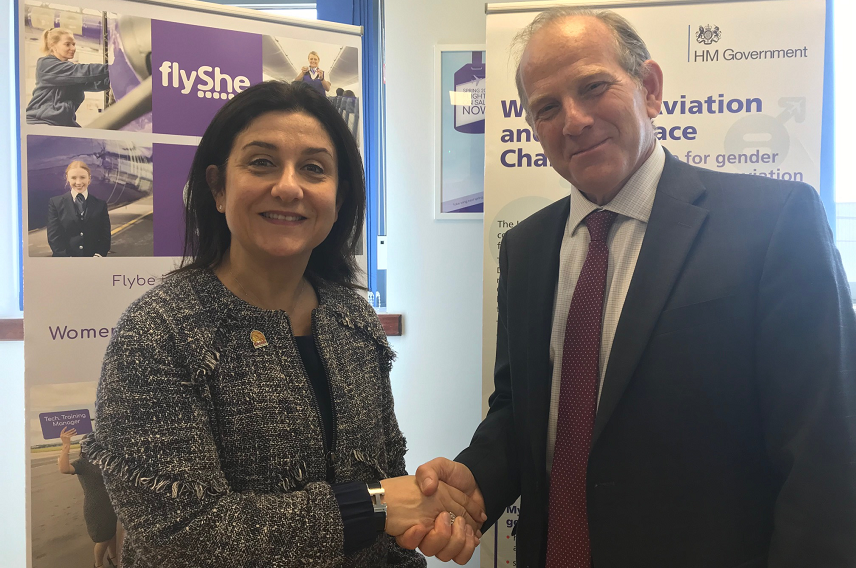 Christine Ourmières-Widener, Flybe CEO and Rafael Schvartzman, IATA's Regional Vice President for Europe sign the Charter in Exeter, UK, March 26th 2019