Abderahmane Berthe
Secretary General, AFRAA
Mr Berthe was the CEO of Air Burkina. He is a native citizen of Mali and has 28 years' experience in airline industry.
Prior to joining Air Burkina in 2013, Mr BERTHE built his career in various Airlines and multicultural environment both in Europe and Africa at positions such as aircraft performance and dispatch engineering, maintenance and operations quality, ground operations and Chief Executive Officer.
He has a total of16 years' experience as an airline CEO since his first CEO appointment in 1993.
During that various experience he had been active in many associations:
- European Regional Airlines Association (ERA) operations committee
- AFRAA Executive Committee
- ECOWAS airlines' steering committee
Abdérahmane has the following educational qualifications:
- Air Transport Aeronautical Technics from French Civil Aviation school in Toulouse (1987 Master Of Science degree).
- Advanced Automation and Systems from French Aeronautical and Space school in Toulouse (1988 Master Of Science degree)
- Business Administration from Business Institute in Toulouse (1989 Master degree)
He also obtained a Private Pilot License in 1985 for Single Engine Aircrafts.
​
Mr Berthe was the CEO of Air Burkina. He is a native citizen of Mali and has 28 years' experience in airline industry.
Prior to joining Air Burkina in 2013, Mr BERTHE built his career in various Airlines and multicultural environment both in Europe and Africa at positions such as aircraft performance and dispatch engineering, maintenance and operations quality, ground operations and Chief Executive Officer.
He has a total of16 years' experience as an airline CEO since his first CEO appointment in 1993.
During that various experience he had been active in many associations:
- European Regional Airlines Association (ERA) operations committee
- AFRAA Executive Committee
- ECOWAS airlines' steering committee
Abdérahmane has the following educational qualifications:
- Air Transport Aeronautical Technics from French Civil Aviation school in Toulouse (1987 Master Of Science degree).
- Advanced Automation and Systems from French Aeronautical and Space school in Toulouse (1988 Master Of Science degree)
- Business Administration from Business Institute in Toulouse (1989 Master degree)
He also obtained a Private Pilot License in 1985 for Single Engine Aircrafts.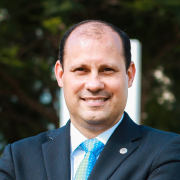 Jose Ricardo Botelho
President-Director, National Civil Aviation Agency Brazil (ANAC)
Mr Jose Ricardo Pataro Botelho de Queiroz is the President-Director of the National Civil Aviation Agency of Brazil since March 2016.
Prior to his current position, he was the alternate representative of the Brazilian Diplomatic Delegation in ICAO from 2012 to 2015, where he participated in the drafting of the Tokyo Convention Protocol, especially in matters relating to the In-Flight Security Officer.
He was also involved in making Brazil a part of the ICAO Public Key Directory, and drafted rules against acts of unlawful interference in civil aviation. Mr Botelho also held various positions in the Brazilian Government previously.

Eamonn Brennan
Director General, EUROCONTROL
​Eamonn Brennan was appointed by the 41 Member States of EUROCONTROL to lead the organisation as its Director General from 1 January 2018. Eamonn Brennan has over 35 years' experience working across three continents, in over 25 countries, in both the public and private sector. Prior to joining EUROCONTROL, he was the Chief Executive of the Irish Aviation Authority (IAA) where he was responsible for the provision of Air Traffic Management (ATM) services in Irish controlled airspace, aeronautical communications on the North Atlantic, and Air Traffic Control at the major Irish Airports, as well as the safety and security regulation of the Irish civil aviation industry. He has worked as a management and training consultant in London, Kuala Lumpur and South East Asia working on projects for the private sector, World Tourism Organisation and the European Commission amongst others.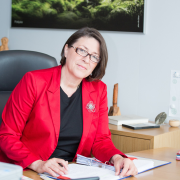 Violeta Bulc
European Commissioner for Transport
Violeta Bulc is the EU Commissioner for transport, having been appointed to the office in November 2014. Ms Bulc brings a diverse set of expertise and professional experiences to the role. As Commissioner, Ms Bulc has already placed priority on digitalisation, decarbonisation and innovation in transport.
A noted academic, author, systems architect and entrepreneur, Ms Bulc has long had a high profile in her homeland of Slovenia. In the corporate sphere, she held various positions in the telecoms industry, including Telekom Slovenia and Telemach. She has also been the owner and CEO of Vibacom, engaged in work on sustainable and innovative business solutions.
Immediately prior to her appointment to the European Commission, she was the Deputy Prime Minister of Slovenia, with ministerial responsibility for development, strategic projects and cohesion.

Kinto Chan
General Manager, Corporate Affairs, Cathay Pacific
​Kinto Chan took up the position of General Manager Corporate Affairs in July 2017, responsible for overseeing the airline group's strategy and activities relating to corporate communication, social media, stakeholder engagement, community engagement and sustainable development.
A native of Hong Kong, Kinto has worked for the airline in Bahrain, Vietnam, France and mainland China. Immediately before his current appointment, he was General Manager International Affairs, where he fostered the Group's relationship with governments and represented Cathay Pacific's interests in regulatory affairs and aero-political issues.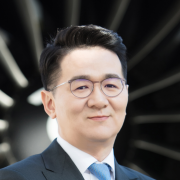 Walter Cho
Chairman and CEO Korean Air and AGM President
Walter Cho is Chairman and Chief Executive Officer of Korean Air, the world's largest trans-Pacific airline with operations in passenger, cargo, catering, maintenance and aerospace.
Mr. Cho joined Korean Air in 2004 and has led the airline's Corporate Strategy and Planning, Cargo Business and Passenger Business divisions. Before his position as Chairman and CEO, he served as President and COO.
Korean Air is a founding member of the SkyTeam alliance and Mr. Cho is an alliance board member. His drive for IT innovation and customer service improvements makes him a valuable resource for the SkyTeam. Mr. Cho also enthusiastically engages in regional activities. He is Chairman of South Korea's Chamber of Commerce Tourism Industry Committee and is working to design and develop programs to promote South Korea's tourism industry. He is an Executive Committee member of the Association of Asia Pacific Airlines (AAPA) and has contributed to the development and collaboration of the Asia-Pacific airline industry.
Mr. Cho is a business administration graduate of Inha University in Incheon and also has an MBA from the University of Southern California in Los Angeles. He is married and has three sons. He is an avid car enthusiast as well as a skilled skier.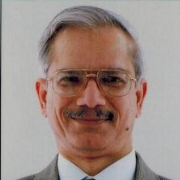 Rajiv Nayan Choubey
Member Union Public Service Commission (UPSC), India
Mr. Rajiv Nayan Choubey was born on 28th January, 1959 in Patna, India. He is a post graduate in Physics from the prestigious St. Stephens College, New Delhi. He also has a Masters Degree in Social Policy & Planning from London School of Economics, United Kingdom.
He started his professional career by joining the Indian Administrative Service in 1981 and was allotted to the Tamil Nadu Cadre. He served in Tamil Nadu from 1981 to 1998 in various capacities, prominent among them being Collector of Kanyakumari and Maduari, Executive Director of Industrial Development Corporation of Tamil Nadu and as Secretary, Finance Department.
He Joined Government of India in 1998 as Director and was later promoted as Joint Secretary in the Ministry of Finance where he worked for seven years. He also served as Principal Advisor in the Telecom Regulatory Authority of India, as Development Commissioner (Handlooms) and as Director General of Hydrocarbons under the Ministry of Petroleum. He was appointed as Additional Secretary in the Ministry of power and was later promoted as Special Secretary, Power.
Mr. Choubey was appointed as Secretary, Ministry of Civil Aviation on 5th June, 2015 and steered the Ministry till his retirement on 31.01.2019. During his tenure in the Ministry of Civil Aviation he was instrumental in drafting the New Civil Aviation Policy and also brought in reforms in the aviation sector which led to enormous growth of the sector.
Immediately after his superannuation, he was appointed as full-time Member of the Union Public Service Commission, India with effect from 1st February, 2019.
He is married to Smita and has two sons.

Pieter Elbers
CEO, KLM Royal Dutch Airlines (KLM)
As Chief Executive Officer of KLM Royal Dutch Airlines, Pieter Elbers aspires to make KLM the most customer centric, efficient and innovative airline of Europe. His leadership style thereto is characterized by the conviction that the management of a company is a continuous balancing act between people, planet and prosperity.
Since he took up office as the Chief Executive Officer of the managing board in 2014, he is – together with his Executive team - leading KLM and its 33,000 employees through an intensive transformation. In 2018 this has resulted in a record turnover of almost € 11 billion and a profit sharing by the employees of € 168 million. With 164 destinations worldwide, the current network of KLM connects the Netherlands with the world and the world with the Netherlands.
'The outside world is ever changing and KLM needs to keep up'. Pieter Elbers considers continuous transformation to be vital when it comes to leading the airline to the next century of its existence after 2019. Hereby KLM focusses on technological innovation for both customer and employee, and the further development of alliances and partnerships, safeguarding safety in all instances. Another important strategic pillar for KLM is sustainability. As third private employer in the Netherlands, KLM doesn't only strive to live up to its economical- or social position, but also to a position as a company that actually lives and breathes corporate responsibility.

After obtaining his engineering title, Pieter Elbers started his career with KLM in 1992 on the platform as Manager Aircraft loading. This was followed by several managerial positions in the Netherlands, Japan, Greece and Italy before he took up office as COO in the managing board of KLM. Next to his current role in KLM and as managing director of the Air France-KLM Group, he is a member of the Board of Governors of IATA and has a leading role in the Dutch business world as managing director of VNO-NCW.

He is married and has three kids. Convinced that a healthy mind equals a healthy body, he runs regularly to stay fit.

Paolo Gallo
Award Winner Author
​I am an executive coach, bestselling author and keynote speaker. I collaborate with Bocconi and Ashridge Business Schools. In my career I have been chief human resources officer at World Economic Forum in Geneva, chief learning officer at the World Bank in Washington, D.C. and director human resources at European Bank for Reconstruction & Development in London, with previous experiences at International Finance Corporation in Washington, D.C. and Citigroup in London, New York and Milan, my hometown.
I studied organizational behavior at Bocconi University, Milan, was a chartered fellow of the FCIPD, UK and became a certified leadership coach at Georgetown University, Washington D.C. I have worked in more than 80 countries and write for Harvard Business Review (Italian and Arabic) and I am a regular contributor to Forbes and World Economic Forum Agenda Blog, on themes related to careers, future of work, leadership development, executive coaching, resilience and well-being in the workplace, creative decision-making, artifical intelligence and machine learning, trust in the digital age, public speaking and organizational behavior.
I wrote (in Italian) La Bussola del Successo (2016), a mix of coaching, self-improvement, organizational behavior and business ethics. The book has reached its 5th edition, translated into Portuguese, Arabic and Korean with additional languages coming in 2019. The English version, published by Bloomsbury London, is The Compass & the Radar: The Art of building a rewarding career while remaining true to yourself became available in October 2018. I have given more than 50 keynote speeches and two TEDx talks in front of thousands of people worldwide.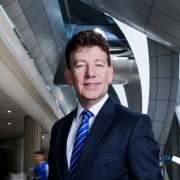 Paul Griffiths
CEO, Dubai Airports
Paul Griffiths is Chief Executive Officer of Dubai Airports, with the responsibility for the operation and development of Dubai International (DXB) as well as Dubai World Central (DWC), which will eventually be the world's largest airport with capacity to handle up to 240 million passengers and 16 million tonnes of freight annually.
Paul joined Dubai Airports as its first CEO in October 2007. Exactly a year later, on 14 October, he orchestrated the flawless launch of Terminal 3 at Dubai International and on 27 June 2010 successfully opened the Emirate's second airport, Dubai World Central (DWC). He achieved another milestone in Dubai's aviation history on 2 January 2013 with the similarly flawless opening of Concourse A, the world's first purpose-built A380 facility and again with Concourse D on February 24, 2016. Paul also oversaw the historic opening of the passenger terminal at DWC on 27 October 2013. Most recently, on December 20, 2018, Paul joined Dubai Airports' Chairman HH Sheikh Ahmed bin Saeed Al Maktoum in welcoming Dubai International's billionth passenger.
Prior to moving to Dubai, Paul was Managing Director of London's Gatwick Airport, the second largest airport in the UK. Before joining airport operator BAA in 2004, he spent 14 years with the Virgin Group, working closely with Sir Richard Branson as a Board Director of the Virgin Travel Group, embracing the commercial activities of both Virgin Atlantic Airways and Virgin Trains.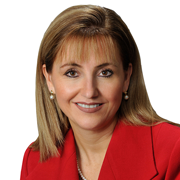 Gloria Guevara
President and CEO, World Travel & Tourism Council (WTTC)
Gloria joined the World Travel & Tourism Council (WTTC) in August 2017,following a varied career in Travel & Tourism. WTTC is the global body thatrepresents travel & tourism worldwide. A sector that generates 10% of GDPand employs circa 300 million jobs. Recognised as one of the most influential women in Mexico by CNN and Expansion, Gloria began her professional career in 1989 at NCR Corporation working in the Latin America, Middle East, and Africa regions.She holds a BS in Computer Science from Anahuac University and MBA from Kellogg School of Business, Northwestern University.Since 1995 she has worked for the travel industry, starting at the SabreTravel Network and Sabre Holdings, she was later CEO of JV Sabre Mexico reporting to a board of directors from Aeromexico, Mexicana, and Sabre. In March 2010 President Calderon appointed her as Minister of Tourism and two weeks after she was given in addition the full responsibility of the Mexican Tourism Board. Under her leadership the "National Agreement for Tourism" in Mexico was created in 2011 and for the first time "the importance of Travel & Tourism" was included in the G20 declaration of leaders in Los Cabos. Gloria received the Good Neighbour Award from the US-Mexico Chamber of Commerce and Virtuoso awarded Mexico the best tourism board in the world due to her successful branding and repositioning efforts. In addition,Gloria has been Special Advisor on Government Affairs to Harvard University, and part of the Future for Travel, Tourism and Aviation Global Agenda Council of the World Economic Forum (WEF).

Robin Hayes
President and CEO, Jet Blue
Robin Hayes is chief executive officer of JetBlue Airways Corp., which encompasses JetBlue – New York's Hometown Airline® – as well as subsidiaries JetBlue Technology Ventures and JetBlue Travel Products.He joined JetBlue in 2008 and served as the company's executive vice president and chief commercial officer until becoming president of the airline in January 2014. In February 2015 he was appointed as JetBlue's third chief executive officer.Prior to joining JetBlue, Robin was executive vice president for the Americas at British Airways. Over the span of a wide-ranging 19-year career with BA, he also served as area general manager for Europe, Latin America and the Caribbean.He serves on the board of governors of the International Air Transport Association (IATA) and the Wings Club as well as the board of directors at Airlines for America (A4A) and Make-A-Wish Connecticut.Robin is a graduate in Electrical and Electronic Engineering from the University of Bath in the United Kingdom. He received a BSc and Master's in Engineering from the university.
Harry Hohmeister
Member of the Executive Board, Lufthansa

Kim Hyun-Mee
Minister of Land, Infrastructure and Transport, Korea
Ms. Kim Hyun-mee was appointed as the Minister of Land, Infrastructure and Transport of Korea in June, 2017. Prior to her nomination, she was elected as a representative of the National Assembly three times. She entered into public life in 2003 as the Secretary of Political Affairs of the Presidential Office. She also worked as the spokesperson of the Yeollin Uri party. While serving as a member of the Special Committee on Housing Welfare for the Public, Strategy and Finance Committee and Special Committee on Budget and Accounts (chairperson), she developed extensive expertise and insights on economy and housing.

Alan Joyce
CEO and Managing Director, Qantas
Alan Joyce has been Chief Executive Officer and Managing Director of Qantas since November 2008.
This period has seen Qantas and Jetstar continue to lead the Australian domestic market; the launch of Qantas' biggest transformation program since privatisation in 1995, including the turnaround of Qantas International; the rapid development of Jetstar's pan-Asian strategy; and the sustained growth of the Qantas Frequent Flyer program.
During this time the Qantas Group has taken delivery of more than 120 new aircraft – over a third of its fleet – and invested in infrastructure, technology and training to achieve record customer satisfaction.
Mr Joyce served as founding Chief Executive Officer of Jetstar for five years from October 2003, establishing its operations in Australia and across Asia. Prior to his appointment at Jetstar, he spent over 15 years in key positions at Qantas, Ansett and Aer Lingus.
Mr Joyce was Chairman of the International Air Transport Association between July 2012 and June 2013.
His current roles in business and the community include:
. Director of the Business Council of Australia;
. Member of the Male Champions of Change;
. Ambassador for the Australian Indigenous Education Foundation NSW; and
. Presiding Officer of the Board of Management for Charles Sturt University's Associate Degree in Policing Practice.
Mr Joyce is a Fellow of the Royal Aeronautical Society and the Australian Academy of Technological Sciences and Engineering.
He holds a Bachelor of Science in Applied Science (Physics and Mathematics) (Honours) and a Master of Science in Management Science.

Eric Lipp
Founder and Executive Director, Open Doors Organization (ODO)
Eric Lipp, Founder and Executive Director of the Open Doors Organization (ODO), started the organization after personally experiencing the restrictions that people with disabilities face in everyday life. A day before his 30th birthday Eric was diagnosed with Von Hippel Lindau disease, which had resulted in a tumor growth on his spinal cord. Eric was told that due to the trauma of the surgery he might never regain his ability to walk. This diagnosis and subsequent spinal cord surgery have not stopped Eric from participating in life to the fullest. This experience was the catalyst in encouraging Eric to found the Open Doors Organization.
Eric's single most outstanding contribution to improving the quality of life for people with disabilities is in understanding the need for access into the larger domain of society. His ability to insist on helping businesses achieve equal access beyond simple compliance opens doors for people with disabilities. To this end, he initiated the 2002 and 2005 ODO/Harris Interactive studies on travelers with disabilities, which the travel industry views as the definitive source for statistics on travel by Americans with disabilities.
Before starting ODO, Eric worked for seven years as the National Account Executive for MIS Computer Corporation in Chicago. Prior to MIS, he was an Outbound Account Representative for CDW Computer Centers, a Fortune 500 company. Eric holds a B.S. from the University of Arizona and currently resides in Chicago with his wife and two children.

Anita Mendiratta
Special Advisor to the Secretary General, UNWTO
A trusted and respected global strategic advisor and five-time author in Tourism & Development, Anita Mendiratta is the Founder and Managing Director of CACHET CONSULTING – an international consulting firm working closely with leaders in governments, private sector businesses, and international organisations.
Originally from Canada, Anita now possesses over two decades of professional working and living experience across almost all continents. This unique, direct global experience, innate ability to feel the 'heartbeat' of societies, and acute understanding of the economic, social, political and environmental dynamics impacting and inspiring nations facing change, have turned Anita into one of the most sought after international speakers and advisors on the subject of national growth, development, and often, recovery.
As a result of her international reputation as an advisor, author, presenter and confidante at the highest levels, Anita has become a sought after speaker, moderator, facilitator and coach for leaders and nations across the globe.
Fadimatou Noutchemo Simo
Founder and President of the YOUNG AFRICAN AVIATION PROFESSIONAL ASSOCIATION (YAAPA)
Fadimatou NOUTCHEMO SIMO is Founder and President of the YOUNG AFRICAN AVIATION PROFESSIONAL ASSOCIATION (YAAPA). She holds a Bachelor's degree in Economics and an IATA diploma for airline management she could obtain, thanks to the sponsorship from the International Airline Training Fund (IATF).
She founded YAAPA in 2014 a nonprofit organization to educate youths through communication on aviation careers, as well as create a platform of exchange between the aviation stakeholders and the next generation of aviation professionals in Africa to meet up with the future demand of skilled workers in the industry.
Fadi is a member of the women in Aviation International Organization and actively promotes gender equality across the continent by advocating for stakeholders to invest more on human capital development through innovative methods in Africa to ensure a safe and secure aviation for the next generation. Her message for gender equality in the African aviation industry is for each male professional to identify a woman they will Inspire, Mentor and Empower to have more women in Aviation.
She and her team work to support all aviation related projects from industry organizations as the African Union, ICAO, IATA, AFRAA, AFCAC in raising awareness to ensure continuity and involvement of all .YAAPA looks forward to launch its Youth Aviation Tech Africa Program as well as its community centers to promote aviation to facilitate tourism amongst the Next generation of Young Africans to ensure no country is left Behind.

Christine Ourmières-Widener
CEO, Flybe
Christine joined Flybe as Chief Executive Officer on 16th January 2017.
With extensive international experience across the aviation and travel sectors, immediately prior to joining the airline, she was Chief Global Sales Officer for American Express Global Business Travel, responsible for developing the company's strategy and driving business growth in major markets across North America, Europe and Asia with a strong focus on improving the customer experience.
Between 2010 and 2015, Christine was CEO and Accountable Manager with CityJet – becoming the first female CEO of an Irish-licensed airline and one of only 15 across all commercial airlines. She had overall responsibility for all operations including network, distribution, finance, marketing, communications, quality assurance and airport operations; and she played an integral role in securing investors during the sale of the company to AF/KLM, latterly leading projects for the newly independent airline including its rebranding, re-fleeting and deep restructuring.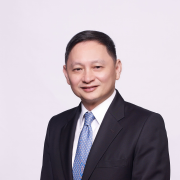 Goh Choon Phong
CEO, Singapore Airlines
Goh Choon Phong joined Singapore Airlines in 1990 and has held senior management positions in Singapore as well as overseas. Mr Goh joined the Airline's Board on 1 October 2010 and was appointed CEO on 1 January 2011.
Mr Goh became Executive Vice-President Marketing and the Regions in June 2010. Prior to that he was President of Singapore Airlines Cargo for four years. Previous senior positions with Singapore Airlines included Senior Vice-President Finance, Senior Vice-President Information Technology and Senior Vice-President Commercial Technology. His overseas assignments were in China and Scandinavia.
Mr Goh is a Board Director of SIA Engineering Company; is Chairman of Budget Aviation Holdings Pte Ltd, which owns and manages Scoot; is a member of the National University of Singapore Board of Trustees; and is an Independent Director on the Board of Mastercard Incorporated.
Mr Goh is a member of the Board of Governors of the International Air Transport Association, and was its Chairman between June 2017 and June 2018. He is also on the Executive Committee of the Association of Asia Pacific Airlines.
In addition, Mr Goh is a member of the MIT Presidential CEO Advisory Board, made up of CEOs from leading companies in a variety of industries around the world.
Mr Goh holds a Master of Science in Electrical Engineering and Computer Science as well as three Bachelor of Science degrees, in Computer Science and Engineering, Management Science and Cognitive Science, all from the Massachusetts Institute of Technology.

Richard Quest
International Business Correspondent, CNN
Richard Quest is CNN's foremost international business correspondent and anchor of Quest Means Business, the definitive word on how we earn and spend our money. Based in New York, he is one of the most instantly recognizable members of the CNN team.
He also presents Quest Express, a new business show broadcast weekdays at 12pm ET / 5pm BST from the floor of the New York Stock Exchange. Quest Express offers a quick-fire briefing on the latest market movements and business stories, building a bridge between the close of the European trading day, the opening of the markets in New York, and the start of the business day in Silicon Valley.
Additionally, Quest serves as CNNMoney's editor-at-large and files a global daily newsletter - 'CNNMoney Presents: Quest Means Business' - timed to the open of the Asia markets.
Quest Means Business, which airs weekdays at 4pm ET / 9pm BST on CNN International, destroys the myth that business is boring, bridging the gap between hard economics and entertaining television. CEOs and global finance ministers make a point of appearing on QMB.
In addition, Quest is the established airline and aviation correspondent at CNN.
He also presents the monthly CNN Business Traveller show, the definitive authority on making the most of doing business on the road - moving from A to B on company time.
The United Nations World Tourism Organization (UNWTO) awarded Quest the 2013 UNWTO Award for Lifetime Achievement in recognition of his work as a business journalist reporting on the tourism industry.

David Rowan
Founding Editor-in-chief, WIRED
David Rowan, founding Editor-in-chief of WIRED's UK edition (2008-17), is the author of Non-Bullshit Innovation: Radical Ideas from the World's Smartest Minds (Transworld, 2019), a global quest for bold corporate innovation in the face of technology-led disruption.
He's taken 130 flights in the past year to investigate the companies and entrepreneurs changing our world, and has spent time with the founders of WhatsApp, LinkedIn, Google, Didi, Spotify, Xiaomi, Nest, Twitter and countless other ambitious startups from Tel Aviv to Shenzhen.
His keynote talks have included events for banks, governments and Fortune 100 companies, and stage interviews have ranged from will.i.am to James Murdoch and David Cameron.
David has been a technology columnist for The Times, GQ, Condé Nast Traveller and The Sunday Times. He's an early-stage investor in more than 50 tech companies and founder of Voyagers.io, a non-profit taking amazing people for weekend adventures designed to build close community.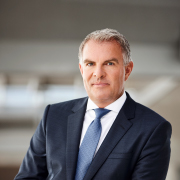 Carsten Spohr
Chairman of the Executive Board & Chief Executive Officer of Deutsche Lufthansa AG
Carsten Spohr has been Chairman of the Executive Board and Chief Executive Officer of Deutsche Lufthansa AG since May 2014.
He has been a Member of the Executive Board of Lufthansa Group since January 2011 and held various management functions in the Lufthansa Group since October 1994 including CEO of Lufthansa German Airlines as well as CEO of Lufthansa Cargo AG.
He completed a management training course at Deutsche Aerospace AG before pursuing his career at Deutsche Lufthansa AG.
He holds a degree in industrial engineering and a Lufthansa captain´s license for the aircraft of the Airbus A320 family.

Andrew Stevens
Special Business Correspondent, CNN
Andrew Stevens is an award-winning journalist who joined CNN in 1999 as a specialist business correspondent.
He has interviewed many of the world's political and business leaders and has reported on Asia-Pacific for more than two decades.
Stevens, who is originally from Australia, is a former print journalist who relocated from London to Hong Kong in 1993 in the lead-up to the territory's handover to China in 1997.
He has covered elections across many countries and reported on many of the most significant events across the region in the last 20 years.
In 2014 he was part of the CNN team covering Hong Kong's Umbrella Revolution pro-democracy movement and the mysterious disappearance of flight MH370. In 2013, he was the only western journalist on the ground in the Philippines when devastating Typhoon Haiyan struck. CNN's coverage of Haiyan won Best International News story at the prestigious Royal Television Society awards in London.
Formerly, as anchor of CNN's 'BizAsia' program, Stevens won the Asian Television Award for 'Best Business Programming'.
Prior to joining CNN Stevens was a senior correspondent for CNBC Asia and financial editor of The South China Morning Post in Hong Kong. He spent six years in London as the economics editor for the Press Association and began his career in his native Australia where he was a correspondent for the Australian Financial Review.

Ghim-Lay Yeo
Business Journalist, FlightGlobal
​Ghim-Lay is a business journalist with 13 years of reporting experience, including a decade specializing in the global aviation industry. Based in FlightGlobal's Washington DC bureau, she manages a team of reporters who cover the airline industry in the Americas. She also reports on US and South American airlines. Outside of the newsroom, she is pursuing a master's degree in business administration from the University of Warwick. For her master's thesis, she is researching the factors behind the poor representation of women in airline senior management teams.
Prior to relocating to the US, she was based in Singapore, where she covered Asia's fast-growing airline industry and China's state-owned aerospace manufacturers for FlightGlobal.
Before joining FlightGlobal, she was a transportation reporter at Singapore's national daily, The Straits Times.
Ghim-Lay is fluent in English and Mandarin. She graduated from Nanyang Technological University in Singapore with a bachelor's degree (upper second-class honours) in journalism.