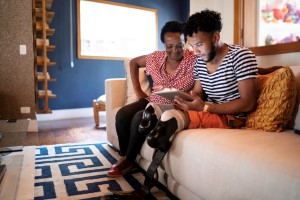 ​Over 4.5 billion passengers fly each year. But for some passengers with physical or hidden disabilities, flying may be an inconvenient, worrying or even painful experience. The airline industry is committed to ensuring that safe, reliable and dignified air travel is equally accessible to all passengers. Airlines and airports are working with representative groups from the disabled community to make flying as hassle-free as possible.
Accessibility and COVID-19
IATA position on face-covering for passengers with disabilities
Some passengers, such as those who cannot put on or remove a face mask themselves, small children, and those who have certain types of medical conditions may not be able to tolerate the use of masks for a lengthy period. Some government have published regulations on face mask exemption.
> IATA position paper on face-covering for passengers with disabilities (pdf)
Passenger Survey
IATA supported a survey by easyTravelseat to look specifically at the concerns and opinions of global travellers with disabilities and their views on flying following the pandemic. The results of this survey were shared with IATA member airlines, as they prepared for a rebound in passengers and the implementation of new measures.
The feedback from the disability community will be crucial for a safe and efficient restart for all passengers.
> See results of this survey
Industry Guidance
Leveraging survey data, and in consultation with both disability associations and airline members, IATA has developed guidance to the airline industry in the context of the restart of air travel. This will help support and inform policy as airlines expect to welcome passengers with disabilities back to the skies.
> Download the IATA Guidance on Accessible Air Travel in Response to COVID-19 (pdf)
Transport of Battery-Powered Wheelchair and Mobility Aid Guidance
IATA and member airlines have prepared the Battery-Powered Wheelchair and Mobility Aid Guidance Document (pdf) to support airlines to safely and efficiently accept and transport battery-powered wheelchairs and mobility aids required by passengers with reduced mobility. The guidance document includes information on the specifics that passengers should provide to airlines to ensure that on arrival at the airport, their battery-powered mobility aid can be accepted and loaded on the aircraft.​​​​​​​​​​​​​​​​​​​​​​​​
New Mobility Aids Action Group
The first of its kind, a global Action Group was launched in July 2021 to improve the handling of mobility aids for travelers with disabilities, including wheelchairs. The Action Group will involve the full range of stakeholders, including organizations representing travelers with disabilities, airlines, ground service providers, airports and mobility aids manufacturers.
>Press release: Airlines Launch new Mobility Aids Action Group
AIR Hackathon - Reduced Mobility
The AIR Hackathon on Reduced Mobility took place at Microsoft HQ in Seattle, USA prior to the COVID-19 outbreak in 2020. Working with travelers with disabilities, innovators worked 28 hours non-stop in order to build solutions to enhance the booking experience for passengers traveling with mobility aids and/or tracking of mobility aids (wheelchairs).

See highlights of the event below.
Landmark industry resolution
During the 75th IATA Annual General Meeting in June 2019, global airline leaders unanimously agreed a resolution calling on governments to adopt IATA's core principles for accommodating passengers with disabilities. These principles aim to change the focus from disability to accessibility and inclusion by bringing the travel sector together with governments to harmonize regulations and provide the clarity and global consistency that passengers expect.


Read full resolution text: Resolution on Disabled Passengers (pdf)
Need for harmonization of disability legislation
We recognize we can and should do more. One area of concern is the proliferation of differing disability legislation across the globe, which creates confusion for passengers with disabilities, difficulties for airlines, and raises potential safety implications. Critically, there is no common definition of a passenger with disabilities or agreement on the minimum service levels they can expect when traveling by air.

IATA advocates for a joint government and industry approach, that meets the needs of passengers with disabilities, while ensuring efficient and safe air transport. In particular, working with the International Civil Aviation Organization (ICAO), IATA is campaigning with states to closely involve the airline industry in the inclusion of the UN Convention on the Rights of People with Disabilities (UN CRPD) into national aviation legislation and policies related to accessible air transport.
Released Feb. 2021 - Guidance for airlines to serve travelers with disabilities
The 1st edition of the IATA Passenger Accessibility Operations manual (IPAOM) is now available. It has been developed to support airlines in assisting passengers with disabilities, with the aim of delivering a smooth and dignified travel experience throughout their entire journey. It can be used in an operational environment, as a basis for training.
Learn more about the IPAOM.
IATA SSR Codes - Passengers with reduced mobility
Special Service Request (SSR) codes are widely used in the airline industry to communicate disabled traveler preferences or needs to airlines. It is fundamental that the service requested and the associated Passenger with Reduced Mobility (PRM) code is used in the proper way to guarantee passengers the best assistance at the airport and on board. ​​​​​​​​​
IATA Resolution and Recommended Practices
Recommended practices for the carriage of passengers with reduced mobility were adopted by IATA airline members within the resolutions governing the processing of passengers and baggage in the international interline environment. They include a series of codes defining categories of passengers with disabilities, currently widely used in the aviation industry. The resolution and recommended practices are published in the IATA Passenger Services Conference Resolutions Manual (PSCRM).