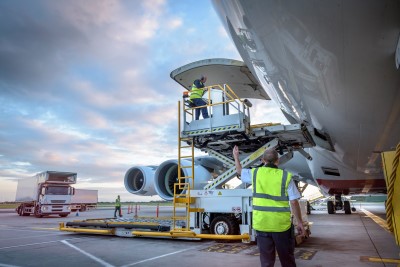 Translations:
国际航协:供应链中断致2021年11月份航空货运增长腰斩 (pdf)
تراجع معدلات نمو الشحن الجوي لشهر نوفمبر إلى النصف جرّاء اضطرابات سلسلة التوريد (pdf)
Les perturbations des chaînes d'approvisionnement réduisent de moitié la croissance du fret aérien (pdf)
Crescimento da carga aérea em novembro cai pela metade devido a problemas de abastecimento (pdf)
Las interrupciones en las cadenas de suministro reducen a la mitad el crecimiento de la carga aérea en noviembre (pdf)
Geneva - The International Air Transport Association (IATA) released data for global air cargo markets showing slower growth in November 2021. Supply chain disruptions and capacity constraints impacted demand, despite economic conditions remaining favorable for the sector.
As comparisons between 2021 and 2020 monthly results are distorted by the extraordinary impact of COVID-19, unless otherwise noted, all comparisons below are to November 2019 which followed a normal demand pattern.
Global demand, measured in cargo tonne-kilometres (CTKs*), was up 3.7% compared to November 2019 (4.2% for international operations). This was significantly lower than the 8.2% growth seen in October 2021 (2% for international operations) and in previous months.
Capacity was 7.6% below November 2019 (-7.9% for international operations). This was relatively unchanged from October. Capacity remains constrained with bottlenecks at key hubs.
Economic conditions continue to support air cargo growth, however supply chain disruptions are slowing growth. Several factors should be noted:
Labor shortages, partly due to employees being in quarantine, insufficient storage space at some airports and processing backlogs exacerbated by the year end rush created supply chain disruptions. Several key airports, including New York's JFK, Los Angeles and Amsterdam Schiphol reported congestion.
Retail sales in the US and China remain strong. In the US retail sales were 23.5% above November 2019 levels. And in China online sales for Singles' Day were 60.8% above their 2019 levels.
Global goods trade rose 4.6% in October (latest month of data), compared to pre-crisis levels, the best rate of growth since June. Global industrial production was up 2.9% over the same period.
The inventory-to-sales ratio remains low. This is positive for air cargo as manufacturers turn to air cargo to rapidly meet demand.
The recent surge in COVID-19 cases in many advanced economies has created strong demand for PPE shipments, which are usually carried by air.
The November global Supplier Delivery Time Purchasing Managers Index (PMI) was at 36.4. While values below 50 are normally favorable for air cargo, in current conditions it points to delivery times lengthening because of supply bottlenecks.
"Air cargo growth was halved in November compared to October because of supply chain disruptions. All economic indicators pointed towards continued strong demand, but the pressures of labor shortages and constraints across the logistics system unexpectedly resulted in lost growth opportunities. Manufacturers, for example, were unable to get vital goods to where they were needed, including PPE. Governments must act quickly to relieve pressure on global supply chains before it permanently dents the shape of the economic recovery from COVID-19," said Willie Walsh, IATA's Director General.
Air cargo market detail - November 2021
| November 2021 versus November 2019 | worldshare1 | ctk | actk | CLF(%-PT)​2 | CLF(LEVEL)​3 |
| --- | --- | --- | --- | --- | --- |
| Total Market | 100.0% | 3.7% | -7.6% | 6.1% | 55.9% |
| Africa | 1.7% | -0.1% | 6.6% | 3.0% | 43.4% |
| Asia Pacific | 32.7% | 1.1% | -15.7% | 10.9% | 65.4% |
| Europe | 22.1% | 0.3% | -9.7% | 6.3% | 63.1% |
| Latin America | 2.4% | -12.9% | -24.4% | 6.0% | 44.6% |
| Middle East | 13.0% | 3.4% | -9.6% | 7.2% | 57.2% |
| North America | 28.1% | 13.3% | 5.9% | 2.9% | 44.4% |
1) % of industry RPKs in 2020 2) Change in load factor vs. the same month in 2019 3) Load Factor Level
To relieve supply chain disruptions in the air cargo industry, IATA is calling on governments to:
Ensure that air crew operations are not hindered by COVID-19 restrictions designed for air travelers.
Implement the commitments governments made at the ICAO High Level Conference on COVID-19 to restore international connectivity, including for passenger travel. This will ramp-up vital cargo capacity with "belly" space.
Provide innovative policy incentives to address labor shortages where they exist.
Support the World Health Organization / International Labour Organization Action Group being formed to assure freedom of movement for international transport workers.
November Regional Performance
Asia-Pacific airlines saw their international air cargo volumes increase 5.2% in November 2021 compared to the same month in 2019. This was only slightly below the previous month's 5.9% expansion. International capacity in the region eased slightly in November, down 9.5% compared to 2019.
North American carriers posted an 11.4% increase in international cargo volumes in November 2021 compared to November 2019. This was significantly below October's performance (20.3%). Supply chain congestion at several key US cargo hubs has affected growth. International capacity was down 0.1% compared to November 2019.
European carriers saw a 0.3% increase in international cargo volumes in November 2021 compared to the same month in 2019, but this was a significant drop in performance compared to October 2021 (7.1%). European carriers have been affected by supply chain congestion and localized capacity constraints. International capacity was down 9.9% in November 2021 compared to pre-crisis levels and capacity on the key Europe-Asia route was down 7.3% during the same period.
Middle Eastern carriers experienced a 3.4% increase in international cargo volumes in November 2021, a significant drop in performance compared to the previous month (9.7%). This was due to a deterioration in traffic on several key routes such as Middle East-Asia, and Middle East-North America. International capacity was down 9.7% compared to November 2019, a small decrease compared to the previous month (8.4%).
Latin American carriers reported a decline of 13.6% in international cargo volumes in November compared to the 2019 period. This was the weakest performance of all regions and a significant deterioration from the previous month's performance (-5.6%). Capacity in November was down 20.1% on pre-crisis levels.
African airlines' saw international cargo volumes increase by 0.8% in November, a significant deterioration from the previous month (9.8%). International capacity was 5.2% lower than pre-crisis levels.
Download the detailed November 2021 Cargo Analysis (pdf)
For more information, please contact:
Corporate Communications
Tel: +41 22 770 2967
Email: corpcomms@iata.org
Notes for Editors:
IATA (International Air Transport Association) represents some 300 airlines comprising 83% of global air traffic.
You can follow us at twitter.com/iata for announcements, policy positions, and other useful industry information.
The IATA Annual General Meeting & World Air Transport Summit is taking place on 4-6 June in Istanbul. Find out all media material including photos and downloadable videos for use in broadcast at www.iata.org/agm-2023
* Please note that as of January 2020 onwards, we have clarified the terminology of the Industry and Regional series from 'Freight' to 'Cargo', the corresponding metrics being FTK (changed to 'CTK'), AFTK (changed to 'ACTK'), and FLF (changed to 'CLF'), in order to reflect that the series have been consisting of Cargo (Freight plus Mail) rather than Freight only. The data series themselves have not been changed.
Explanation of measurement terms:
- CTK: cargo tonne-kilometers measures actual cargo traffic
- ACTK: available cargo tonne-kilometers measures available total cargo capacity
- CLF: cargo load factor is % of ACTKs used
- IATA statistics cover international and domestic scheduled air cargo for IATA member and non-member airlines.
Total cargo traffic market share by region of carriers in terms of CTK is: Asia-Pacific 32.6%, Europe 22.3%, North America 27.8%, Middle East 13.0%, Latin America 2.4%, and Africa 2.0%.