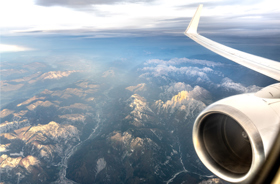 Translations
قطاع الطيران يعلق آمالاً كبيرة على الدورة الـ 41 للجمعية العمومية لمنظمة الطيران المدني الدولي في مجالي الاستدامة والجاهزية لمواجهة الأوبئة (pdf)
Des attentes élevées à la 41e Assemblée de l'OACI en termes de durabilité et de préparation aux pandémies (pdf)
Geneva - The International Air Transport Association (IATA) announced that the Wings of Change Europe conference will focus on rebuilding a competitive European air transport system as the industry looks to its post-pandemic future.
Europe is recovering strongly but challenges remain. The industry's resilience is being tested by the $50 billion in losses the region's airlines experienced during COVID-19 (2020-2022) and a return to pre-pandemic demand that is not expected to occur until 2024. Meanwhile, the operating environment is made more challenging with growing costs, a proliferation of regulatory initiatives and the drive towards net zero emissions.
"Europe needs strong air connectivity now more than ever. But the competitiveness and resilience of European aviation are under strain. Rising fuel prices and infrastructure costs are putting pressure on affordable air transport for European travelers, tourist markets, and exporters. And successfully achieving our transition to net-zero CO2 by 2050 will require close cooperation and support between regulators and industry. To ensure that the European economy is well-supported by efficient regional and global connectivity, it is essential that the regulatory agenda being pursued across Europe is approached with great care and a focus on competitiveness. At Wings of Change Europe we will bring together key decision-makers to debate these vital issues," said Rafael Schvartzman, IATA's Regional Vice President for Europe.
Wings of Change Europe will take place in Istanbul, Türkiye, from 8 to 9 November 2022, kindly hosted by Pegasus Airlines.
Speakers include:
Willie Walsh, IATA's Director General,
Mehmet Nane, Vice-Chairperson of the Board, Pegasus Airlines, and Chair of the IATA Board of Governors
Güliz Öztürk, CEO, Pegasus Airlines
Professor Ahmet Bolat, Chairman of the Board & Executive Committee, Turkish Airlines
Anko van der Werff, CEO, SAS
Henrik Hololei, Director-General for Mobility and Transport, European Commission
Marie Owens Thomsen, IATA's Chief Economist
Issues under discussion will include:
European competitiveness and connectivity
Environment and Sustainable Aviation Fuels
Modernizing European Air Traffic Management
Creating a regulatory framework to support sustainability and competitiveness
Diversity and inclusion
Accessibility
Rebuilding tourism
The event is open to accredited members of the press.
More information about the Wings of Change Europe
For more information, please contact:
Corporate Communications
Tel: +41 22 770 2967
Email: corpcomms@iata.org
Notes for Editors:
IATA (International Air Transport Association) represents some 300 airlines comprising 83% of global air traffic.
You can follow us at twitter.com/iata for announcements, policy positions, and other useful industry information.