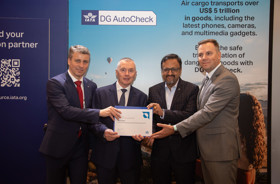 Istanbul - The International Air Transport Association (IATA) announced that dnata has become the first company to adopt 'Connect API', the newest feature of IATA's DG AutoCheck. Connect API will help in the digitalization of the air cargo industry by automating the transfer of data from DG AutoCheck to other systems in the industry's value chain. This connectivity has been enabled via IBS Software's iCargo solution, which is currently being Implemented across dnata's global network.
Connect API can be used flexibly in line with user priorities. dnata, for example plans to use Connect API to link its warehouse management system (iCargo) to DG AutoCheck to automate the creation of notifications to captain (NOTOC). Other potential applications include linking DG AutoCheck to operational or accounting systems and cargo management systems (CMS).
"Efficiently exchanging data with Connect API will help deliver the speed, quality, compliance and ultimately safety benefits of digitalization that air cargo customers are demanding. These benefits are real and measurable. Today it can take up to 100 minutes to get flight crew of freighter operations, detailed information on dangerous goods in the payload through NOTOC systems. With Connect API, this will be instantaneous. We are proud to be launching Connect API with dnata, bringing benefits to their customers," said Frederic Leger, IATA's Senior Vice President Commercial Products and Services.
"We are delighted to deliver this innovation to our customers. Connecting iCargo to DG AutoCheck through Connect API will accelerate dangerous goods acceptance checks while enabling the highest level of safety, compliance, and efficiency throughout the handling process. In addition, we will be able to further optimize our operations through the data by our systems working more efficiently together," said Guillaume Crozier dnata's SVP UAE Cargo and Global Cargo Strategy.
dnata's iCargo is powered by IBS Software. "The seamless integration of DG AutoCheck with iCargo will help deliver significant benefits for dnata. It also paves the way to build confidence across the industry of what can be achieved through the real-time availability of operational information on dangerous goods and how that can be used to drive operational efficiencies," said Ashok Rajan, SVP and Global Head of Cargo & Logistics, IBS Software.
To learn more:
What are the top reasons why dangerous goods shipments get refused?
> View the DG AutoCheck infographic
For more information, please contact:
Corporate Communications
Tel: +41 22 770 2967
Email: corpcomms@iata.org
Notes for Editors:
IATA (International Air Transport Association) represents some 300 airlines comprising 83% of global air traffic.
You can follow us at twitter.com/iata for announcements, policy positions, and other useful industry information.
DG AutoCheck
DG AutoCheck is a digital solution that facilitates the acceptance of dangerous goods by checking the compliance of the Shipper's Declaration for Dangerous Goods (DGD) against all relevant rules and regulations contained in the IATA Dangerous Goods Regulations (DGR). Optical character recognition technology transforms the paper DGD into electronic data. DG AutoCheck can also receive electronic Shipper's Declaration for Dangerous Goods (e-DGD). This data is then processed and verified automatically using the digital version of the DGR.
DG AutoCheck also facilitates a ground handler's or airline's decision to accept or reject a shipment during the physical inspection stage by providing a pictorial representation of the package with the marking and labelling required for air transport. For example, DG AutoCheck helps DG acceptance staff to check if all prerequisites for acceptance are met on shipments of lithium batteries. Due to an increase in the transportation of lithium batteries worldwide and the difference in type, packaging and safety hazard of these batteries, DG AutoCheck has a distinct added value in safety and efficiency.