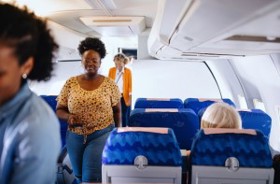 Geneva - The International Air Transport Association (IATA) announced that the Focus Africa Conference will delve into six priorities under IATA's Focus Africa initiative to strengthen aviation's contribution to the continent's economic and social development and improve connectivity, safety and reliability for passengers and shippers. Focus Africa is taking place in Addis Ababa, Ethiopia, on 20-21 June 2023, with Ethiopian Airlines as the host airline.
"Over the next 15 years, Africa's passenger traffic is expected to double. The continent stands out as the region with the greatest potential and opportunity for aviation. But this potential is limited by infrastructure constraints, high costs, lack of connectivity, regulatory impediments, slow adoption of global standards and skills shortages, among other factors. The Focus Africa Conference will bring together the continent's key stakeholders to address these challenges," said Willie Walsh, IATA's Director General.
Mesfin Tasew, Group CEO of Ethiopian Airlines, will deliver an Opening Keynote Address. "We are delighted to host IATA's Focus Africa Conference and welcome the aviation industry to our home, Addis Ababa. Advancing the air transport industry is critical for Africa's economic growth. The conference will allow industry leaders to join forces and drive the Focus Africa initiative," said Tasew.
Speakers & Sessions
Walsh, Tasew, and Kamil Alawadhi, IATA's Regional Vice-President for Africa and Middle East will be speaking at the event along with:
Yvonne Makolo, CEO RwandAir and Chair of the IATA Board of Governors (2023-2024)
Adefunke Adeyemi, Secretary General, African Civil Aviation Commission (AFCAC)
Abdulrahman Berthe, Secretary General, African Airlines Association (AFRAA)
Aaron Munetsi, CEO, Airlines Association of Southern Africa (AASA)
Rodger Foster, CEO Airlink
Poppy Khoza, Director General Civil Aviation, South African Civil. Aviation Authority (SACAA)
Bradley Mims, Deputy Administrator, Federal Aviation Administration (FAA)
Session tracks will address:
Safety
Aeronautical information management
Intra-African connectivity
Airport infrastructure
Biometrics and security
Modern airline retailing
Sustainability
Skilled workforce


> View the program and register


For more information, please contact:
Corporate Communications
Tel: +41 22 770 2967
Email: corpcomms@iata.org
Notes for Editors:
IATA (International Air Transport Association) represents some 300 airlines comprising 83% of global air traffic.
You can follow us at twitter.com/iata for announcements, policy positions, and other useful industry information.