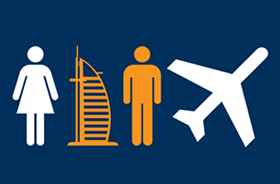 ​Distribution, Airport Processes, Onboard Connectivity Top Agenda at WPS
Translations: Arabic (pdf)
Geneva – The International Air Transport Association (IATA) announced that the 2016 World Passenger Symposium (WPS) will focus on key initiatives that are transforming the passenger experience. These include distribution and payments, airport processes, onboard connectivity, and baggage handling.
The conference will open with two high-level speeches. Sir Tim Clark, President of Emirates Airline will set the stage for the conference in a welcome address. Alexandre de Juniac, IATA's Director General and CEO, will follow with keynote remarks focused on meeting customer expectations as demand for air travel grows.
"Meeting—or even better exceeding—customer expectations is the key to any successful business. That's challenging. Expectations continuously evolve to become ever more demanding in detail and personalization. We also know that travelers want a simpler, more transparent shopping experience, faster and more efficient airport processes and reliable connectivity during all stages of their journey. Speed is of the essence. And many of the enablers lie in making even better use of data and technology," said de Juniac.
The 6th edition of WPS will take place in Dubai, 18-20 October with Emirates as the host airline. More than 700 high-level delegates from across the travel value chain are expected to attend.
Highlights:
The Leadership Panel, featuring Sir Tim Clark, President of Emirates Airline and Paul Griffiths, CEO, Dubai Airport, will discuss the formula for success and financial sustainability
Latest 20-Year Passenger Forecast presented by Brian Pearce, IATA's Chief Economist
The popular CIO Forum will also return for another year, to be joined with an Innovation Day
Presentation of the results of IATA's Global Passenger Survey
Presentation of the results of the IATA New Distribution Capability (NDC) Hackathon in Dubai
The 3rd edition of the Passenger Innovation Awards
Other subjects to be discussed at WPS include: NDC user experience; the One Identity concept for safe, secure and simpler passenger identification; Smart Security; onboard connectivity and new systems for baggage processing.

For more information, please contact:
Corporate Communications
Tel: +41 22 770 2967
Email: corpcomms@iata.org
Notes for Editors:
IATA (International Air Transport Association) represents some 265 airlines comprising 83% of global air traffic.
You can follow us at http://twitter.com/iata2press for news specially catered for the media.