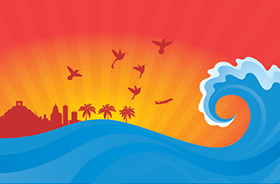 Translation:
Infraestructura y regulación inteligente, claves del éxito para la aviación latinoamericana (pdf)
Infraestrutura e regulamentação mais inteligente são a chave do sucesso da Aviação da América Latina (pdf)
Cancun -The International Air Transport Association (IATA) urged governments in Latin America to maximize the many benefits aviation generates by addressing critical infrastructure deficiencies and applying Smarter Regulation principles.
"With passenger growth in Latin America expected to double by 2034, the air transport industry's contribution to regional GDP could jump from $140 billion to $322 billion. The industry is on a path to achieving that growth sustainably. People want and need to make connections across the continent and globally. And business relies on efficient air links to distant markets. Unfortunately governments in the region are hindering sustainable growth with chronic infrastructure deficiencies and debilitating regulation", said Peter Cerda, IATA's Regional Vice President for the Americas.
The Right Infrastructure
Lower airfares, rising incomes and demographic growth are fueling significant passenger demand in Latin America. However, many of the region's key airports are unable to absorb it. The two most critical examples are:
Insufficient capacity at Jorge Chávez International Airport in Lima is stifling expansion and the establishment of a regional hub. The airport, with a terminal designed for 10 million passengers per year is currently handling 17 million passengers. Without an expanded terminal, airlines will not be able to add the capacity to meet the growing demand.
Mexico City, one of the region's main air hubs has also seen its growth constrained by antiquated infrastructure. A new airport, once completed, should alleviate these limitations, but that is several years away. In the meantime the current airport, which is operating at capacity, can only add new flights during off-peak, nighttime hours. The full implementation of the global standard IATA Worldwide Slot Guidelines is needed to manage scarce capacity in the interim.
In Argentina, archaic air traffic management in Buenos Aires and the surrounding area is undermining the competitiveness of the aviation industry in the region and provoking delays for airlines and longer flight times for passengers. The government has made positive changes to the regulatory framework in the country, approving new routes and operations of new carriers but Argentina's inefficient air traffic control system is in urgent need of modernization for aviation to truly flourish in the country.
"It is a government responsibility to provide infrastructure. For airlines to play their vital role of linking communities and economies globally, governments need to play their part—ensuring sufficient capacity, quality alignment with airline needs and at affordable costs," said Cerda.
Smarter Regulation
Cerda also called on governments in the region to ensure regulatory oversight follows the principles of Smarter Regulation: "The goal of all regulation should be to achieve clearly defined, measurable policy objectives that can be adhered to in the least burdensome manner possible. And any regulatory framework benefits from a transparent and objective consultative process between governments and industry," said Cerda.
Brazil is one of the regional examples where unorthodox regulation has stymied the growth of the air industry and the economic and social benefits it is capable of producing. Some of the more onerous examples include a fuel policy that increases costs for airlines $660 million per year and rules that punish airlines for delays and cancellations even when they are not the fault of the air carrier.
Another regional powerhouse, Mexico, has recently approved legislation in congress that if it becomes law, will undermine the competitiveness of airlines operating in the country. The legislation, which modifies the country's Civil Aviation Law, allows non-sequential coupon use for air tickets, mandates passenger compensation for delays and free checked baggage on domestic flights.
"Latin America has all the necessary elements to become an aviation success story: competitive and efficient airlines, a growing middle class, favorable demographics and a geography that necessitates travel by air. However, with the exception of Panama and Chile, the region's governments are not treating air carriers as partners who drive valuable social and economic development. By not addressing the urgent infrastructure needs of the region, Latin America will leave $42 billion of unrealized economic benefits on the table by 2034," added Cerda.
For more information, please contact:
Corporate Communications
Tel: +41 22 770 2967
Email: corpcomms@iata.org
Notes for Editors:
The 73rd IATA Annual General Meeting and World Air Transport Summit is bringing some 1,000 delegates and media to Cancun, Mexico, 4-6 June. Visit the AGM Press Room for the latest news and updates and look for AGM discussions using #IATAAGM.
IATA (International Air Transport Association) represents some 275 airlines comprising 83% of global air traffic.
You can follow us at http://twitter.com/iata for news specially catered for the media.