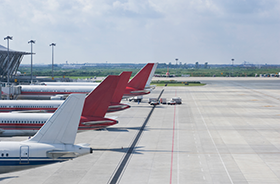 Translations: IATA urge a México a que adopte estándares internacionales de gestión de slots (pdf)
Miami - The International Air Transport Association (IATA) called on Mexico to apply global standards for the management of airport slots to maximize the country's air infrastructure and ensure its flourishing air industry remains competitive.
The recently-proposed slot system by Mexico's Federal Economic Competition Commission COFECE deviates from global standards in the following ways:
The auctioning of slots to the highest bidder by the regulator could limit competition by preventing less well-established and smaller air carriers from entering or expanding in the marketplace, because they may lack the financial wherewithal to acquire slots. Limiting competition in this way will have an adverse impact on consumers by reducing choice and potentially increasing fare levels.
The confiscation of 10% of existing slots from air carriers at congested airports will weaken route networks, reducing air traveler options in terms of frequency and destinations, while imposing real financial damage on airlines.
The withdrawal of slots based on punctuality criteria undermines the ability of airlines to make long term commitments to serve markets and ignores the tremendous competitive and financial incentives that airlines have to maintain on-time operations. Moreover, there is no evidence that linking punctuality to slots will improve punctuality at an airport. Uncontrollable delays will always exist, and therefore the biggest likely outcome will be disruption to established schedules.
The imposition of a "use-it-or-lose-it" threshold of 85% is inconsistent with the global standard of 80% utilization to retain a slot.
Worldwide Slot Guidelines
Consumer interests are served by airlines operating efficiently based on global standards. The IATA Worldwide Slot Guidelines (WSG), are the global standard for slot allocation and use. The WSG ensures that individual airlines can operate their schedules under the same set of rules on all of the routes in their network. And that assurance translates into consumer benefits through efficient and reliable operations.
"The full implementation of WSG is needed to manage the precious capacity at the key Mexico City hub as well as other Mexican airports. WSG brings efficiencies that are critical for all airports—especially those with severe capacity constraints such as Mexico City. Aviation is vital to Mexico—contributing a million jobs and $38 billion annually to the country's economy. The full and immediate implementation of WSG is critical to ensure that Mexico can benefit even more from aviation," said Peter Cerda, IATA's Regional Vice President for the Americas.
For more information, please contact:
Corporate Communications
Tel: +41 22 770 2967
Email: corpcomms@iata.org
Notes for Editors:
IATA (International Air Transport Association) represents some 275 airlines comprising 83% of global air traffic.
You can follow us at http://twitter.com/iata2press for news specially catered for the media.