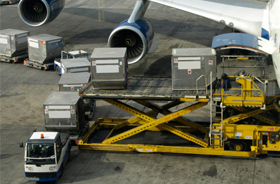 Translations:
La modeste croissance du fret se poursuit en mai, en hausse de 4,2 % (pdf)
Continúa en mayo crecimiento moderado del transporte aéreo de carga. Sube 4,2% (pdf)
الشحن الجوي يستأنف مسيرة نموّه المتواضعة في مايو بارتفاع %4.2 (pdf)
Crescimento do transporte aéreo de carga continua modesto, com alta de 4,2% em maio (pdf)
国际航协:5月份全球航空货运需求缓增4.2% (pdf)
Geneva - The International Air Transport Association (IATA) released data for global air freight markets showing that demand, measured in freight tonne kilometers (FTKs), rose 4.2% in May 2018, compared to the same period the year before. This was slightly down from the 5.2% (revised from 4.1%) growth in annual demand recorded in April 2018.
Freight capacity, measured in available freight tonne kilometers (AFTKs), grew by 6.2% year-on-year in May 2018. This was the fourth month in a row that capacity growth outstripped demand growth.
After a weak start to 2018, demand for global air freight has now resumed a modest trend upwards. However, the rapid growth seen in 2017 is now over, with demand growing at a significantly slower pace in 2018. In IATA's mid-year industry outlook, 2018 freight growth was revised downwards to 4.0% (from the previously forecasted 4.5% in December 2017)
There are three indications that growth will continue at a slower pace:
The re-stocking cycle which required quick delivery to meet customer needs is over
The new export orders component of the global manufacturing Purchasing Managers' Index (PMI) is at a 21- month low
Global trade appears to be softening as trade tensions increase
"We expect air cargo demand to grow by a modest 4.0% in 2018. That's an uptick from a very weak start to the year. But headwinds are strengthening with growing friction among governments on trade. We still expect demand to grow, but those expectations are dampened with each new tariff introduced. Experience tells us that trade wars, in the long run, only produce losers," said Alexandre de Juniac, IATA's Director General and CEO.
Regional Performance
All regions except Africa reported an increase in growth in May 2018.
Asia-Pacific airlines saw freight demand increase in May 2018 to grow 4.9% compared to the same period last year. This was an increase over the 3.9% recorded the previous month. Capacity increased by 7.4%. As the largest freight-flying region, carrying close to 37% of global air freight, the risks from protectionist measures impacting the region are disproportionately high. That said, there are signs that demand is accelerating for international FTK's.
North American airlines' freight volumes expanded 5.9% in April 2018 compared to the same period a year earlier. This was an increase in demand from the 4.6% rate of growth recorded the previous month. Capacity increased by 5.4%. The recent momentum of the US economy and the US dollar has helped strengthen demand for air imports. Data from the US Census Bureau shows a 12% year-on-year increase in imports by air in April, compared to 2.4% growth in March.
European airlines posted a 2.3% increase in freight volumes in May 2018. This was a slowdown from the 3.5% rate of growth the previous month. Capacity increased 6.0%. Seasonally-adjusted volumes rose slightly over the past two months; however, the annualized rate of growth over the past six months remains low at only 1.5%.
Middle Eastern carriers' freight volumes grew 2.4% in May 2018. This was a significant deceleration in demand of over 6.9% the previous month. The decrease mainly reflects developments from a year ago rather than a substantive change in the current freight trend. Seasonally-adjusted freight volumes continue to trend upwards at a comparatively modest pace by the region's standards. This is consistent with signs of a broader moderation in global trade. Capacity increased 3.3%.
Latin American airlines experienced growth in demand of 11.4% in May 2018 - the largest increase of any region for the third consecutive month. Capacity increased by 1.5%. The pick-up in demand over the last 18 months comes alongside signs of economic recovery in the region's largest economy, Brazil. Seasonally-adjusted international freight volumes surpassed the May 2014 peak this month.
African carriers saw freight demand contract 2.0% in May 2018 compared to the same month last year. Capacity increased by 20.4%. After a surge in international FTK volumes last year, seasonally-adjusted international freight volumes have now trended downwards at an annualized pace of 15% over the past six months. This mainly reflects a softening in demand on markets to/from Asia and the Middle East.
View full results in our May freight analysis (pdf)

For more information, please contact:
Corporate Communications
Tel: +41 22 770 2967
Email: corpcomms@iata.org
Notes for Editors:
IATA (International Air Transport Association) represents some 290 airlines comprising 82% of global air traffic.
You can follow us at http://twitter.com/iata2press for news specially catered for the media.
Explanation of measurement terms:

FTK: freight tonne kilometers measures actual freight traffic
AFTK: available freight tonne kilometers measures available total freight capacity
FLF: freight load factor is % of AFTKs used

IATA statistics cover international and domestic scheduled air freight for IATA member and non-member airlines.
Total freight traffic market shares by region of carriers in terms of FTK are: Asia-Pacific 36.9%, Europe 24.2%, North America 20.6%, Middle East 13.7%, Latin America 2.7%, and Africa 1.9%.