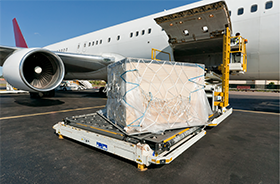 Translations:
Le ralentissement de la croissance du fret se poursuit en juin (pdf)
Demanda del transporte aéreo de carga continúa cayendo en junio (pdf)
国际航协:6 月份全球航空货运增势持续放缓 (pdf)
Desaceleração no aumento no transporte aéreo continua em junho (pdf)

Geneva – The International Air Transport Association (IATA) released data for global air freight markets showing that demand, measured in freight tonne kilometers (FTKs), rose 2.7% in June 2018, compared to the same period the year before. This continues the slowdown in air cargo growth that began earlier in 2018. Growth for the first half of 2018 stands at 4.7%, less than half the growth rate in 2017.
Freight capacity, measured in available freight tonne kilometers (AFTKs), rose by 4.1% in June 2018. Capacity growth has now outstripped demand growth in every month since March.
There are three main factors driving the slowdown:
The restocking cycle, during which businesses rapidly built up inventories to meet demand, ended in early 2018. There was a marked fall in air cargo volumes from March.
We are now seeing a structural slowdown in global trading conditions as indicated by the fall in the Purchasing Managers Index (PMI) to its lowest level since 2016. Factory export order books have turned negative in China, Japan and the US.
The temporary grounding of the Nippon Cargo Airlines fleet in the second half of June exaggerated the slow-down by shaving up to 0.5 percentage points off June growth.
"Air cargo continues to be a difficult business with downside risks mounting. We still expect about 4% growth over the course of the year. But the deterioration in world trade is a real concern. While air cargo is somewhat insulated from the current round of rising tariff barriers, an escalation of trade tension resulting in a 'reshoring' of production and consolidation of global supply chains would change the outlook significantly for the worse. Trade wars never produce winners. Governments must remember that prosperity comes from boosting their trade, not barricading economies," said Alexandre de Juniac, IATA's Director General and CEO.
| june 2018 (% year-on-year) | World share1 | FTK | Aftk | fLF (%-pt)​2 | FLF (level)​3 |
| --- | --- | --- | --- | --- | --- |
| Total Market | 100.0% | 2.7% | 4.1% | -0.6​% | 44.3% |
| Africa | 1.9% | -8.5% | -1.4% | ​-1.9% | 24.9% |
| Asia Pacific | 36.9% | 1.5% | 5.2% | ​-2.0% | ​54.5% |
| Europe | 24.2​% | 3.3% | 5.4% | ​-0.9% | 44.6% |
| Latin America | 2.7% | ​5.9% | -5.7% | ​4.1% | ​37.2% |
| Middle East | ​​13.7% | 3.8% | 4.5% | ​-0.3% | ​43.7% |
| North America | 20.6% | 3.8% | 3.4​% | ​0.1% | 35.8​% |
1-% of Industry FTKs in 2017 2- Year-on-year change in load factor 3- Load factor level

Regional Performance

All regions except Africa reported a year-on-year increase in freight volumes in June 2018, but the slow growth in Asia-Pacific, which accounts for nearly 37% of the entire air cargo market, dragged the global growth rate down.

Asia-Pacific airlines saw freight demand increase by just 1.5% in June 2018 compared to the same period last year. Capacity increased by 5.2%. The international freight performance by the region fell to 1.1%, a 17-month low, although this partially reflects comparisons with the strong performance in June 2017. For the first six months of 2018 FTKs expanded by 4.6% year-on-year, and freight volumes are expected to settle at an annual 3-4% growth.

European airlines posted a 3.3% increase in freight volumes in June 2018. Capacity increased by 5.4%. Growth is being affected by a slowdown in export orders. Supply chain bottlenecks, which are often alleviated by air freight, have also eased. For the first half of 2018, the region expanded 4.1% year-on year.

North American airlines' freight volumes expanded 3.8% in June 2018 compared to the same period a year earlier. International FTK performance was 5.9%, making the region the strongest-performing market for the first time in two years. The strong dollar and robust growth in the US economy is driving inbound shipments. Capacity increased by 3.4%. Growth for the first half of 2018 was 5.3%, second only to exceptional growth in Latin America.

Middle Eastern carriers' freight volumes grew 3.8% in June. This was an improvement on the May figure of 2.7% but this is well below the average five-year rate of 9.5%. Capacity increased 4.5%. Growth for first half of 2018 was 4.3% year-on-year, and the expectation is for volume growth to remain modest in the months to come.

Latin American airlines experienced growth in demand of 5.9% in June 2018 – continuing its recent run of posting the largest increases of any region. Unusually, capacity decreased by 5.7%. The pick-up in demand for international freight (5.2%) slowed compared to last month, but continues to trend well above the five-year average (1.6%). Growth for the first six months of 2018 was 10.1%, comfortably the best performance of any region.

African carriers saw freight demand contract 8.5% in June 2018 compared to the same month last year. Capacity also fell, by 1.4%. It is difficult to be positive about the current picture in Africa. International FTKs fell at the fastest pace (-8.6%) for nearly nine years. Although the year-on-year growth rate for the first half of 2018 was 3.0%, in seasonally-adjusted terms, FTKs are trending downward at an annualized rate of almost 20% over the past six months, and demand conditions are weak on all the main markets to and from the continent.
View full results in our June freight analysis (pdf)

For more information, please contact:
Corporate Communications
Tel: +41 22 770 2967
Email: corpcomms@iata.org

Notes for Editors:
IATA (International Air Transport Association) represents some 290 airlines comprising 82% of global air traffic
You can follow us at http://twitter.com/iata2press for news specially catered for the media.
Explanation of measurement terms:

FTK: freight tonne kilometers measures actual freight traffic
AFTK: available freight tonne kilometers measures available total freight capacity
FLF: freight load factor is % of AFTKs used


IATA statistics cover international and domestic scheduled air freight for IATA member and non-member airlines.
Total freight traffic market shares by region of carriers in terms of FTK are: Asia-Pacific 36.9%, Europe 24.2%, North America 20.6%, Middle East 13.7%, Latin America 2.7%, and Africa 1.9%.
Further information on the potential impact of trade barriers on aviation can be found in this chart of the week, and this briefing note from IATA Economics: