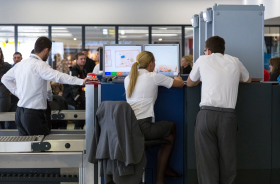 Translations:
La cooperación: clave para el desarrollo de una aviación segura (pdf)
A cooperação é fundamental para manter a aviação segura em meio às crescentes (pdf)
国际航协:携手合作 确保航空安全的未来发展 (pdf)

Miami - The International Air Transport Association (IATA) called on industry and governments to work together more closely to keep aviation secure in the face of evolving security threats and the forecast doubling of passenger demand to reach 8.2 billion by 2037.
"Flying is secure. But keeping it that way is not an easy task. Threats are evolving. The geo-political landscape is complex. Technology is rapidly changing. And the volumes of both cargo and travelers keeps growing. Global standards and collaboration—among governments and industry—is the bedrock of our continued success," said Alexandre de Juniac, IATA's Director General and CEO, during a speech to the AVSEC World conference in Miami, Florida.
IATA urged stakeholders to focus on global standards, information-sharing, risk-based analysis and emerging threats to secure aviation for decades to come.
Global Standards

Global standards for aviation security were agreed by governments through the International Civil Aviation Organization (ICAO) and are codified in Annex 17 of the Chicago Convention.
"It's been 45 years since Annex 17 was added to the Chicago Convention. Still, far too many states are struggling to implement the Annex 17 baseline requirements. A weakness anywhere in the system affects everyone. The goal is 100% implementation. There is an urgent need for developed countries to provide more comprehensive assistance to developing countries to ensure the baseline security measures are met," said de Juniac.
Information Sharing
"Threats will continue to evolve and become ever more complex. Those wishing to do aviation harm have no state allegiance; they cross borders to share information and collaborate to refine their methods of causing chaos and destruction. The focus of governments must be on protecting people. And that cannot be done with insular thinking. We must get better at sharing information." said de Juniac.
Sustainable Risk-Based Solutions
"In the years since 9.11 investment in aviation security has grown exponentially. There is no doubt that this has made flying more secure. But the efficiency of the system needs to be constantly challenged. Governments need to pursue risk-based security concepts that focus resources where the need is greatest," said de Juniac.

Critical areas to address include:
Securely vetting the millions of airport and airline staff who have access to aircraft
Ending extra-territorial measures that often require airlines to take on government responsibilities
Improving the security experience for passengers, even as the number of passengers is set to double over the next two decades
Adapting to New Security Threats
IATA called for greater government and industry attention on emerging threats, including cyber threats.
"The digital transformation of the airline industry holds immense promise. But we must ensure that our aviation systems remain safe, secure and resilient against cyber-attack. Constructive dialogue and timely information-sharing among industry, technology providers and governments will be critical if we are to achieve this," said de Juniac.

IATA is working with airlines, industry stakeholders and other sectors to deliver a strategy early next year that will be a step-change in how we as a sector address the cyberthreat challenge.
Read Alexandre de Juniac's speech
For more information, please contact:

Corporate Communications
Tel: +41 22 770 2967
Email: corpcomms@iata.org
Notes for Editors:
IATA (International Air Transport Association) represents some 290 airlines comprising 82% of global air traffic.
You can follow us at http://twitter.com/iata for announcements, policy positions, and other useful industry information