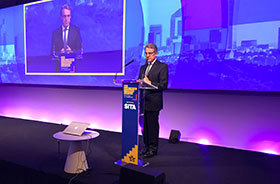 Translations:
La tecnología en el centro de la experiencia del pasajero y de una infraestructura eficiente (pdf)
Tecnologia para impulsionar avanços na experiência dos passageiros e infraestrutura (pdf)
​(Warsaw) - The International Air Transport Association (IATA) called on governments and industry to work together to make the best use of modern technology to put the passenger at the center of the journey and to achieve greater efficiency from infrastructure.
The call came during the opening address by Alexandre de Juniac, IATA's Director General and CEO, at the IATA Global Airport and Passenger Symposium (GAPS) in Warsaw.
Passenger First Approach
To improve the passenger experience, technology options should focus on what the passenger wants. The 2019 IATA Global Passenger Survey noted strong preferences by travelers for technology to enable them to track their baggage in real time and to expedite their journey through the various airport processes.
The industry has solutions for both these passenger expectations—the One ID initiative, and RFID for baggage tracking. Both need the support of stakeholders, including governments.
IATA's One ID initiative is helping the industry to transition towards a day when passengers can move from curb to gate using a single biometric travel token such as a face, fingerprint or iris scan.
"Biometric technology has the power to transform the passenger experience. Airlines are strongly behind the One ID initiative. The priority now is ensuring there is regulation in place to support the vision of a paperless travel experience that will also ensure that their data is well protected," said de Juniac.
On baggage, airlines and airports are working together to implement tracking at key journey points, such as loading onto and off-of aircraft (Resolution 753). In June, airlines committed to the global deployment of Radio Frequency Identification (RFID) for baggage tracking.
"Implementation of RFID has seen some good progress, especially in China where the technology has been thoroughly embraced. In Europe several airlines and airports are successfully working together to introduce RFID, notably Air France at Charles de Gaulle Airport in Paris. Industry needs to be reminded that in addition to meeting our customers' expectations, implementation of RFID will help reduce the USD2.4 billion cost to airlines from mishandled bags," said de Juniac.
Infrastructure
Infrastructure will also play a key role in meeting customer expectations. Developing infrastructure that can cope with future demand, without relying on ever-bigger airports, is essential. In cooperation with Airports Council International (ACI), the NEXTT (New Experience Travel Technologies) initiative explores important changes in technology and processes to improve operational efficiency and the customer experience.
Among its 11 work streams, NEXTT is examining several options, including the potential to:
Increase off-site processing, which could reduce or even eliminate queues.
Use artificial intelligence and robotics to more efficiently use space and resources.
Improve data sharing among stakeholders to enhance efficiency.
"Accommodating growth by building bigger and bigger airports will be challenging from a public policy perspective. NEXTT provides a major opportunity to focus on using the latest industry technology standards for a sustainable future. We look forward to seeing Poland take a leadership role in delivering the NEXTT vision with the construction of Warsaw's new airport- Solidarity Transport Hub. It's the European Union's first greenfield airport in over a decade," said de Juniac.
LOT Polish Airlines
The CEO of LOT Polish Airlines, Rafał Milczarski, who also spoke at the event, reinforced the need for industry transformation using new technologies to ensure a sustainable future for aviation and how Warsaw's new airport would support this vision.

"As Poland's flag carrier and the leading airline in CEE, we believe that European aviation needs significant transformation and we opt for industry that is fair for all. For airlines to remain competitive and sustainable and to respond to growing passenger demand, it is crucial to implement solutions which will be based on cutting-edge technologies. Poland and LOT will play an important role in shaping the future of the aviation industry in Central and Eastern Europe thanks to investment in the future hub - CPK (Solidarity Transport Hub). The multimodal project is addressing both the industry's challenges and passengers' needs by setting new standards in safety control, carbon reduction by use of SAF and artificial intelligence to manage airport operations, while ensuring shorter MCT and a seamless journey. The opportunity to build a hub airport from scratch with the participation of IATA, global leaders and industry experts will help us to be light years ahead compared to where we are now'" said Milczarski.

Building a Sustainable Future
De Juniac also addressed two key and timely issues for the industry's future:
Gender Balance: De Juniac called for airlines to support the recently launched 25by2025 Campaign. "Global air connectivity is delivered for people by people. We need a diverse workforce that has the training and skills for an increasingly digital and data-driven world. We will not have the capacity needed for the future if we don't fully engage the potential of women in the workforce at all levels," said de Juniac.
The 25by2025 Campaign is a voluntary program to address the airline industry's gender imbalance. Participating airlines commit to increase the number of women at senior levels and in key positions by 25% or to a minimum of 25% by 2025.
Managing Climate Change
"Airlines have long recognized sustainability as key to our license to grow and spread the benefits of global connectivity, benefits which are linked to 15 of the 17 UN Sustainable Development Goals," said de Juniac.
For over a decade, industry has had a target to cap emissions from 2020. This goal is secured by the Carbon Offsetting and Reduction Scheme for International Aviation (CORSIA) which was agreed at ICAO in 2016 and reaffirmed at ICAO's 40th Assembly earlier this month.
By 2050 the industry target is to cut net CO2 to half of 2005 levels. Already emissions from the average journey are half what they were in 1990. Sustainable aviation fuels (SAF) offer the biggest and most practical opportunity to cut carbon. But governments must develop a supportive policy framework to realize the potential of SAF.
Read the full speech
For more information, please contact:
Corporate Communications
Tel: +41 22 770 2967
Email: corpcomms@iata.org
Notes for Editors:
IATA (International Air Transport Association) represents some 290 airlines comprising 82% of global air traffic.
You can follow us at twitter.com/iata for announcements, policy positions, and other useful industry information.