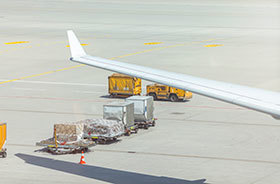 Geneva – The International Air Transport Association (IATA) has completed the annual revision of its air transport industry manuals for cargo, ground handling, and operations.
These provide guidance to all companies in the aviation value-chain to ensure compliance with the latest state and airline regulations, industry trends as well as best practices. More than 350 updates have been made to the 2022 editions of the various manuals to reflect the changes and incorporate the modifications brought about by COVID-19.
Key stakeholders in the aviation value chain – such as airlines, airports, ground service providers, freight forwarders, shippers, and manufacturers among others – rely on the IATA guidelines to ensure robust and efficient operations. The IATA Manuals are based on the recommendations devised by standard setting bodies such as the International Civil Aviation Organization (ICAO) and other industry working groups.
"Adhering to internationally aligned and agreed standards is essential in maintaining safe and reliable operations across the aviation value-chain. To achieve this, as an industry, aviation has always been able to adapt global processes quickly and efficiently. And while regular revisions have long been industry best practice, the response to COVID-19 triggered changes at short notice. The 2022 manuals provide the updated guidance material allowing companies to mitigate safety risks for staff and passengers alike, while complying with the latest international aviation rules and regulations. This is essential in maintaining the high level of safety as the industry recovers from the effects to the COVID-19 crisis," said Nick Careen, IATA's Senior Vice President Operations, Safety and Security.
Setting industry standards has been one of the pillars of IATA since its founding in 1945. Actual manuals have been published for more than 60 years on a multitude of topics. In a recent survey, 94% of users indicated that IATA Manuals helped their business, while 88% of IATA Dangerous Goods Manual users said the manual was essential in maintaining operations during the COVID-19 pandemic.
Further details on the available manuals and how to obtain these can be found here
For more information, please contact:
Corporate Communications
Tel: +41 22 770 2967
Email: corpcomms@iata.org
Notes for Editors:
IATA (International Air Transport Association) represents some 290 airlines comprising 82% of global air traffic.
You can follow us at twitter.com/iata for announcements, policy positions, and other useful industry information.