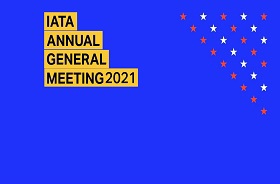 Geneva - The International Air Transport Association (IATA) announced the program and speakers for the World Air Transport Summit (WATS), which is being held in conjunction with the IATA Annual General Meeting (AGM) in Boston, USA, 3-5 October.
"I'm very excited that the World Air Transport Summit will again take place as a live event for the first time since June 2019. Virtual forums are no substitute to the value created when people meet face to face. As we plan for the industry recovery from COVID-19 and address critical climate change issues, the in-person discussions and debates among the industry's top leaders and stakeholders will be particularly significant," said Willie Walsh, IATA's Director General.
Session topics include addressing the challenge of climate change, safely reconnecting the world during COVID-19, diversity and inclusion in aviation, collaborating with value chain partners, and air cargo. The always popular CEO Insight Debate will return, moderated by CNN's Richard Quest, anchor of Quest Means Business.
Aviation's response to climate change will top the agenda. The keynote address will be delivered by Rachel Kyte, Dean of the Fletcher School, Tufts University and former special representative of the UN Secretary-General and Chief Executive Officer of Sustainable Energy for All. Kyte previously was the World Bank Group vice president and special envoy for climate change, leading the run-up to the Paris Agreement.
This will be followed by a panel of key stakeholders focused on sustainability including:
Guillaume Faury, Chief Executive Officer, Airbus
Stanley Deal, Chief Executive Officer, Boeing Commercial Airplanes
Annie Petsonk, Principal Deputy Assistant Secretary for Aviation and International Affairs, US Dept. of Transportation
Pieter Elbers, Chief Executive Officer, KLM
Jennifer Holmgren, CEO, LanzaTech
Participants in the CEO Insight Debate include:
Lynne Embleton, Chief Executive Officer, Aer Lingus
Sir Tim Clark, President, Emirates Airline
Rono Dutta, Chief Executive Officer, IndiGo
Carsten Spohr, Chief Executive Officer, Lufthansa
Scott Kirby, Chief Executive Officer, United Airlines
The WATS will also feature sessions on the future of air cargo following its heroic performance during the crisis, safely re-starting global connectivity, and a series of fireside chats bringing airline CEOs together with a diverse group of industry stakeholders including infrastructure providers, original equipment manufacturers and other suppliers.
View the full media program including the list of speakers.
The IATA World Air Transport Summit is an invitation-only event. Sessions are open to pre-registered, accredited press.
For more information, please contact:
Corporate Communications
Tel: +41 22 770 2967
Email: corpcomms@iata.org
Notes for Editors:
IATA (International Air Transport Association) represents some 290 airlines comprising 82% of global air traffic.
You can follow us at https://twitter.com/iata for announcements, policy positions, and other useful industry information.