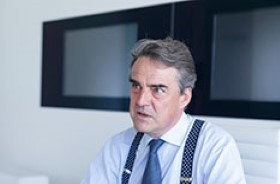 Thanks for joining us for this briefing. We have been doing these for almost a full year.
What Brian Pearce, IATA's Chief Economist has shared about the industry's performance in January gives us some confidence. The growth in cargo is a very good indicator. A growing cargo business is not enough to stem industry losses. But it is a vital lifeline of cash for many airlines. If air cargo was not doing as well, the industry as a whole would be in even deeper trouble.
At -72% compared to 2019, the January passenger performance is a deep concern. It is even worse than the -69% in December. The vaccine roll-out and the increase in testing capacity—particularly as governments show renewed interest in rapid antigen tests—is good news. But until governments ease travel restrictions a significant improvement is unlikely.
We continue to focus on being prepared for when governments are able to ease restrictions. As you know, we have asked governments to share their plans and benchmarks for re-opening. Those discussions are ongoing.
Understanding government plans is important because restarting an airline is not like flipping a switch. Airlines need to ready their crew and aircraft. After a year of lockdowns, this requires checks and coordination. On top of that airlines will need time to market the potential services so that the re-start of operations will have some passengers.
We understand how many people and jobs are counting on us to restart operations as soon as governments will allow. So we want to ready from day one.
An important part of our preparations is IATA Travel Pass. This will help passengers and airlines manage traveler health credentials. Let me be very clear on a few points…
IATA Travel Pass is not a vaccine passport. Initially it will hold test data which governments are already requiring. And it can accommodate vaccine data, should governments require it.
IATA is not asking for vaccination to be a requirement. It is governments, not airlines, that will decide what travelers need to enter their country. There are significant populations who cannot or will not be vaccinated. As a practicality, we are preparing for governments to use a combination of testing and vaccination to re-open borders.
We need a digital solution to manage health requirements. Paper can be a back-up. But unless we can get the majority of travelers processed electronically, we will not be able to handle a ramp-up of activity. Traditional check-in with paper documentation can be an option, but it cannot be the main way of operating.
Common standards are needed to document both tests and vaccines. Temporarily, while volumes are low, we can accommodate digital certificates issued by governments that want an early start. But long-term a global standard will give passengers and governments the greatest confidence and deliver the greatest efficiency.


This is a very timely discussion given the EU Commission's initiative to develop a common digital pass. We don't believe that vaccines should be a requirement to fly. But if the EU does implement a vaccine mandate there must be a common standard for this across the EU.
I look forward to your questions.