Need Help?
E-Commerce has revolutionized the way we do logistics. With online businesses and consumers requesting fast deliveries, operating models had to evolve to speed up transportation.
Air cargo is naturally suited for this logistic challenge: IATA estimates that e-commerce represented 15% of air cargo volumes in 2019. This number is continuously growing, and the trend has accelerated during the COVID-19 pandemic. IATA helps the air cargo industry to capitalize on the growth of e-commerce.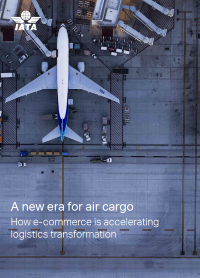 A new era for air cargo
The pandemic has accelerated change and how air cargo and e-commerce are transforming to adapt to new consumer and market demands. We examine trends, consumer behaviors, the growing sustainability challenges, and answer one fundamental question:
How can airlines transform to satisfy our e-commerce partners and elevate the
customer experience?
> Download an extract of the document (pdf)
> Register to receive the complete free document
Need Help?
Air cargo serving e-commerce
Air cargo is an essential component of cross-border e-commerce. IATA works to advise the industry and enhance their understanding of the opportunities and challenges that exist. IATA also ensures the air cargo industry has the right regulations, standards, and global framework to offer the right logistics solutions for the e-commerce industry.
COVID-19 impact
The global pandemic has changed the world. The ban on social gatherings, the closing of stores, restaurants, grocery shops, gardening centers, theatres and concerts have led consumers to live their lives online, including shopping. The consumers' behavioral change towards online retail is now established. E-commerce rose to 18% of the total retail sales in 2020, four points higher than forecast. The air cargo industry should transform today to stay relevant in this digital shift.
e- Commerce White Paper
Find out how the air cargo industry is addressing e-commerce and IATA's role in driving these initiatives in the Air Cargo serving e-commerce (pdf) white paper.
Areas of transformation
IATA, together with the consulting firm PwC, launched in 2020 an initiative to research and understand how air cargo could better capitalize on e-commerce. The study analized whether the air cargo supply chain is ready for this "tsunami of parcels" and how airlines could adapt to benefit from this growth.
The initiative achieved the following nine deliverables:
e-Commerce stakeholder assessment
Cross-border logistics gap analysis
e-Commerce market data assessment
Border blockage assessment
Operational impacts assessment
Standards readiness assessment
Challenges & opportunities for air cargo
Stakeholder engagement plan
e-Commerce Code of Conduct
For more information on IATA e-Commerce activities, please contact us.
IATA Programs
Strengthen safety and security for air cargo and airmail
Safety and security must be further enhanced with stronger collaboration and compliance with programs related to training, trusted partner identification, regulations, and best practices.
Framework for a Postal Service Agreement
Embrace new technologies that will ensure greater visibility, transparency, and efficiency
Technology will enable the air cargo industry to respond to e-commerce needs.
Simplify processes, optimize flows and speed up the transaction
Strengthening the value proposition will be crucial for airlines, forwarders and ground handlers to support and capitalize on e-commerce growth.