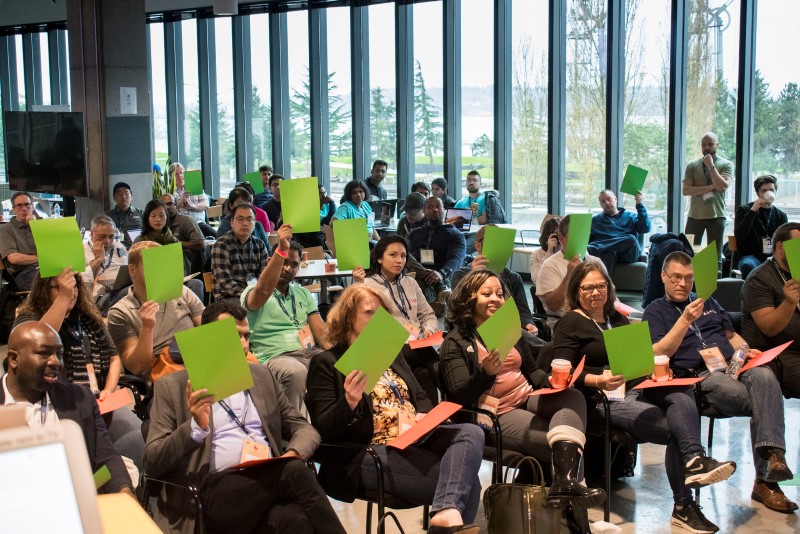 An IATA hackathon is an around-the-clock (28-hour) event bringing together teams of developers and designers that compete against one another to develop innovative solutions to address an industry challenge.
Focused on industry standards and initiatives, developers dive into the travel environment where they can work together to explore new business applications and generate exciting ideas. Solutions are presented to a jury, and the winners' will have the opportunity to share and communicated their solutions to the industry.
We are currently buiding our Hackatons for 2022 . Come back soon for more information. In the meantime, please contact us for more information.
Unlocking business and technical creativity with hackathons
IATA hackathons were launched in 2015, initially focused on enhancing airlines' retailing capabilities. The scope has since evolved to address other areas including environment, blockchain, cargo, accessibility etc. To date, 18 IATA hackathons have been completed, resulting in more than 24 implementations
Their success relies on a simple recipe: access to schemas and technologies, a clock-ticking healthy pressure, a competitive spirit, IATA and key partners' industry expertise, all on hand to give guidance, opinion and technical assistance.
Hackathons encourage the emergence of startups such as Duffel to establish themselves as new impactful players in the industry value chain. Hackathons will continue to leave a mark in transforming the industry with the following three objectives:
Develop: Foster new ideas for airline innovation based on induistry technical standards. ​
Disrupt: Explore new business applications from industry standards and identify early stage startups to the industry.
Enhance: By stress testing industry schemas and technical standards, developers contribute to enhancing technical standards.
IATA Hackathon program
IATA is currently working on the upcoming hackathon program for 2021. It will be featured here as soon as ready. Should you want to be informed of our next events, please send an email to innovation@iata.org.
In the context of enhancing airlines' retailing capabilities, IATA began organizing AIR hackathons in 2015 to work on the New Distribution Capability (NDC) standard.The scope has since evolved to address other areas including: environment, blockchain, cargo, accessibility etc. To date, 18 IATA hackathons were completed. Below a summary of hackathons events and media assets when available.
hackatHon
PARTNERS
MEDIA

CARGO

Virtual - Sept, 2020

Leverage ONE Record API for the logistics supply chain

- Track & Trace

- Quote & Book

- PayCargo Challenge

- "Open challenge"

Riege Software, PayCargo

Supporting organizations: Devpost

Feb, 2020

Booking solutions for passenger with reduced mobility

Microsoft, Delta Air Lines, Air France/KLM and Virgin Atlantic, IBS Software, TIBCO Software, Boeing and Expedia Group

Supporting Organizations: Seattle-Tacoma International Airport, HackAcess Dublin, EqualWeb Digital Accessibility

See the picture gallery

DRONE INNOVATION

Montreal, Canada

Nov, 2019

Oct, 2019

- Carbon offset

- Leisure travel

SunExpress and Fraport, Cirium, IBS Sofware, Duffel and TIBCO

Supporting Organization: AWS Travel

AVIATION XR

Crans Montana, Switzerland

Sept 2019

- Optimizing baggage operations

- Enhancing travel for people with disabilities and reduced mobility

- Improving the end-to-end travel journey

June, 2019

- Corporate Booking Tools

- Cargo- ONE Record

Comunica+A, IBS Sofware, Duffel, and TIBCO

Supporting Organization: AWS Travel and Air Canada Cargo

April 2019

- Improve passenger experience through dynamic offers

Expedia Group, IBS Sofware, Boeing, Cirium and TIBCO

Supporting Organization: AWS Travel and Microsoft

DRONE INNOVATION,

Barcelona, Spain

March, 2019

Dec, 2018

- Improve the passenger experience through dynamic offers

- Create scenarios using any Blockchain API

Finnair, IBS Sofware and TIBCO

Supporting Organization: AWS

Sept, 2018

- Reduce passenger stress (using at least one NDC APIs)

- Enhance the Air Cargo journey Experience (using OneRecord API)

Lufthansa Group, Geneva Airport, IBS Software, TIBCO, Unysis, PayCargo, Air Canada Cargo

Supporting Organization: Geneva Convention Bureau, Softweb, The United Nations
Innovative solutions, tangible impact
Frankfurt AIR Hackathon, 2019: App in the Air enables travelers to offset their environmental impact
App in the Air, one of the winning startups in the first carbon offset hackathon, developed an innovative booking platform to enable passengers to calculate their carbon offset for an upcoming trip. It included an Apple Watch functionality that shares personalized tips to become more eco-friendly and an augmented reality globe that shows a more-polluted vs. less-polluted earth. All this in 28 hours of coding!
Building on this, in 2020, the app's released its Carbon Neutral Traveler feature, which provides statistics to help people understand the impact that their air travel has on the environment.
As a tangible action, travelers can make a donation to offset their carbon impacts by planting trees – which are shown on a map. The initiative will plant a tree for each flight booked through a partnership with the NGO One Tree planted. More than 10,000 trees have been planted to date!
Berlin NDC Hackathon, 2016: Finn, the chatbot assistant for Finnair came to life.
In May 2016, the first prize winner of the IATA NDC Hackathon held in Berlin was a startup called Caravelo. Alike all IATA's hackathons, the team took advantage of a third party API and industry experts to give guidance, opinion and technical assistance during the event.
Beyond the kudos and a check for US $5,000, Iñaki Uri, CEO at Caravelo, described the experience as follows, "What really mattered was the follow up; the process that IATA opened up to us: presenting at the NDC Corporate workshop and ultimately presenting the solution at the World Passenger Symposium. Networking opportunities that money can't buy helped to shape the NINA offering into what it is today".
It was during those networking opportunities that the startup was able to pitch and contract its first NDC based partner, Finnair, which chose the Caravelo solution as its second pilot program.
15 months after the Berlin Hackathon, Finn, the chatbot assistant for Finnair came to life.
Focus on hackathons
How does a hackathon run?
Both physical and virtual hackathons include two phases:
Ideation phase– one week before the hackathon, an online platform is made available all registered participants, which includes access to the APIs' documentation. The platform allows participants to submit and discuss ideas, ask questions, and find team members (if needed). API providers and industry experts are available, providing support and clarifying technical questions so participants are all set and ready when the event starts.
Hackathon phase – the actual hackathon is the 28-hour coding period. Registered participants are asked to address at least one of the proposed challenges. They design and build a proof of concept with accessible data, technologies and the support of industry expertise.
Incubation phase - through Accelerate@IATA program when relevant.
What are the benefits in participating in a hackathon?
A strong collaboration and learning experience. Developers have the opportunity to attend workshops, talk to mentors and work with IATA subject matter experts to help guide the development of their ideas. From the startup perspective, it's an opportunity for team development like no other.
Accessible data and technologies. IATA partners, global technology players give access to schemas and APIs Microsoft, AWS, SITA, CIRUM, Lindekin, Expedia to name just a few…
Get exposure. Beyond the event, the winners get a chance to present their ideas to the industry, through IATA events (e.g, World Financial Symposium, AIR Symposium) IATA website, newsletters,etc.
Win prizes. Hackathons incentives are diverse and substantial, from money, to flight tickets...
Have Fun!
Who can participate in a hackathon?
An IATA hackathon targets 100-120 developers (for onsite hackathons with physical presence of developers/participants) and up to 250 developers virtually. The profile of the participants can be technical or non-technical as per the following descriptions:
Coding developers – commonly referred to as "keyboard masters" and know how to create applications that extract key content from databases.
Marketers - visionary individuals who are able to immerse themselves in a project that will enhance customer marketing.
Innovators – outside-the-box thinkers
Designers - individuals who design applications to create a dynamic user experience for the end-user.
Teams can be created prior to or during the first day of the hackathon. The teams must include a minimum of two participants, up to a maximum of six.