Need Help?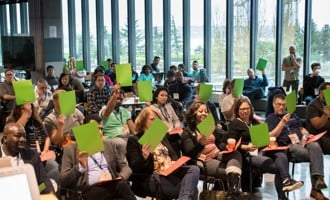 An IATA hackathon is an around-the-clock event, that brings together teams of developers and designers to develop innovative solutions to address an industry challenge.
Focused on industry standards and initiatives, developers dive into the aviation environment where they can work together to explore new business applications and generate exciting ideas. Solutions are presented to a jury, and the winners have the opportunity to share and communicated their solutions to the industry.
Need Help?
IATA Hackathon program
Upcoming Hackathon events:
Hackathons
Partners & Media

CARGO Hackathon

Doha, Qatar

In person event only (not hybrid) - 24-26 November, 2023

Leverage ONE Record API for the logistics supply chain

Register now or Contact us for more information.

Host and Platinum Sponsor: Qatar Airways

Main Hackathon Sponsors: Riege Software
Below a summary of previous hackathon events and media assets when available:
Hackathons
Partners & MEDIA

CARGO Hackathon

Frankfurt, Germany

In person event only (not hybrid) - 23-25 June, 2023

Host and Platinum Sponsor: Lufthansa Cargo

Main Hackathon Sponsors: PayCargo, Riege Software

Supporting organization: Lufthansa Seeheim

Diversity Datathon

Virtual (April 2023)

Creation of innovative and impactful proof of concept (PoC) to increase gender diversity across the aviation industry in support of IATA's global 25by2025 initiative.

Amazon Web Services (AWS) and The International Air Transport Association (IATA) virtual Diversity Datathon.

CARGO Hackathon

Toronto, Canada (October, 2022)

Sponsors: Air Canada, IBM, PayCargo, Riege Software

Supporting organization: Alha Group

Charity partner: Air Cargo Foundation

CARGO Hackathon

Amsterdam, the Netherlands (May, 2022)

Sponsors: Riege Software, PayCargo, Dcsa

Supporting organizations: Skyteam Cargo, Msc , Nexshore, IBS Software
Unlocking business and technical creativity with hackathons
IATA's hackathon program was launched in 2015, initially focusing on airlines' retailing capabilities. The scope has since evolved to address other areas including environment, payment, cargo, accessibility, among many others.
The hackathon success relies on a simple recipe: access to technologies via Application Programming Interfaces (APIs), a clock-ticking healthy pressure, and an industry challenge to be solved. All these three ingredients together encourage the emergence of the following three objectives:
Development of new ideas for airline industry based on industry standards. ​
Disruption by exposing new products and services from new startups and corporations to the industry.
Enhancement of standards by exposing them to developer community who can provide direct feedback on the industry schemas.