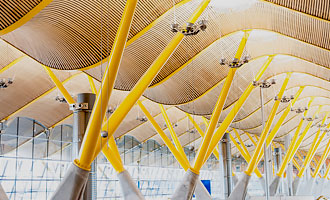 Airlines, passengers and cargo need safe, functional and affordable airport infrastructure for their operations to thrive. IATA works with airports and government authorities on major airport development projects across the globe and seeks to ensure that they result in adequate infrastructure for airlines. We also developed a vision for airports of the future based on new technologies that will make air travel more efficient.
Innovating for the future: NEXTT
In light of projected air traffic growth, the industry will need to innovate. New concepts will increasingly be required to optimize the use of emerging technologies, processes and design for the complete ground journey.
Together with Airport Council International (ACI), we seek to deliver this future by making the best use of New Experience Travel Technologies. Our NEXTT initiative shall develop a common vision to enhance the transport experience, guide industry investments and help guide governments to improve the regulatory framework.
Find out more about our NEXTT initiative.
Investments in airport infrastructure
Some US$1.2-1.5 trillion is expected to be spent on global airport infrastructure development up to 2030, requiring major increases in capital spending. IATA seeks to ensure major airport expansion projects develop cost-efficient facilities that balance capacity with demand, while delivering the functionality, levels of service and operational efficiency required to justify the investments being made.
Our design experts are actively engaged with airports and authorities in reviewing investment plans and seeking airline involvement in the expansion projects from the beginning. Find out more about Airport Development.
Building additional infrastructure is not always the only solution. Airport Collaborative Decision Making (A-CDM) and Total Airport Management (TAM) are other methods aimed to improve information sharing and improve efficiency of airport processes. Find out more about ACDM/TAM.