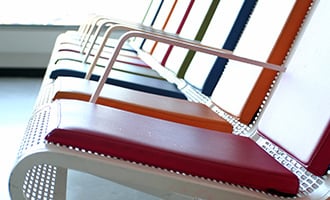 Working together to achieve airport infrastructure excellence ​
Aviation must be supported with adequate infrastructure to fully deliver its economic and social benefits. Runways, terminals and other essential facilities are required to meet current and future passenger and cargo demand safely and efficiently.


We encourage the development of safe, sustainable facilities that are demand-led, fit-for-purpose and cost effective to develop and flexible to adapt to changes in the operating environment. We engage with airlines, airports, regulators, design and engineering consultants and other stakeholders to ensure that infrastructure supports the needs of airlines and their customers.
Airport development position papers
These papers provide guidance on various airport planning principles and practices.
Airport Planning Guidance
IATA participates in the development of industry standards and best practices that support better airport planning outcomes. The Airport Development Reference Manual (ADRM) is an indispensable, universal and easy-to-use industry resource for airport planning and design. The product of a global collaboration involving industry experts, the ADRM provides comprehensive information and valuable insights on subjects ranging from traffic forecasting and master planning to environmental sustainability, airside infrastructure and passenger terminal design and much more.
Airports Embodied Carbon Tool
As the global aviation industry continues its post-pandemic growth, modernizing and adapting infrastructure to meet Net Zero targets and the needs of sustainable aviation, the need to reduce embodied carbon in new buildings such as terminals and runways is ever more pressing.


IATA has created a suite of innovative digital tools for airports to better understand and mitigate the carbon impacts of construction-related activities. Developed with the support of an external partner, the tools will deliver embodied carbon benchmarking for three key airport asset types of terminal buildings, runways and multi-storey car parks. This will enable airport development teams to better understand the carbon footprint of development work and enter into a constructive dialogue with airport operators about how to mitigate it.
Read press release
For more information, please contact airportdevelopment@iata.org
Airport-Airline Collaboration
Airlines are the primary users and customers of airports. In most cases, airlines fund airport infrastructure developments and pay for operating costs through airport charges; it is therefore important that airport investments are affordable and capital expenditure is directed where it is needed most.


IATA facilitates consultation meetings between airlines and airports to provide airline inputs and perspectives on airport development proposals and costs. The purpose is to create an ongoing, constructive dialogue that consolidates airline views and supports informed decision-making through the review of airport investment plans, an assessment of operational and passenger impacts, and the analysis of costs and benefits.
These meetings encourage airports to focus on airlines' functional requirements, often shedding light on inefficiencies and highlighting global best practices which can lead to better outcomes. This ensures that future scenarios are considered and that planned infrastructure is resilient, flexible, functional and able to adapt to technological trends and changes.
These types of airline-airport consultation meetings are often organized in accordance with local regulations and practices; however where a framework does not exist, IATA can set one up under its own auspices as an Airport Consultative Committee (ACC).