IATA Resolution 753 on baggage tracking enables airlines to address the challenge of baggage mishandling by implementing cross-industry tracking for every baggage journey.

Baggage Tracking is part of the IATA End to End baggage program that aims to improve efficiencies in baggage handling operations to meet the changing demands of passengers as the air transport industry is set to double in size by 2035.
Resolution 753 requirements
According to Resolution 753 in effect from June 2018, airlines must track baggage at four key points in the baggage journey as follows: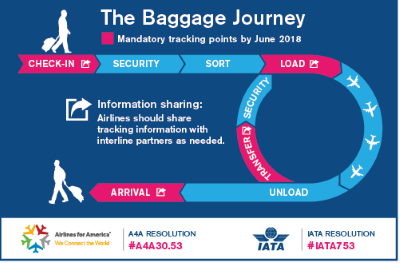 View & download our Baggage journey infographic
Passenger handover to airline
Loading to the aircraft
Deliver to the transfer area
Return to the passenger
And airlines need to share the tracking information with their interline journey partners as needed.
​​​​
Industry Involvement
Resolution 753 places an obligation on IATA and A4A member airlines. However in many cases, airlines will be seeking the support from stakeholders involved in the baggage journey such as airports and ground handlers. To this extend, IATA, Airlines for America (A4A) and Airport Council International (ACI) World are collaborating together to support the industry.
The resolution itself could seem simple, however implementing baggage tracking could be complex and lead in some cases to changes in processes and/or infrastructure.
This is the reason why it is important for airlines and key stakeholders involved in baggage tracking to understand the Resolution 753 requirements, assess their current situation, identify gaps and define the best strategy to maximize the benefits the Resolution 753 could bring.
Industry Benefits
Resolution 753 on baggage tracking is a means of driving improvement for individual carriers and within the baggage operations of the industry as a whole. Some of the benefits of Baggage Tracking are:
Reduce global baggage mishandling
Increase efficiency in baggage operations
Better passenger experience
Resources
To support airlines in complying with Resolution 753, IATA has developed different resources:
Baggage tracking implementation guide
IATA Compliance Certificates on Baggage Tracking (Hub, Network)​​
Training baggage tracking - implementation and compliance
For information on the resources and how to get the information please contact Global Baggage Operations
Baggage Tracking Implementation Guide
Download the Joint IATA-A4A-ACI Baggage Tracking Implementation Guide by completing the form in the Baggage Tracking section.