Need Help?
Baggage Tracking is a program that aims to improve efficiencies in baggage handling operations to meet the changing demands of passengers as the air transport industry is set to double in size by 2035.
The program is largely based on IATA Resolution 753 on baggage tracking, enabling airlines to address the challenge of baggage mishandling by implementing cross-industry tracking for every baggage journey.
Need Help?
Resolution 753
Resolution 753 places an obligation on IATA and Airlines for America (A4A) member airlines. It aims to reduce global baggage mishandling, increase efficiency in baggage operations and improve passenger experience.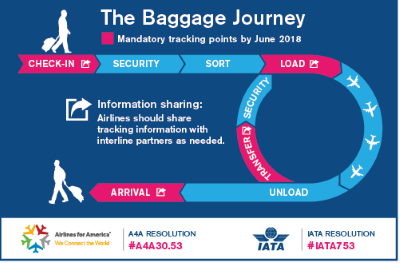 Resolution 753 principles require that airlines track baggage at four key points in the baggage journey:
Passenger handover to airline
Loading to the aircraft
Delivery to the transfer area
Return to the passenger


And airlines need to share the tracking information with their interline journey partners as needed.
Baggage Tracking Implementation Guide
To secure support from all stakeholders in the baggage journey, such as airports and ground handlers, IATA has joined forces with A4A and Airport Council International (ACI) World. This collaboration has led to the development of the Baggage Tracking Implementation Guide.
Download the Joint IATA-A4A-ACI Baggage Tracking Implementation Guide by completing this form: