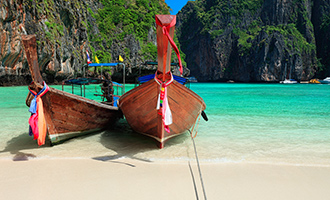 IATA accreditation greatly simplifies the business relationship between travel agents and airlines.
Some 60,000 IATA travel agents worldwide currently benefit from IATA accreditation, selling US $220 billion worth of airline tickets on behalf of IATA airline members.
US Travel Agents please visit the IATAN website. ​​
Travel Agent Accreditation Benefits
Access to IATA airline members with a single Sales Agency Agreement which authorizes the sale of international and/or domestic tickets
Access to IATA's Billing and Settlement Plan (BSP), an efficient interface for invoicing and payment between the agent, airlines and transport providers
Unique identification throughout the global travel industry with the "IATA Numeric Code"
Use of the "IATA Accredited Agent" logo providing visibility and credibility on premises and website
Professional recognition - eligible agency employees can apply for the IATA/IATAN ID Card - giving access to travel suppliers' concessionary offers
Standardized procedures to ensure fair dealings with the airlines
Accreditation programs
GoGlobal Accreditation (Multi-Country Accreditation): a "one-stop-shop" accreditation for agents with operations in multiple BSPs. Multi-Country agents will meet a single global set of requirements and criteria, established in Resolution, and will be able to accredit all their locations worldwide under a single Passenger Sales Agency Agreement.
GoStandard Accreditation (Standard Accreditation with Cash Facility): This model corresponds most closely to the current accreditation, and is for agents operating in a single country. In addition to the accreditation requirements established in Resolution, agents under this model comply with the Local Financial Criteria of the BSPs in which they operate and undergo annual financial reviews. These agents will have access to all the BSP forms of payment, cash, credit card and IATA EasyPay
GoLite Accreditation (Standard Accreditation with No-Cash Facility): For agents that do not require a cash facility in the BSP, i.e. access to cash sales, and will ticket only using IATA EasyPay and/or credit card, this model offers an easier accreditation. As there is limited financial risk, the financial requirements are minimal.
Please visit our IATA Customer Portal if you would like to apply to any of these models.
Already accredited and need support?
Please login to our customer portal and use the support option