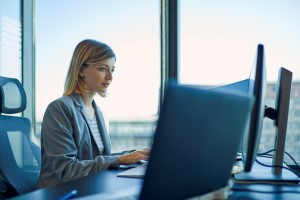 Ticket Tax Box Service (TTBS) is an online platform that enables airlines, Global Distribution Systems (GDS), Online Travel Agents (OTAs), IT solution providers and airfare search engines to have access to the latest passenger ticket taxes, fees and charges (TFCs) published worldwide by official sources in a single global database compiled by IATA. Over 150 airlines and 20 GDSs use TTBS on a daily basis.
How can you make sure you are always using the correct rules and rates for every ticket?
With over 1,000 passenger ticket TFCs and with more than 70 modifications of these taxes being issued each month, staying up-to-date can be challenging, time-consuming, and costly. To make sense of all these changes, IATA consolidates data from official sources of government tax authorities as well as over 6,900 airports in more than 249 countries and compiles them into TTBS, a centralized industry trusted database. Updates are done daily to ensure that TTBS subscribers always use the most accurate rates and complete TFCs for all their calculations. Through this database, subscribers are able to:
Identify taxes, fees, and charges
Price, ticket, and process complex itineraries
Bill, audit, and settle taxes, fees, and charges with speed and efficiency
How to access TTBS?
TTBS is hosted on a secure web-based platform. It offers a powerful and user-friendly interface providing search and reporting capabilities by country, airport, segment, currency and tax code. TTBS data is also delivered via XML for easy integration into your organization's system allowing automatic transactions.
Interested in seeing an online demo of TTBS?
What benefits can you expect by switching to TTBS?
By using TTBS in your ticketing, finance or accounting operations, you will be able to:


Ensure accuracy in collecting and remitting taxes, fees and charges for each ticket
Improve efficiency thanks to user-friendly lookups with data sorted, filtered and grouped by airport, country, currency, tax code and flight segment
Benchmark detailed tax data comparison across countries to optimize costs
Access to IATA Subject Matter Experts, training and help resources
Export data in XML-format for integration in proprietary systems for streamlined processes
Instantly benefit from TTBS as no special software is required
Sign up to TTBS​
​
There are four different options to subscribe to IATA's tax related products:
Top Premium Daily​​​
The most complete subscription which comprises full access, ideal for pricing and ticketing
PACKAGE INCLUDES
IDEAL FOR
ORDER
TTBS daily updates with e-mail alerts, RATD, IATA List of Ticket and Airport Taxes and Fees

Airlines pricing, ticketing and revenue accounting departments
GDSs / Pricing systems providers
OTAs
Ticketing systems providers
IT solution providers
Ticket auditing service providers
Top Premium Monthly​​​
Ideal for auditing, consulting and revenue accounting, it provides full access to the database with monthly updates
PACKAGE INCLUDES
IDEAL FOR
ORDER
TTBS monthly updates, RATD and IATA List of Ticket and Airport Taxes and Fees

Airlines:
- Revenue accounting,
- Finance and
- Taxation departments
Revenue accounting providers
Revenue Accounting Tax Database (RATD) Monthly Updates​​​
The airline industry official and only source of ticket taxes and charges to be used for interline billing, settlement and revenue accounting. It provides worldwide interlineable passenger ticket taxes and fees, carrier's exemptions and carrier's specific amounts (CSA's) updated monthly.
PACKAGE INCLUDES
IDEAL FOR
ORDER
Access to the RATD database powered by ATPCO Tax Summary and monthly .txt files for system integration

Airlines:
- Revenue accounting,
- Settlement and
- Finance departments
Revenue accounting providers
IATA List of Ticket and Airport Taxes & Fees​​​
All the worldwide official passenger ticket tax, fees and charges information at your fingertips via a quick reference downloadable tool ideal for auditing, data analysis and reports. Updated quarterly.
PACKAGE INCLUDES
IDEAL FOR
ORDER
Access to a single user Windows application for PC

Airlines
Airline service providers
Online travel agents (OTAs)
Travel agents
Questions about Ticket Tax Box Service (TTBS)?
We will be happy to answer your questions.