Need Help?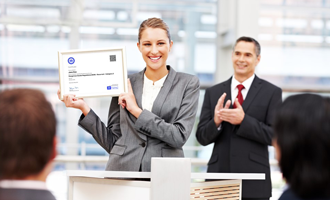 Global recognition
IATA Training qualifications open up a world of opportunity for your career. We deliver industry excellence in every course, ensuring our certificates and diplomas enjoy global recognition.
Need Help?
New Secured Digital Award Certificates!
We've turned our paper certificates into printable secured digital award (SDA) Certificates, secured by blockchain technology, which guarantees the integrity of your certificate for life!
To authenticate your certificate, all you need to do is scan the QR code. Don't forget, you can still print your certificate yourself if you want to put it on the wall! We would recommend using white A4-sized 240-gram paper.
Certificates issued after 1 February 2021 will be sent to you as a secured digital award (SDA) certificate*. You'll receive your certificate quickly and can simply share it with your employer, or potential employer, knowing that they can easily confirm its authenticity.
How to validate your IATA Certificate
Check the authenticity and validity of your certificate.
It's easy to use! Just enter your certificate or booking reference into the tool along with the last name of the certificate holder to check it's validity.
What the tool can do
The IATA Certificate Validation tool will only recognize certificates:
For courses
Issued in the past 5 years
Where the exams were conducted in a supervised setting (in the classroom or supervised online).
Where there are no outstanding fees to IATA
What the tool can't do
Diploma certificates (multi-course) including the Leadership and Management diploma.
Certificates issued by IATA Accredited Training Schools (ATS)
Please contact us and open a case to request validation of these certificates.
Please note: Certificates issued for unsupervised online exams (e.g. e-learning course exams or assessments) cannot be validated by IATA.
LinkedIn
Don't forget to update your LinkedIn profile (scroll down to the Education section, select IATA Training as the school, and add your course). You could even create a post on LinkedIn, Facebook or Instagram and let everyone know you've successfully passed an IATA course! Don't forget to tag us! #iatatraining