7 classroom modules & 3 e-learning courses

Women account for fewer than 5% of airline CEOs around the world. Even though the number of women involved in the aviation industry has steadily increased, we still have a gap in senior management. Research shows that gender-diverse teams perform 73% better, they score higher results and have better returns. In order to have more female leaders, IATA has developed a program to sharpen the leadership skills of women so they can become more visible in the workplace, and strengthen their aviation knowledge and analytical skills. Over 4 days you will have 7 face-to-face modules taught by industry experts and prominent guest speakers; 3 e-learning courses; organized networking opportunities.
Are you an upper-middle to senior executive woman looking to elevate your career to the next level? If so, this program is for you! You will gain unique knowledge of the aviation industry from the IATA internal and external experts and you will build the confidence needed to take the next career step.

Course code: TALG-85
Program format
This program comprises 7 classroom modules, 3 e-learning courses and a coaching session.
This is a 4-day intensive program. Participants are expected to attend the program in full and work extra hours to cover all the assignments. Instruction is delivered by an official IATA Instructor.
Take this course at an IATA Training Center, Regional Training Partner, or on-demand as in-house training.
Student performance will be based on an assessment.
Pre-reading
A set of required readings will be sent prior to the program start.
Prerequisites

Recommended level is Intermediate and Advanced.
The recommended level of language proficiency is ICAO Operational Level 4 for courses in English or the equivalent level for other languages.
How to register
In-house training
To arrange in-house training for your company, please complete the
in-house training request form
or
contact the Training Specialist
in your region.
Upon completing this program you will be able to:
Provide a 360-degree overview of the aviation industry and how it works
Articulate the key aviation policy issues and propose solutions
Be a successful influencer, conduct effective meetings, strengthen relationships and learn how to build trust with your colleagues
Describe fundamental leadership and succession planning skills which enables women in aviation to advance their careers
Create an individual development plan for transferring new skills into your day to day work environment
Provide an overview of the regulatory framework applicable to the airline industry from a public and private international law perspective
Describe the major international legal instruments and roles of institutional players in domestic, regional and international aviation regulation
Build a network of women in aviation industry to serve as mentors and role models
7 classroom modules
The industry related modules provide a deep understanding of the key aviation issues such as: airline business modules, aviation policy, airline economics, and aviation law. The second part of the classroom training aims to build crucial leadership skills (influencing skills, successful planning, communication/negotiation skills) that will help advance your career. A personal development plan will be discussed at the end of the training. Each of the 7 classroom modules will be facilitated by an industry expert from IATA or from our network.
Aviation policy issues
Sustainability and climate change policies
Digital transformation & innovation and how it will affect aviation
Next Generation of Aviation Professionals – workforce opportunities and challenges
Future of the industry
Leadership skills for aviation professionals
Influencing and Networking skills
Strengthen your communication and negotiation style

3 e-learning courses

This program is recommended for:
Mid to senior business executive women in aviation or professionals interested in a career in aviation
Government and public affairs officials
Not-for-profit candidates
An IATA Diploma is awarded to participants successfully completing the Program.
Guest Speakers in Geneva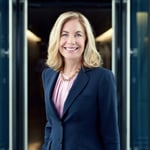 Kristin Colvile, CEO and Managing Director, SkyTeam Airline Alliance

Kristin joined SkyTeam from Delta in June 2018. With over 25 years of industry experience to her name, Kristin Colvile has held leadership roles in numerous divisions of Delta Air Lines and Northwest Airlines since joining the company in 1993. In her current role as CEO of SkyTeam, Kristin is focused on enhancing the customer experience through the development of industry-leading technology, and by maximizing tools to enhance seamlessness for all the alliance's members.