After I got my diploma, the company I was working for gave me a bonus and I got a new position. I was looking for bigger challenges, though, and I felt more self-confident about getting them with this qualification. Any job in the aviation industry requires a lot of background knowledge, and I felt I had gained an enormous amount. Traveling to Geneva once a month, taking classes with people from all over the world, was a big part of it. I loved learning from other students' different perspectives, and not just culturally.


Aviation has lots of stakeholders, and studying alongside someone who was responsible for strategic airport development, or works in the safety department of an airline, opens your mind to others' considerations and concerns. Also, I've grown my global network and made new friends all over the world. I even went to a betrothal ceremony in Bangkok!
Fourteen months after completing the diploma, I was hired by my current employer in a completely different role from my previous one. Acquiring, managing and remarketing aircraft assets for a boutique lessor requires working with airlines, which means I need to understand how they think and what their needs and priorities are.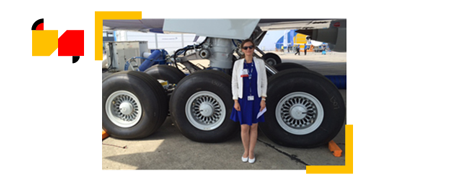 I also need to have a good understanding of international aviation-related law, which is different from our national commercial law. The knowledge and skills I gained with the University of Geneva-IATA qualification, including project management basics and an improved analytical approach, provided a great foundation on which to build, and which supports me in the great variety of tasks I face at work. For example, I set up a reporting tool for a newly-launched institutional investment fund, and I've even trained colleagues on the investment side of the business in aviation considerations. I feel like I understand airlines and other stakeholders better, which improves the interaction and enables the delivery of flexible, favorable results and solutions.
When I look forward to the future, I won't hesitate to take additional courses with IATA – in fact, I already took a certificate in Airline Business Management. I'd like to deepen my knowledge about specific topics, like aircraft insurance, for example, or do an aviation-related leadership program that will open up even more opportunities for me. Maybe one day I'll even become an instructor myself!
*The UNIGE DAS has been replaced with the IATA-University of St Gallen DAS