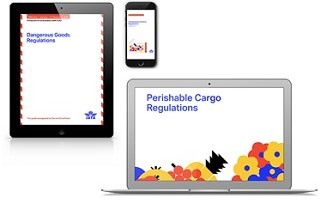 IATA Training courses that include an IATA manual
Please note that if your IATA course includes an IATA Manual as part of the course material, the latest valid edition will be provided with a single-user license in universal electronic format accessible through the Gilmore Global eVantage bookshelf.
Electronic course books and manuals
IATA course books and manuals in universal electronic format (also sometimes referred to as 'mobile' format) can be read on any device or browser at any time as long as you have an internet connection. Once your course payment has been received by IATA* you will be sent instructions on how to access your course book and/or manual through the Gilmore Global eVantage bookshelf.
If you choose to download the course book and/or manual for offline reading, please note that they have a single-user license and you will only be able to download it onto one device (e.g. desktop computer, laptop, tablet…). Please make sure to download it onto the same device that you will use during the IATA Training course and exam.
If you wish to receive your IATA manual in any other digital or printed format other than the format provided with your course, you may purchase it in addition to your course from the IATA Online Store.
*If you are studying your course at an IATA Authorized Training Center, this process may be slightly different.