Need Help?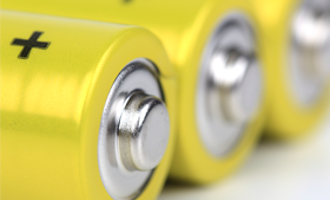 Lithium batteries have become the preferred energy source to power a wide variety of consumer goods ranging from mobile phones to children toys to cars and e-bikes. Though widely used, most people are not aware that lithium batteries are dangerous goods that can pose a safety risk if not prepared in accordance with the transport regulations. To help with compliance, IATA has developed guidance for shippers, freight forwarders, ground handlers, airlines and passengers.
Need Help?
Smart luggage regulation
Baggage installed with non-removable batteries exceeding 0.3 g lithium metal or 2.7 Wh is forbidden for carriage. When the baggage is to be checked in, the lithium battery must be removed and carried in the cabin as a carry-on item.
More information about the Smart Baggage with Integrated Lithium Batteries and/or Electronics (pdf).
Small lithium battery-powered vehicles
IATA issued a notice on the classification of small lithium battery-powered vehicles when shipped as cargo and the provisions that apply, specifically the wording of Special Provision A214. Devices such as balance wheels, air wheels, solo wheels, mini balance boards and hoverboards, are classified as UN 3171, battery-powered vehicles. See the Cargo Provisions: Small Vehicle Powered by Lithium Batteries (pdf)
Guidance material
To assist shippers in understanding the complete requirements related to the transport of lithium batteries, including packing instructions, IATA has prepared the updated Lithium Battery Guidance Document (pdf). This 2023 guidance document includes updated and additional FAQs for shippers to learn how to comply with the 64th (2023) Edition of the IATA Dangerous Goods Regulations (DGR) on definitions, classifications, exceptions, and prohibitions.
The guidance document on the carriage of battery-powered cargo tracking devices and data-loggers has been revised to include reference to EASA guidance and the revised FAA advisory circular as well as to incorporate revisions to the 62nd edition (2021) of the IATA DGR. The guidance document has been further revised following the adoption of an exception from the application of the lithium battery mark on packages containing COVID-19 vaccines.
The guidance document also provides information to manufacturers of these active devices, users of the active devices and operators that must approve the carriage of active devices in cargo.
Download the Guidance Document – Battery Powered Cargo Tracking Devices / Data Loggers (pdf)
Raising awareness
Preparation is a key component in understanding the terms of the Regulations. IATA has created a training course on Shipping Lithium Batteries by Air that covers all aspects of the identification, packing, marking and labeling, as well as the documentation requirements on lithium batteries transportation.