Operating leasing has risen in its importance as an aircraft financing tool since its introduction by Guinness Peat and ILFC in the early 1970s. By leasing aircraft, airlines enjoy a degree of capacity flexibility, while preserving financing lines, and leasing has been popular with both start-up and well-established airlines alike.
We anticipate that the role of the operating lessor as an airline financing channel is only likely to grow. This reflects airline needs to preserve cash to pay down elevated (and expensive) debt levels, while needing access to additional lift as passenger demand recovers.
Today, the proportion of the world's aircraft that is financed by operating leases has risen to more than half, with significant acceleration in lessor ownership, obvious since the onset of the pandemic in early 2020.
Proportion of fleet on operating lease: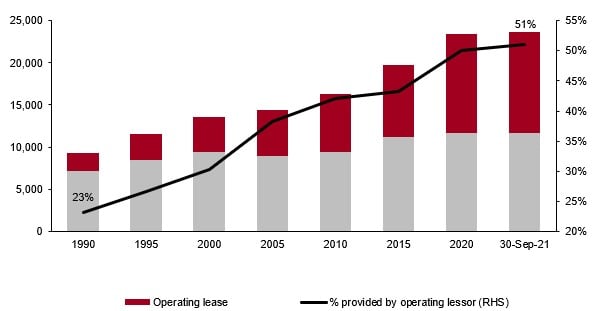 Source: Ascend
In the last 20 months, airlines have looked to operating lessors, less to provide growth aircraft as they have in the past, but more to supply financing for aircraft in their near-term delivery schedules, especially as traditional bank funding evaporated. Over this period, operating lessors have financed 65% of all deliveries according to Cirium.
Airline debt rose between 2018 and 2019 as balance sheets reflected the implementation of IFRS 16, which capitalised operating leases into airline balance sheets. However, it since mushroomed in 2020 as airlines have looked to governments, capital markets and private channels to provide the cash flow that they needed to survive the worst downturn in aviation history. Total global airline debt rose by around 50% in the year ending December 2020 and is likely to rise further in 2021.
Airline debt (US$ billions):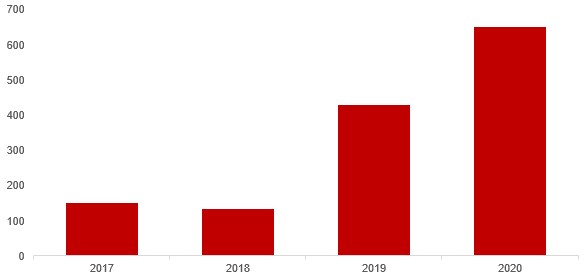 Source: IATA
This has put pressure on airline credit ratings, as well as the interest rates associated with their increased funding costs. Interest expense for the 83% of the world's airlines that are members of IATA rose by 60% in 2020 and represented 7.2% of sales compared with 2% the prior year. We believe that airlines will focus the deployment of recovering operating cashflows towards reducing their debt burden, much of this raised at comparatively high rates during the pandemic.
Capital requirements, however, are also expected to rise to around US$75 billion a year by 2022 from their nadir of below US$60 billion in 2020, having run around US$110 billion per annum in the years preceding the pandemic.
Annual airline funding requirements (US$ billions):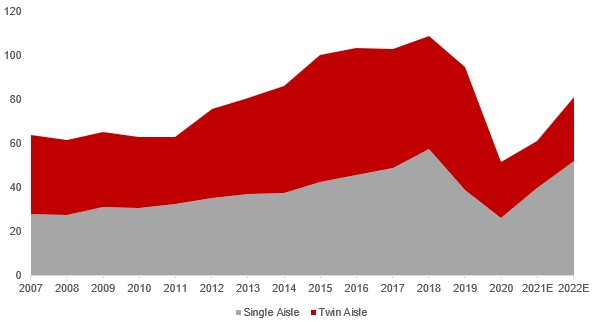 Source: Boeing, Airbus, BOC Aviation estimates
Filling the gap between airlines' impetus for debt repayment and their need to grow to meet customer requirements is where we see the opportunity for continued operating lessor expansion.
Operating lessors have proven steadfast partners to their airline customers during the most testing period in aviation history. The sector's influence should only expand over the next few years, led especially by those lessors with the inventory to support growing airline schedules as these reflect the currently observable recovery in passenger demand.
Timothy Ross
Head of Investor Relations & Corporate Communications
BOC Aviation