Art has the ability to change a person's outlook and the way they experience the world. For that reason, music and visual arts provide significant value to millions of passengers who embark on a journey of travel.

The arts within Houston's Airports have received national and international acclaim. George Bush Intercontinental, IAH, and William P. Hobby, HOU, airports are home to one of the largest public art collections in Texas. Placed throughout the airport's terminals and grounds, the collection includes everything from sculptures to photographs, predominantly by Texas-based artists.

To showcase the collection, Houston Airports launched #HoustonAirportsArt -- a social media video series hosted by Houston Airports Art Curator Alton Dulaney. The first webisode featured a popular sculpture called "Countree Music" located at Bush Airport's Terminal A. Created in 1999, "Countree Music" is a bronze cast of a 25-foot oak tree. The project includes a sound element that serenades passengers as they cross the terrazzo floor that depicts a world map showing Houston as the center of the world.

Terry Allen is an independent artist working since 1966 in a wide variety of media including musical and theatrical performances, sculpture, painting, drawing and video, and installations.


As passengers take a moment to gaze upon the impressive visual art collection, a profound soundtrack serenades them. Professional musicians with Houston Airports Harmony in the Air Performing Arts Program play live music in the terminals. The performances include a diverse repertoire of Classical, Jazz, Pop, and International music performed by over 75 of Houston's finest professional musicians. All the musicians in the Harmony in the Air program are residents of Houston and perform in other Houston music venues, including the Houston Symphony, the Houston Grand Opera, and the Houston Ballet. Most of the musicians are educators and have mentored young musicians during their professional career.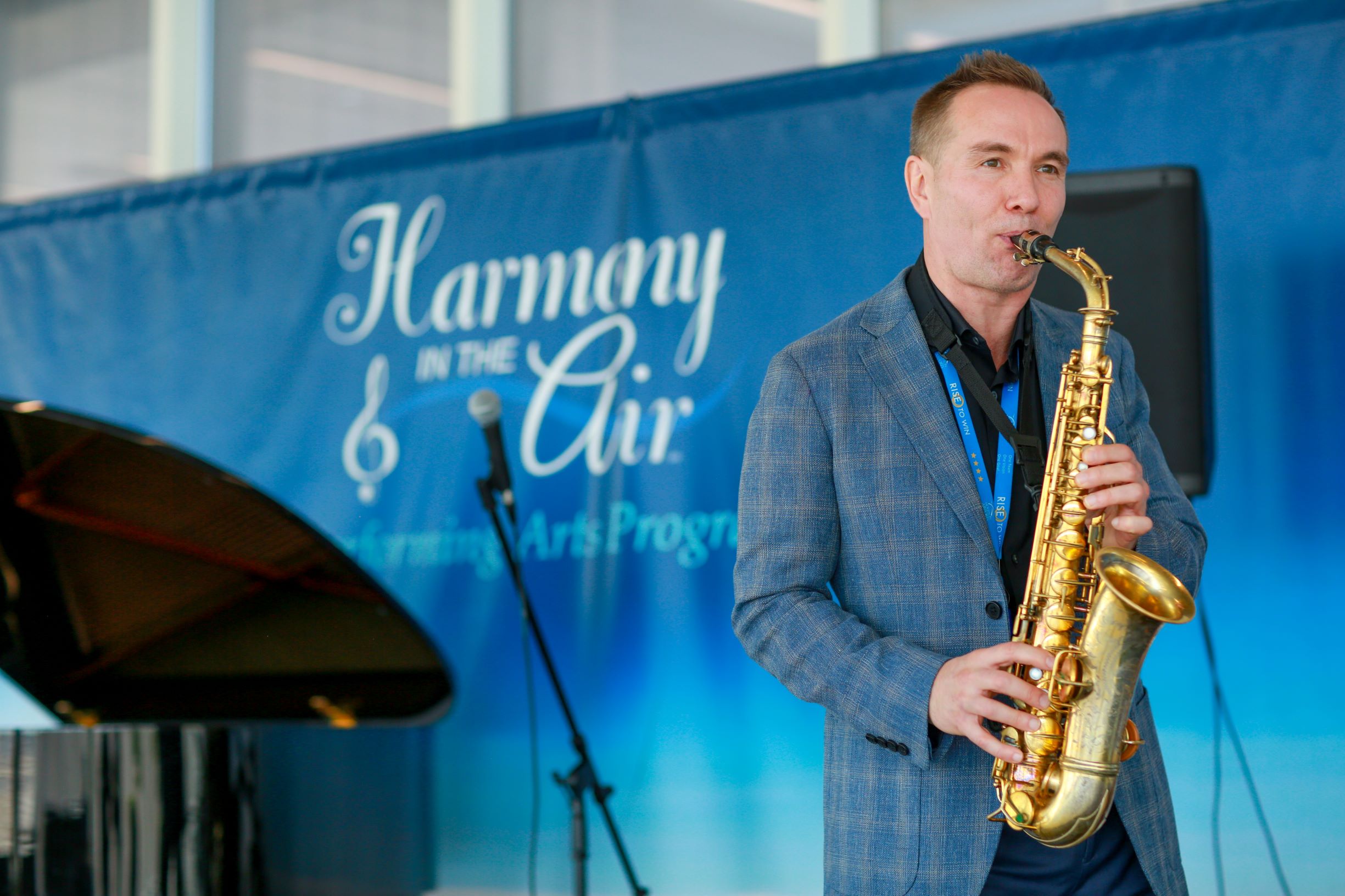 Visual and performing arts create a perfect marriage to influence the passenger experience in the most unexpected way in an airport setting. It not only helps to create a sense of place, it also provides an unexpected offering that stays in the passengers mind long after their flight has taken-off.
Foti Kallergis
Director of Communications & Public Relations
Houston Airports