The Travel & Hospitality industry is one of the worst hit by the COVID-19 Pandemic. Airlines are struggling to stay afloat, impacted by high fixed costs unique to this industry and vital to ensure passenger safety, comfort and brand experience.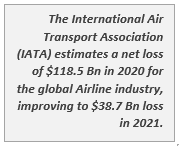 Passenger traffic has fallen significantly below sustainable levels, and uncertainties about future revival is making decision making close to impossible. The only silver lining has been the growth in the cargo business, where some airlines have benefited more than others.
We can only speculate the trajectory that airlines will take as the pandemic recedes. Whatever actions airlines take today will impact the recovery process, and this will separate winners, who will drive non-linear growth versus those who will lose market share. We strongly believe that technology excellence will be a significant driving factor in shaping the journey of the eventual winners
The figure below depicts the three phases Airlines will go - 'Survive', 'Rebound' and 'Disrupt'. The dotted curves are sub-optimal revenue scenarios and are representative of airlines that do not take corrective action today.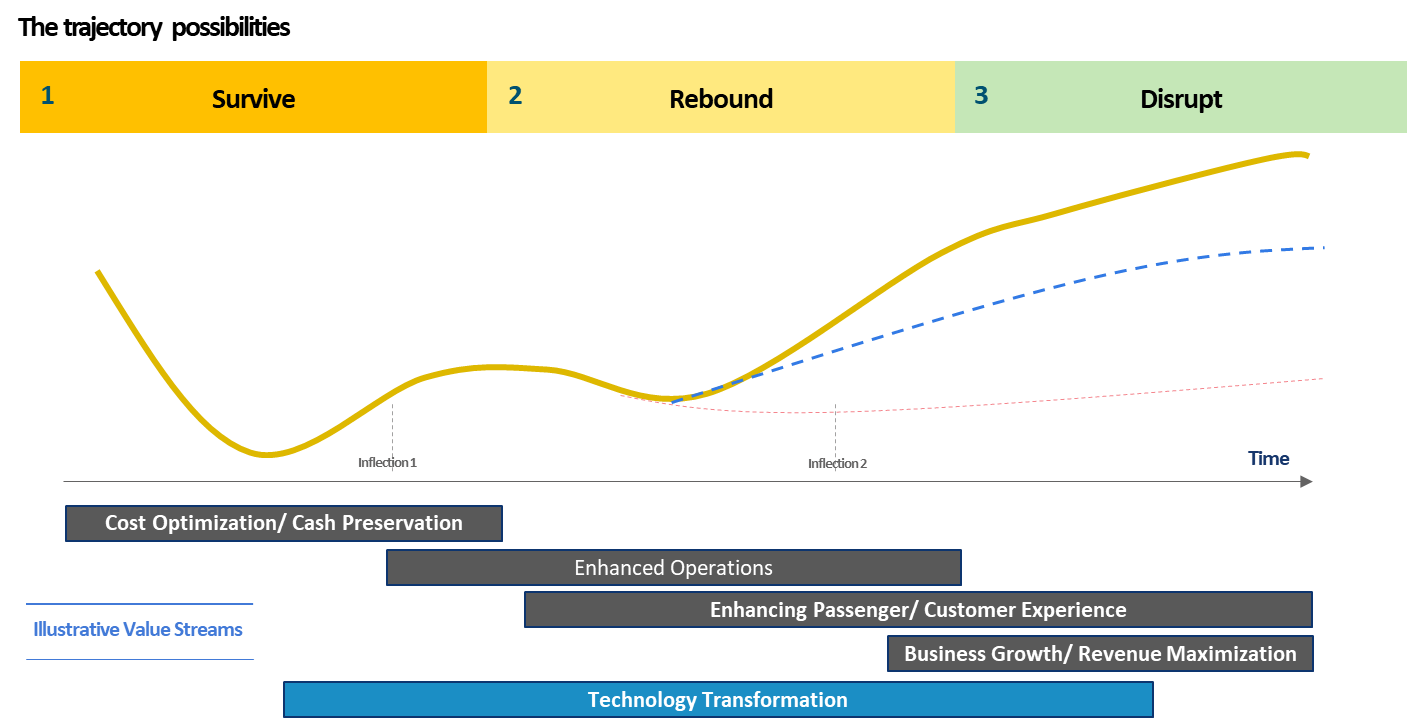 Survive – This phase is characterized by massive cost cuts across operations, staff, assets and partnerships, along with preservation of cash. However, the fall in revenue far exceeds the reduction in costs, and this trend will continue in the near future. While essential for survival, some of these measures could impact airline revival.. Thus, driving the right strategy that ensures quick turnaround of operations is critical.
Rebound – With vaccines around the corner, we can expect world economy to rebound over the next 2 to 4 quarters, providing a boost to air travel. Airlines must be ready to capitalize this demand. Airlines will have to balance the focus on passenger travel and air cargo business, with a clear vision on improving margins. With leisure travel expected to rebound faster than business travel, passenger experience and ancillary business growth will play an important part in the revival phase. Agility to respond to changing events across the world will be one critical hallmark of those who outpace the rest of the industry.
Disrupt – Over the next 1 to 2 years, we will see new business models and strategies related to asset ownership and drive shared economies, create intimacy with passengers and influence travel decisions and take greater control over demand. For this they will increasingly rely on insights driven planning & operations, driven by near time predictions.
Airlines that can re-jig their operations today and capitalize on digital technologies and agile methods of working, laid down between survive & rebound stages will be able to disrupt the market, and drive exponential growth at the cost of competition.
The Value Streams Driving the Future
The five most important value streams that will impact the ability & the agility of Airlines to get on the growth path are
Cost Optimization & Cash Preservation – Cut costs but not at the expense of business continuity and ability to revive. Maximize revenue from cargo operations.
Enhanced Operations – enabling operating excellence, efficiencies across scales and building agile operating models and methods.
Enhancing Passenger / Customer Experience – As airlines grow, the focus is initially going to be on profitable growth, and not purchasing of revenues. Premiumization, Airline–Airport continuum, ancillary business growth, loyalty business re-imagination, enhanced health & hygiene are going to be some of the priorities in the growth phase. Differentiating based on Digital initiatives, Insights to offer better value proposition to the Passengers/ Customers will be key here.
Business Growth/ Revenue Maximization – Growth in the fluctuating market scenario will be largely determined by the ability of airlines to predict & shape demand, thus minimizing the risks associated with untimely actions. The right business mix between passenger & cargo, the right networks with the right timing, along with integrated operations will be critical.
Technology Transformation – Technology brings in crucial capabilities in planning, demand prediction and improving customer experience. A strong and strategic technology partner is key to enabling future growth.
In the figure below, we have highlighted a selection of offerings and solutions that can help you drive rapid actions across the five value streams.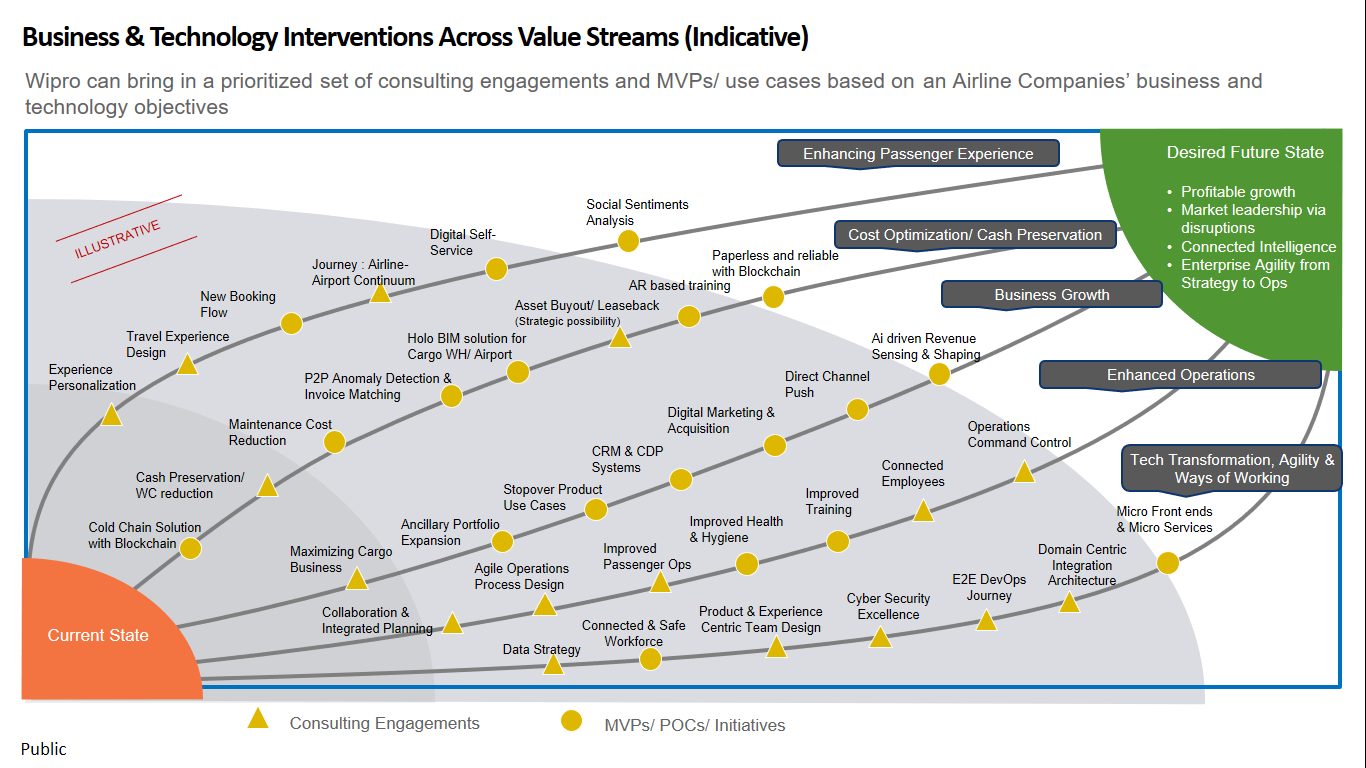 Wipro's Airline expertise spanning business domains, strategic design, digital technologies and airline products is helping airline partners in end to end value creation in their journey across the survive – rebound – disrupt journey post the pandemic.
Anshuman Mukherjee
Head - Domain & Consulting, Travel Hospitality & Public Sector vertical
Wipro Limited
Subrat Gaur
CTO & Product Engineering Head - Consumer Business unit
Wipro Limited