We are delighted to welcome Air Dolomiti (IATA code: EN) as the latest IATA member in Italy and Europe. Air Dolomiti, owned by Lufthansa Group since 2003, is an Italian airline connecting some of Italy's main airports such as Milan Malpensa, Florence and Turin with Germany (Frankfurt and Munich) through 550 weekly flights. It also offers two Germany-Austria routes (Frankfurt-Linz and Munich-Graz). From its inception in 1991, quality, punctuality, reliability and a focus on customer service have been the company's guiding values. Air Dolomiti was granted the ISO 9001 quality certification in 2000 and holds the IATA Operational Safety Audit (IOSA) certification since 2005.
In 2009, Air Dolomiti became the first customer on the Italian market to operate the 120-seater jet Embraer 195. The company currently has a fleet of 13 aircraft and plans to double this number in the near future in order to reinforce its presence on domestic routes. Over the years, Air Dolomiti has expanded its network through a steady growth and currently serves 18 destinations (including charter flights). In 2018 the airline carried over 2,3 million passengers on its planes.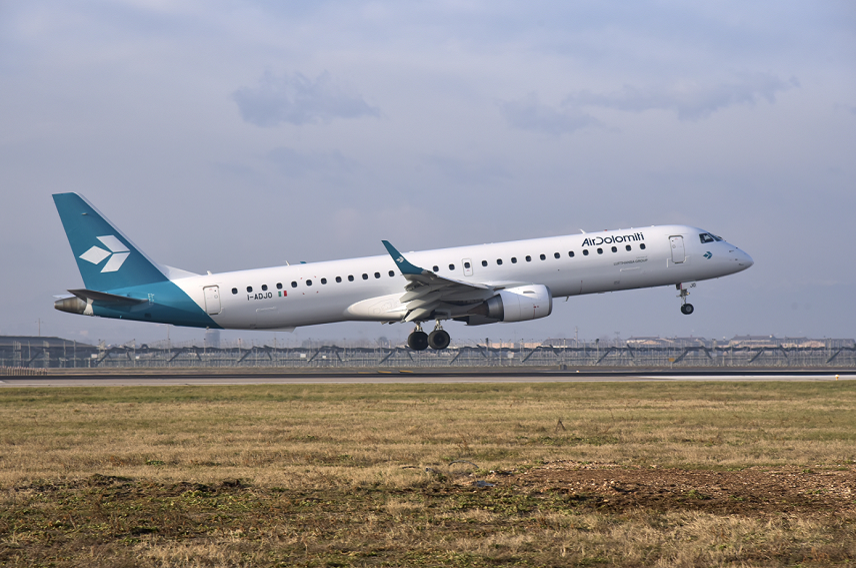 On April 9th, an official IATA membership ceremony was held at the airline's headquarters located in Verona. This enabled the IATA Southern Europe team based in Rome (from where it oversees activity in Italy, Malta, but also Greece and the Balkan countries) to meet and discuss a variety of subjects with CEO Joerg Eberhart and Air Dolomiti's top management. Topics covered include key IATA governance as well as industry priorities such as the Value of Aviation, Taxation, Environment, Safety, Security and Innovation.
For Dino Bossa, IATA's Area Manager Southern Europe, "We are delighted to welcome Air Dolomiti as a new IATA member in Italy. Its reputation for quality, service and punctuality is well known in the industry. We will work more closely with Air Dolomiti to ensure we can deliver value on some of their key issues and priorities which include taxation, safety standards and the National Airspace Strategy (NAS)."
Joerg Eberhart, Air Dolomiti's CEO said: "We are pleased to be joining IATA, which has always striven to protect and promote the industry. We recently announced the launch of an ambitious plan for growth, and in the coming years we aim to extend our network and our fleet. I am sure that the Association will be able to support us on this path and that the partnership will prove fruitful."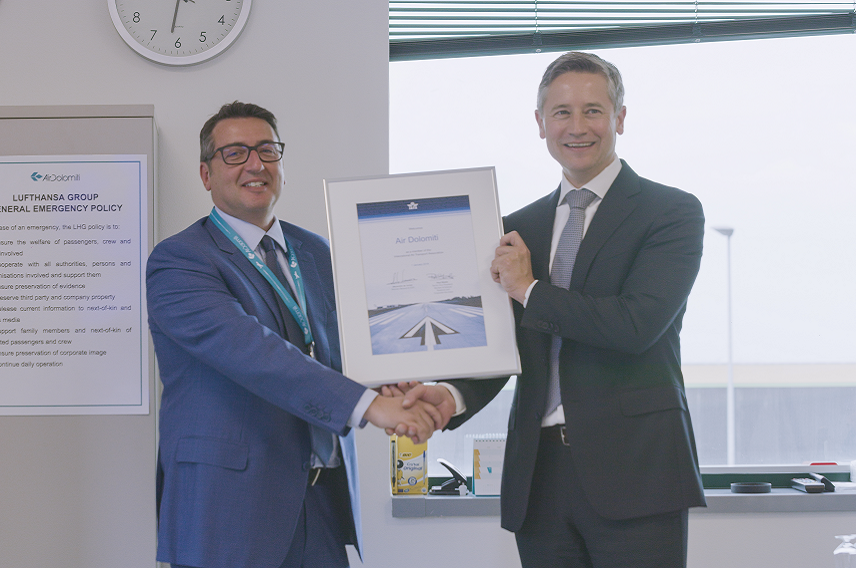 Dino Bossa (IATA's Area Manager for Southern Europe) and Joerg Eberhart, Air Dolomiti's CEO at the membership ceremony in Verona