Romania is commonly known for giving the world Dracula (who hails from the internationally-famous region of Transylvania) and vampires, Nadia Comăneci (5-time Olympic gold gymnast) and Elie Wiesel (Nobel Peace Prize Winner). What less people know, however, is that it is also a bedrock of aviation innovation. Henri Coandă, for example, whose name is given to Bucharest International Airport, made advances with aerodynamics and jet technology.
The first six months of 2019, Romania holds the Presidency of the Council of the European Union, another good reason to schedule an Aviation Day in its capital, in coordination with the Romanian Civil Aviation Authority and the support of our partners including IATA airline members TAROM and Blue Air, but also Romatsa, Bucharest Airports, and Globeground Romania.
The event brought together key stakeholders from Eastern Europe and Brussels (but not only!), attracting high-level speakers and attendees from all areas of our industry including local and European authorities and Governments, Airports, Airlines, international organizations and associations, manufacturers, innovation and tech companies. On top of the many networking opportunities such events enable, particular sessions were held on key aviation topics such as Airspace infrastructure, Cybersecurity, Innovation and Digitalization, Consumer Protection (EU261), and the environmental impact of aviation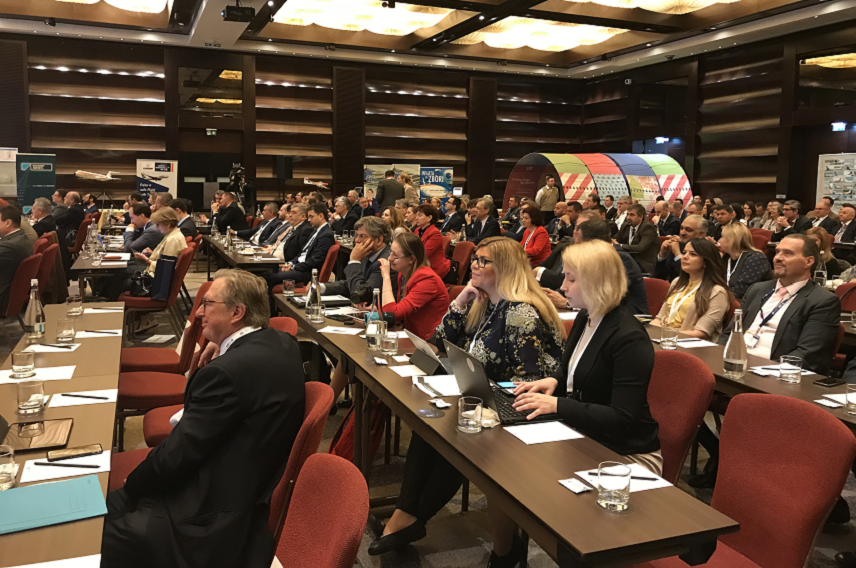 A cross-section of delegates at IATA Aviation day Romania on 12 April 2019
Key takeaways from the sessions
The speakers unanimously underlined the need for the industry to come together and collaborate. In his keynote speech, the Director-General for Mobility and Transport Mr. Henrik Hololei suggested Europe must speak in one voice. He made a strong statement calling for an end to delays that he referred to as "unacceptable", requesting Air Traffic Management capacity and staff issues to be addressed urgently. He also requested a stronger commitment for environment be it through the Carbon Offsetting Reduction Scheme for International Aviation (CORSIA), and Sustainable Aviation Fuels (SAF).
Other takeaways include the need to see the "Single European Sky dream become a reality" (Pekka Henttu, Director General, Finnish Civil Aviation Authority, TraFi), the extraordinary growth Eastern Europe is witnessing (Donal Handley, Head of the DG Office, Eurocontrol), and the more than 100 congested airports in the Region, meaning airport capacity must be addressed (Elisabeth Kotthaus Head of Unit on Social Aspects, Passenger Rights & Equal Opportunities of the European Union). For EU Member of Parliament Marian-Jean Marinescu, "the Digital Sky is crucial for enhanced cooperation, and safety, security and privacy are key". Cooperation repeatedly came up as a preemptive condition to any substantial initiative such as cybersecurity (Dany Gagnon, Chief Data Intelligence Officer, Alphablock) but also for the passenger journey. Airports Council International (ACI) Europe President and CEO of Munich Airport Dr. Michael Kerkloh deplored "too much silo thinking in innovation, when all actors of the passenger journey need to share information among each other to further personalize and improve passenger experience".
Important milestones taking place at and around the event
For Anca Apahidean, IATA's Area Manager Eastern Europe: "Eastern Europe in general - and Romania in particular - still has lots of work ahead to continue developing air transport. However, key advances for the industry took place today, including the Romanian Government agreeing to a National Airspace Strategy, and the publication of IATA's Air Transport Regulatory Competitiveness Index for Romania, a tool designed to help the country unlock the many benefits the industry can bring, including connectivity, jobs and prosperity to its citizens and economy."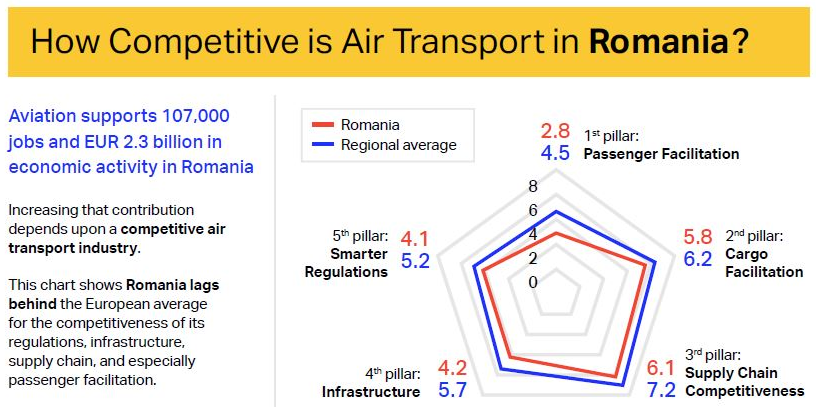 Read more about Romania's aviation competitiveness