Rafael Schvartzman, IATA's regional Vice President for Europe, was in Central Asia to attend a series of conferences and high-level meetings. The first stop was the Central Asia Forum Towards Unity held September 18-19th 2018 in Astana, Kazakhstan. Co-organized by the Kazakh Tourism National Company and IATA, the Forum focused on the development of tourism in Kazakhstan and its neighboring countries. Mr. Schvartzman delivered a keynote speech in which he addressed
the importance of air travel for tourism and its role in connecting people worldwide
the application of IATA Smarter Regulation principles
the implementation of consultation processes
the development of cost-efficient infrastructure
best practices to promote competitiveness.
These topics are important, particularly when looking at the future of air transport in Kazakhstan, as passenger traffic is expected to triple in the next 20 years, and possibly even increase 4.3 times in the case of a favorable policy scenario!
Moreover, issues such as fuel supply, charges (and consultation processes linked to the latter), IATA Operational Safety Audit (IOSA) recognition at state level, Astana International Airport (TSE) airport code allocation, and the ratification of international treaties such as the Montreal Protocol 2014 (MP14) on unruly passengers were addressed in a side meeting with Mr. Roman Sklyar, the First Vice-Minister for Investments and Development of Kazakhstan. Both parties recognized that these are important spheres for the competitive development of aviation in the country.
These topics were further discussed in a panel devoted to aviation, which included our local member airlines Air Astana and SCAT Airlines, as well as Lufthansa. Connectivity will increase only if the appropriate steps are taken by the governments, which would lead to enhancing trade, and delivering and maximizing benefits to both tourism and society at large.
Rafael Schvartzman and Jordan Karamalakov, IATA's Area Manager for Kazakhstan, Kyrgyzstan, Uzbekistan and Tajikistan continued the journey to Tashkent, Uzbekistan, where they participated in the "Central Asia in the System of International Transport Corridors: Strategic Perspectives and Unrealized Opportunities" international conference alongside distinguished guests including Mr. Abdulla Aripov, Prime Minister of Uzbekistan, as well as various Transport Ministers and high-level officials of neighboring countries.
In the air transport panel session, IATA presented a detailed analysis of perspectives and obstacles for Central Asian airlines, and how to boost country competitiveness. These events are always great opportunities to engage with key stakeholders in side-meetings. In this case, our Regional Vice President met with members of the Uzbekistan Government, Civil Aviation Authorities heads from Russia and Central Asian countries, the General Secretaries of The International Air Cargo Association (TIACA) and the Transport Corridor Europe Caucasus Asia (TRACECA), the regional directors of the International Civil Aviation Organization (ICAO) and Airports Council International (ACI), as well as senior officers from other institutions. For Rafael Schvartzman "Aviation is crucial for Central Asia due to this region's size and geography, hence engaging and meeting with key industry stakeholders and government authorities helps create important ties and the right conditions to ensure aviation provides the many benefits it can deliver".
In addition, IATA signed an agreement with our member Uzbekistan Airways in order to address crucial topics such as ratification of Montreal Convention 1999 (MC99), support for the development of cargo hubs, and training opportunities for airlines, airports and travel agency staff.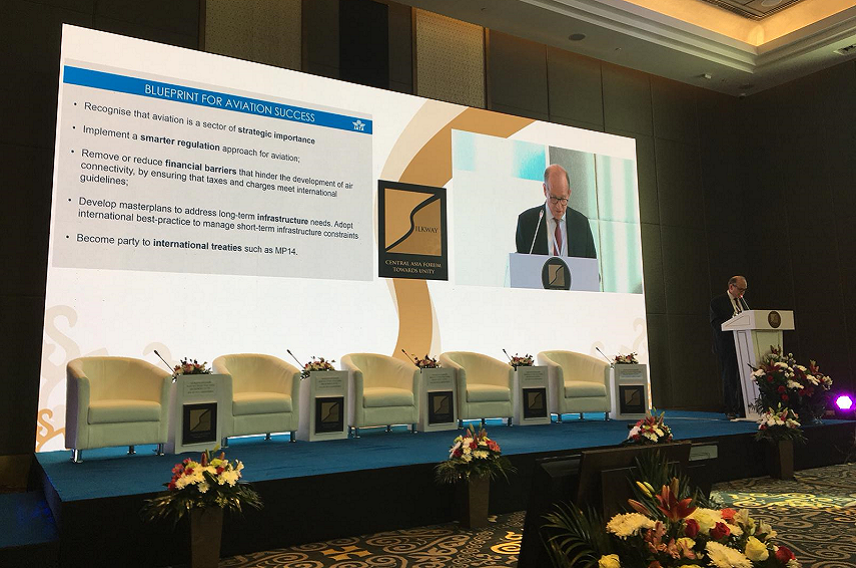 Rafael Schvartzman, IATA's Regional Vice President for Europe, delivering a keynote speech at the Central Asia Forum Towards Unity in Astana, Kazakhstan