Cyprus Airways launched flights in June 2017, and 13 months later, successfully completed the IATA Operational Safety Audit (IOSA) registration, a pre-requisite for IATA membership, after a rigorous audit program that certified the company´s compliance with internationally approved aviation safety standards. In October 2018, Cyprus Airways became an IATA member.
The carrier -based at the Larnaca International Airport- has a fleet of 2 Airbus A319, and serves 10 destinations among which Athens, Heraklion, Thessaloniki, but also Beirut, Tel Aviv, Prague to name a few.
The official membership ceremony was held in Madrid during the first ever Wings of Change in Europe, aviation's flagship event attracting Ministers, Government officials, airlines, airports, media and other key industry stakeholders. In addition to the event agenda which comprised debates and discussions around Competitiveness, Safety, Security, Innovation, and Sustainability, Cyprus Airways was officially welcomed to the IATA family by Alexandre de Juniac, Director General & CEO, and Rafael Schvartzman, Regional Vice President for Europe in a ceremony held on site, November 14th.
"We are extremely proud to receive today the certificate of our IATA membership and to officially join the IATA family. The membership will enable Cyprus Airways to collaborate with other international member airlines for code-share and interline agreements, and provide a seamless travel experience through an extended global network to travelers to and from Cyprus" stated Natalia Popova, Chief Commercial Officer of Cyprus Airways.
"It is a great pleasure to welcome Cyprus Airways to the IATA family. Cyprus Airways plays a vital role connecting Cyprus with key markets in Europe as well as the Middle East. I speak for myself and the rest of the team when I say that we look forward to further collaborative work together with Cyprus Airways in the future," said Rafael Schvartzman, IATA's Regional Vice President for Europe.
The company's long-term goal is to contribute in the increase of tourism in Cyprus, while at the same time broaden the horizon for local travelers.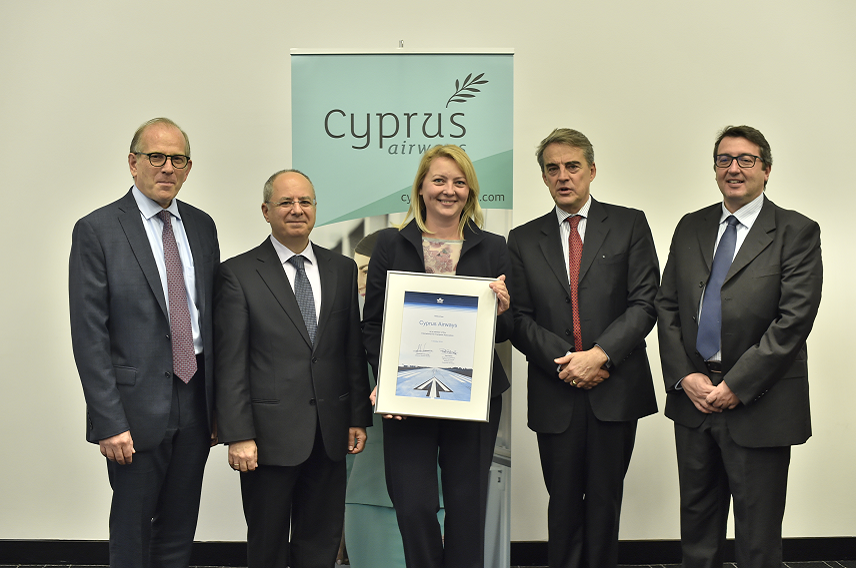 From left to right: Rafael Schvartzman (IATA, Regional Vice President for Europe), George Mamalakis (IATA, Country Manager Greece & Cyprus), Natalia Popova (Cyprus Airways, Chief Commercial Officer), Alexandre de Juniac (IATA, Director General & CEO), Dino Bossa (IATA, Area Manager Southern Europe)