A bit of silver lining in the otherwise dark Covid-19 cloud! French bee (IATA code: BF) has just become the latest IATA member in France and Europe. The airline holds the IATA Operational Safety Audit (IOSA) certification since 2019.
French bee is a low-cost airline with long-haul flights, based at Paris Orly Airport. It operates a scheduled network between France and worldwide leisure destinations with a fleet of ultramodern fuel-efficient Airbus A350. As of September 2020, French bee operates scheduled flights destinations such as Papeete (French Polynesia) and Saint Denis (Reunion Island), In 2021, the airline will launch New York, USA (EWR).
On December 7, an official IATA membership ceremony was held at the airline's headquarters in Orly. This was the opportunity to meet both Marc Rochet, the CEO, and Muriel Assouline, the Managing Director, and discuss a variety of topics, including key priorities for the industry restart process, and IATA governance.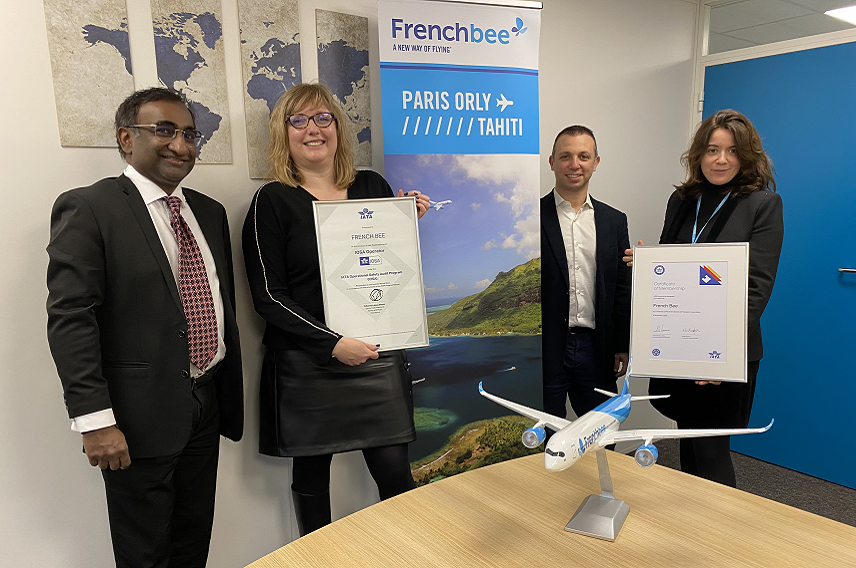 From left to right: Patrick Xavier, Manager Industry Relationships France, Belgium, and the Netherlands, IATA; Sophie Hocquez, Chief Commercial Marketing & Digital Officer, French bee, Robert Chad, Area Manager France, Belgium, the Netherlands, IATA; Muriel Assouline, Managing Director, French bee
For Robert Chad, IATA's Area Manager France Belgium, and the Netherlands, the arrival of French bee shows that even during the Coronavirus crisis, IATA membership still brings value to airlines of different business models. "We are delighted to welcome French bee as an IATA member, particularly in such challenging times. The airline has a solid reputation for quality, service and punctuality. We will work even more closely with French bee to ensure we can deliver value on some of their key issues and priorities, which includenvironment (including the Aviation Carbon Exchange, tool that was recently launched), taxation, safety standards, and a French National Airspace Strategy," he commented.
Muriel Assouline, French bee's Managing Director was upbeat about the prospects for the airline and the value of IATA membership. "French bee's business model is to offer an innovative quality product accessible to all customers: low-cost and truly smart-cost! We are pleased to be joining IATA, which has always strived to preserve and promote our industry. We recently announced the launch of a plan for growth, and in the coming years we aim to extend our network and our fleet. I am sure that the Association will be able to support us on this path and that we will continue building a strong partnership," she said.
Muriel also expressed her pride that French bee completed the longest nonstop domestic commercial flight between Tahiti-Faa'a and Paris-Orly with one of its new generation Airbus A350-900s. The A350-900, (registration F-HREY) took off from Tahiti-Faa'a International Airport at 10.51am on Thursday 14 May 2020 and landed at Orly at 3:40pm LT on Friday 15 May 2020. The flight time was 16h49 hours, to cover a route of more than 16,129 kilometers.
French bee fleet:
Airbus A 350-900 : 4
Airbus A 350-1000 : 2 (orders)
Additional information: