Madrid hosted the first ever Wings of Change in Europe, attracting Ministers and Government officials from all around Europe (and even India), airlines, airports, media and other key industry stakeholders. The day and a half event featured a packed agenda (pdf) comprising debates and discussions mostly around competitiveness, safety, security, innovation, and sustainability, as well as a series of industry meetings and signings. It also offered highlights such as Babita Sharma from the BBC taking a selfie with some of our most prominent industry CEOs. Competitors in the sky, but friends on stage!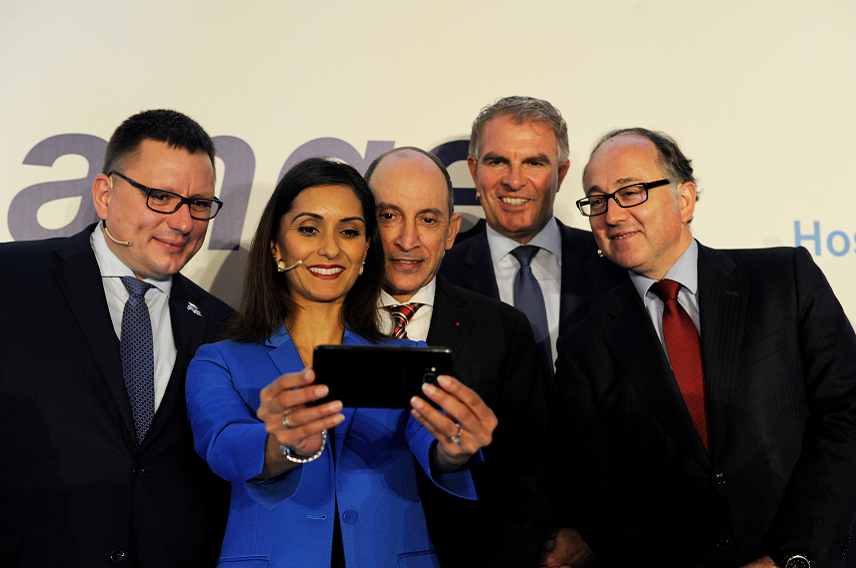 From left to right: Rafał Milczarski (CEO, LOT Polish Airlines), Babita Sharma (Journalist & News Presenter, BBC), H.E. Akbar Al Baker (GCEO, Qatar Airways), Carsten Spohr (CEO, Lufthansa Group), Luis Gallego (CEO, Iberia)
Key figures
468 delegates attending
41 CEOs
98% satisfaction rate
Key launches
The industry's first Competitiveness Toolkit was introduced, providing governments with an analysis of the strengths and weaknesses of their air connectivity. The analysis will be updated regularly, to enable stakeholders to measure progress. The first country report for Spain was announced during the event, with key European states to follow in the coming weeks and months.
Key agreements and signings
Signing of important partnership agreements for the benefit of the air transport industry in the shape of:
o Memorandum of Understanding with the Spanish Aviation Safety and Security Agency (AESA)
o Memorandum of Understanding with Poland to support Safety Oversight
Signing of a National Airspace Strategy for Poland
IATA membership ceremony with Cyprus Airways.
Key takeaways
We are much stronger as an industry when we unite and work towards common goals. It is fitting that the most-tweeted photo from Wings of Change was of four airline CEOs -competitors most of the time- all smiling in a selfie with a journalist from the BBC
This isn't to say that as an industry we aren't without challenges. Many of those were addressed head on during the conference, particularly competitiveness. European nations have some work to do in this area. The center of the economic (aviation included) world is shifting east and Europe's governments need to double-down to ensure that their countries are attractive places for airlines to do business. Without it, the strong connectivity and significant economic benefits our industry generates could decrease
Capacity -particularly in airspace- is top of the agenda. The insight and evidence shared during the presentations speak to the urgency of this matter. If it isn't addressed now, the growth of our industry in Europe could be affected, and air transport would not be able to deliver the many benefits it can bring to both societies and economies alike.
As Rafael Schvartzman, IATA's Regional Vice President for Europe stated in his closing remarks: "Our industry has some work to do in the innovation and technology fields. Hearing the views of people from outside the industry during the event and how they feel about aviation, particularly when they are candid about it, is always eye-opening. A single web login for all airlines? Sounds like a sound idea"
2019 edition
The enormous success of Wings of Change Europe 2018 has spurred us to make it ta yearly event, so...we look forward to seeing you for the 2nd edition on 19-20 November 2019 in the amazing and vibrant city of Berlin, Germany, where Lufthansa Group will host the event.
2018 Wings of Change Europe Archive