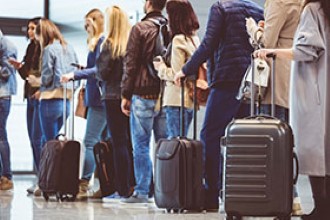 IATA engages with states, organizations, and other stakeholders on behalf of its airline members to shape the global landscape for securing and simplifying passenger processes and border controls. Through collaboration, IATA seeks to reach mutually acceptable arrangements for control authorities and airlines to unlock the multiple benefits of aviation and simplify the passenger process.
IATA develops information and advocacy material in areas such as entry requirements, passenger data exchange, travel documents, border control processes, biometrics, API data quality, identity management, risk assessment, human trafficking, unruly passengers, persons with reduced mobility, etc.
Engagement with ICAO
The International Civil Aviation Organization (ICAO) manage the administration and governance of the Convention on International Civil Aviation (Chicago Convention). IATA works with the ICAO Facilitation Programme and its task forces to foster implementation, review and simplify the Standards and Recommended Practices (SARPs) of Annex 9 — Facilitation.
For contributing to the ICAO Traveller Identification Programme (TRIP), IATA brings operational considerations from the airline industry to the Technical Advisory Group (TAG/TRIP) and to its working groups. IATA also brings a unique perspective to the global work for achieving a greater harmonization of processes, notably by contributing to the technical specifications set forth in ICAO Doc 9303, Machine Readable Travel Documents (MRTDs) and further advancing the future generations of travel documents and travel authorizations.
Recent working papers presented by IATA or jointly with other organizations or States:
40th ICAO Assembly (2019)
ICAO Facilitation Panel/11 (2020)
ICAO Facilitation Panel/10 (2018)
IATA CAWG
The IATA Control Authorities Working Group (CAWG) was established in 1987 and falls under the Passenger Facilitation Working Group (PFWG). The IATA CAWG provides strategic direction and leadership for integrated border management and aviation facilitation matters. The positions and material developed by the IATA CAWG are the outcome of collaborative working arrangements between governments and the airline industry to find mutually acceptable solutions for border management.
The positions and working papers presented by IATA to ICAO that are the result of the work of the IATA CAWG present the benefit of being a balanced perspective between the needs and limitations of both airlines and control authorities.
The IATA CAWG currently works on topics such as API data quality, travel documents, API data capture and validation, multiple passport holders, carrier's liability, travel authorizations, iAPI Best Practice, digital identities and legislative frameworks, etc.
Available guidance and material
Passenger Data Capacity Building
Through the resolutions 2178 (2014) and 2396 (2017), the UN Security Council has mandated States to develop passenger data capabilities to counter cross border travel of Foreign Terrorist Fighters.
ICAO has already elevated the deployment of Advanced Passenger Information (API) capacity to a Standard in the Annex 9 to the Chicago Convention and the obligation to develop the capability to collect, process and analyze, passenger name record (PNR) data should become a Standard in the Amendment 28 to the Annex 9.
To accelerate the adoption of national passenger data programs International Organizations (e.g.: International Organization for Migration (IOM), United Nations Office on Drugs and Crime (UNODC) , United Nations Security Council Counter-Terrorism Committee (UNCTC), ICAO and Organization for Security and Co-operation in Europe (OSCE)) have launched capacity building initiatives. IATA promotes, through active participation to these activities and the development of supporting material, State's adherence to the international standards and guidelines maintained by WCO, ICAO and IATA when States implement their passenger data systems. States are further invited to proactively make use of the material contained in the API-PNR Toolkit developed by IATA, ICAO and WCO.
More information is available on IATA Passenger Facilitation