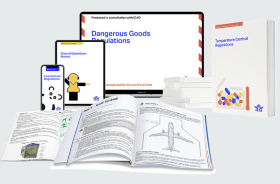 Geneva - The International Air Transport Association (IATA) announced that it has completed the annual revision of its air transport industry manuals for cargo, ground handling, and operations, thus incorporating the updates made to many of the underlying industry standards over the past year. These revisions reflect the sector's commitment to further improving safety, introducing more sustainable operations, as well as enhancing the passenger experience and cargo handling.
Examples of these changes include:
"Aviation is a unique industry with its global footprint covering operations from mega-hubs, through regional airports to small and even remote airfields. Nevertheless, the same standards and procedures need to be applied across the globe, in order to maintain smooth operations and a high level of safety. The IATA manuals are the reference materials, accurately reflecting agreed global standards, which the industry abides by," said Frederic Leger, IATA's Senior Vice President for Commercial Products and Services.
Key stakeholders in the aviation value chain – such as airlines, airports, ground service providers, freight forwarders, shippers, and manufacturers – rely on the IATA standards to ensure robust and efficient operations. The IATA manuals are based on the recommendations devised by standard setting bodies such as the International Civil Aviation Organization (ICAO) and other industry working groups.
The annual update is achieved through an extensive exercise undertaken by various industry working groups such as the Dangerous Goods Board (DGB) and the Live Animals and Perishables Board (LAPB). Each working group is comprised of IATA experts as well as other experts in that field who work with local governments and industry stakeholders, ensuring that each manual contains the most updated information on the latest regulations, trends, and best practices. In total more than 350 updates have been made to the 2023 editions.
IATA, in collaboration with its members, has been setting industry standards since its founding in 1945 and manuals have been published on a multitude of topics for more than 60 years. An increasing number of manuals have been made available in a digital format, in addition to the traditional printed versions.
> Further details on the available manuals
For more information, please contact:
Corporate Communications
Tel: +41 22 770 2967
Email: corpcomms@iata.org
Notes for Editors:
IATA (International Air Transport Association) represents some 320 airlines comprising 83% of global air traffic.
You can follow us at twitter.com/iata for announcements, policy positions, and other useful industry information.