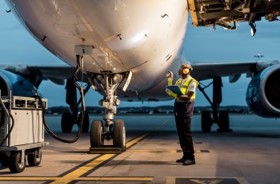 Geneva - The International Air Transport Association (IATA) announced that the 35th IATA Ground Handling Conference (IGHC) will focus on fostering technology to improve safety, operational efficiency, and sustainability. IGHC is taking place in Abu Dhabi, 16-18 May 2023, with Etihad Airways as the host airline.
"Passenger and air cargo traffic are close to pre-pandemic levels. Efficient ground operations are essential to meet the scaling-up of demand. Unfortunately, the ground handling sector continues to face operational, recruitment and retention challenges following the greatest aviation downturn in history. This year's IGHC will explore how these can be overcome and how technology can be implemented to improve efficiency, increase compliance with global standards and improve safety and environmental performance," said Monika Mejstrikova, IATA's Director of Ground Operations.
Antonoaldo Neves CEO, Etihad Airways, will deliver an Opening Keynote Address. "We are delighted to host the 35th IATA Ground Handling Conference and welcome the aviation industry to our home, Abu Dhabi. The aviation industry is a complex and interconnected ecosystem with collaboration at its heart. The conference will allow industry leaders to join forces and discuss implementing global standards and adopting new technologies while ensuring customer safety as the top priority," said Neves. "
Speakers & Sessions
Neves, Mejstrikova, and Nick Careen, IATA's Senior Vice President Operations, Safety and Security will be speaking at the event along with:


Rami Al-Haddad, CIO Menzies Aviation,
Steve Allen, CEO, dnata,
Richard Fairchild, director Autonomous Products, Aurrigo
Brian Bartal, SVP Safety & Compliance Unifi


Session tracks will address:
Aviation and ground handling prospects for 2023
Leveraging technology for efficient, sustainable modern baggage operations
Whether autonomous vehicles are "ramp-ready"
Optimizing and integrating resources for streamlined ramp operations
Analytics – a model for improved safety in ground operations
Workshops
The IGHC program will be complemented by a series of workshops, including:
The benefits of certifying airlines and ground handling companies through IATA's Training Validation Program
Smartly managing end-to-end cargo operation to achieve compliance to new regulatory requirements in air cargo


IGHC will also offer a dedicated exhibit area for ground service providers and ground handling solutions providers including Aviapartner, Celebi, dnata, SAL, SGS, Fraport and Zafire, Textron GSE, Denge, Inform, SITA, JBT, Mototok and many others. New this year, IGHC will feature a technical session on the IATA Safety Audit for Ground Operations (ISAGO) and on the changes to the IATA Ground Operations Manual (IGOM). The session will be open to all delegates.
> View the program and register
For more information, please contact:
Corporate Communications
Tel: +41 22 770 2967
Email: corpcomms@iata.org
Notes for Editors:
IATA (International Air Transport Association) represents some 320 airlines comprising 83% of global air traffic.
You can follow us at twitter.com/iata for announcements, policy positions, and other useful industry information.