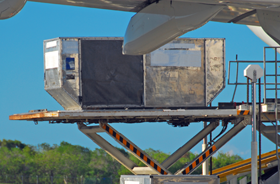 Translation: Chinese (pdf) French​ (pdf) Spanish​ (pdf)
Geneva – The International Air Transport Association (IATA) released data for global air freight markets in August 2016 showing that demand, measured in freight tonne kilometers (FTKs), rose 3.9% year-on-year. Freight capacity measured in available freight tonne kilometers (AFTKs) increased by 4.1% over the same period. Load factors remained historically low, keeping yields under pressure.
Industry conditions have improved since the particularly soft patch at the start of the year. Carriers in all regions except Latin America reported an increase in year-on-year demand in August. However, regional results varied considerably. For the third time in four months airlines based in Europe posted the highest collective annual growth of all regions, while airlines in the Middle East experienced their slowest growth in more than seven years.
"August numbers showed improvements in cargo demand. While this is good news, the underlying market conditions make it difficult to have long-term optimism. World trade volumes fell by 1.1% in July with no improvement on the horizon. And the current global political rhetoric in much of the world is more focused on protectionism than trade promotion. Economies need to grow out of the current economic doldrums.
Governments should be focused on promoting trade, not raising protectionist barriers," said Alexandre de Juniac, IATA's Director General and CEO.
| August 2016 (% YEAR-ON-YEAR) | WORLD SHARE (1) | FTK | AFTK | FLF (%-PT) (2) | FLF (LEVEL) (3) |
| --- | --- | --- | --- | --- | --- |
| Total Market | 100.0% | 3.9% | 4.1% | -0.1% | 40.8% |
| Africa | 1.5% | 3.7% | 29.2% | -5.3% | 21.6% |
| Asia Pacific | 38.9% | 2.8% | 1.2% | 0.8% | 51.8% |
| Europe | 22.3% | 6.6% | 4.7% | 0.8% | 42.0% |
| Latin America | 2.8% | -3.3% | -0.2% | -1.1% | 33.4% |
| Middle East | 14.0% | 1.8% | 6.9% | -1.9% | 38.8% |
| North America | 20.5% | 5.5% | 3.7% | 0.5% | 31.2% |
​
Regional Performance
Asia-Pacific airlines reported a 2.8% increase in demand for air cargo in August compared to last year. Capacity in the region expanded 1.2%. International traffic within the region has been the strongest of the 'big-four' markets (Asia Pacific, Europe, North America, and Middle East) so far this year, with traffic up by 6.5% year-on-year in July 2016.
North American carriers saw freight volumes expand 5.5% in August 2016 year-on-year, and capacity increase by 3.7%. International freight volumes grew by 4.6% in August – their fastest pace since the US seaports disruption boosted demand earlier in 2015. However, seasonally adjusted activity has barely altered from 2008 levels. The strength of the US dollar continues to keep the US export market under pressure.
European airlines posted the largest increase in freight demand of all regions in August 2016 – 6.6% year-on-year. Capacity increased 4.7%. The positive European performance corresponds with an increase in reported new export orders in Germany over the last few months. European freight demand has now broken out of the corridor that it occupied between mid-2010 and the start of the year.
Middle Eastern carriers saw air freight demand slump to 1.8% year-on-year in August 2016 – the slowest pace since July 2009. Capacity increased by 6.9%. The strong upward trend seen in Middle Eastern traffic over the past year or so has halted. In seasonally-adjusted terms, volumes in July 2016 were slightly below those seen in January 2016. The weakening performance is partly attributable to slower growth between the Middle East and Asia. This suggests that Middle Eastern carriers are facing stiff competition from European airlines on the Europe-Asia route.
Latin American airlines saw demand contract in annual terms for the sixth consecutive month. FTKs in August 2016 fell by 3.3% compared to the same period last year and capacity decreased by 0.2%. The region continues to be blighted by weak economic and political conditions, particularly in the region's largest economy, Brazil.
African carriers saw demand rebound sharply in August to 3.7% - the fastest growth rate in 12 months. Despite this, freight capacity continues to outstrip demand, due to rapid long-haul expansion. Capacity surged in August year-on-year by 29.2%. The combination of rising capacity and modest growth has significantly affected the load factor of African airlines. In August 2016 it was almost six percentage points lower than a year ago and is around half the industry average.
View full August statistics (pdf)
For more information, please contact:
Corporate Communications
Tel: +41 22 770 2967
Email: corpcomms@iata.org
Notes for Editors:
IATA (International Air Transport Association) represents some 265 airlines comprising 83% of global air traffic
You can follow us at http://twitter.com/iata2press for news specially catered for the media
Explanation of measurement terms:

FTK: freight tonne kilometers measures actual freight traffic
AFTK: available freight tonne kilometers measures available total freight capacity
FLF: freight load factor is % of AFTKs used

IATA statistics cover international and domestic scheduled air freight for IATA member and non-member airlines
Total freight traffic market shares by region of carriers in terms of FTK are: Asia-Pacific 38.9%, Europe 22.3%, North America 20.5%, Middle East 14.0%, Latin America 2.8%, Africa 1.5%